Lotus Make-up India Fashion Week SS'20 was set to stage fire on the ramp, presented by the Fashion design council of India (FDCI) in association with EbixCash. The Spring Summer 2020 collection was showcased at Major Dhyan Chand National Stadium, India Gate, New Delhi from October 9 to 12, 2019. The FDCI Designer Stockroom was held on October 13, where leading designers indulged in the retail of their collections directly to customers. Entry to this sale is open to all.
This year, almost 100 designers were showcasing their path-breaking collections on the runway and through stalls. The theme this season was #MyFashionMyTribe, which reflected the reality of the fashion world, which is like an extended family. There was an interesting line-up at LMIFW SS '20 with a mix of old-world ideologies intermingled with a millennial vibe. This potent selection painted the runway in hues of diversity with artisanal expertise. The theme for the 34th edition of the biggest fashion event was all about starting a conversation. Different renditions of the theme MyFashionMyTribe was at display.
You May Also Like: Recap To The Biggest Fashion News Of 2018
It was all about communicating that fashion as a family is inclusive and all-embracing be it gender, color, ethnicity, profession, body type or age group. Fashion has always had rigid parameters in terms of what is acceptable, but this year, it made a bold attempt to break free from those shackles, looking at the spectrum of style without the rose-tinted glasses. The theme MyFashionMyTribe reflected the reality of the fashion world, which is an extended family. The clear motive of this event was that differences in age, size and color don't matter and we, as a collective whole, can try to bring some cohesive change.
Anamika Khanna's ubiquitous capes and dhoti drapes, Manish Arora's kitschy yet international expressions, Rajesh Pratap Singh's heady monochromes to Wendell Rodricks' free-falling silhouettes, each one represented the country's tradition by bridging the chasm between fantasy and functionality.
So let's have a look at designers who showcased their path-breaking collections at LMIFW SS'20
Designer Manish Arora's glow in the dark collection 'We are family' inspired by the LGBTQ community represented happiness and joy with an undertone of celebration. The designer has worked with more natural fabrics such as silks, various forms of cotton, and taffeta. The spring-summer palette was very pastel but there were hints of coral pinks, peaches, mint green, bleached blues juxtaposed with fuchsia pink and lemon yellow taking the lead.
Designer Pawan Sachdeva's collection 'Trailblazer' was all about smart dressing across gender and professions. The oversized jackets, trench-coats, flared bottoms with experimental block prints in denim blues, mustard and greens can be worn by all and across professions. His show had sports personality Manavaditya Singh Rathore and popular actor and model Muzammil Ibrahim as showstoppers.
Steering a little away from her characteristic style was Anamika Khanna as she gave the clothes a more western silhouette while keeping the classic look intact. This collection was an amalgamation of different crafts from various cultures and tribes, almost like a melting pot. At the same time, it's extremely modern and eclectic, with experimental shapes and layering.
You May Also Like: Down The Lane Of ICW
Falguni Shane Peacock unveiled their latest fashion trends through their Pret collection on the ramp that was a heady amalgamation of the poster period of individualistic fashion with today's anti-conformist dressing! The color palette used for the collection was bold hues of poppy red, twilight purple, moss green, turquoise, Kelly green, and softer tones like those of pool blue, ceramic, mint green, yolk yellow. The collection featured metallic textiles, volume, ostrich features, sequins, sheer bodysuits, thigh-high boots, and mini dresses but also had some daywear themed pieces such as printed shirt dresses and denim jackets. Athleisure elements added a casual touch to the collection but were consistent with its "more is more" aesthetic. Satin tracksuits featured collage prints of flowers, geometric shapes, and retro stripes and bodysuits featured heavy sequin embellishments.
 

View this post on Instagram

 
Pratima Pandey's collection Dastaan was inspired by Prama's 10-year journey which narrates how Prama embodies the nuances and the shades of the rich Indian Handloom. The delicate & luxuriously rich Chanderi fabric has been a constant Prama favorite. Layering it with opulent embroideries of flora and fauna the collection Dastaan is an embodiment of the essence of Prama through classic layered Kurta, drapes, Saree, and Dresses.
Ragini Ahuja's collection 'Ikai' recognizes women of Fire- Fierce, Defiant and Soulful; who empower and liberate each other. Built with character and rebellion, the story explores the colors of fire- deep navy, autumnal rust, mint tea, and beige with slate blue as an accent. The humble dots evolve into multi-thread stripes meticulously graphed florals. Practical and timeless, the Silhouettes are relaxed with soft tailoring and volumes. long A-line jackets, multi-thread sarees, hybrid kameez's, shirts and dresses, complete the story.
You May Also Like: Amit Aggarwal & Suneet Varma … Again At ICW
Amita Gupta Sustainable stands to celebrate handloom weaving and fashion as a fusion of diverse woven textiles translating into divine garments. As we see everything from our planet deteriorating to ashes, the collection 'Prith-WE' celebrates everything that we've grown up with to become the individuals and the global community that we are today. Using the alluring techniques of Jamdani and Batik, the collection is made up of a variety of handwoven khadi fabrics translated into fun, easy to wear silhouettes.
The Spring Summer' 20 collections titled 'Pine Breeze' by Diksha Khanna takes us back to our childhood memories. Look out for the Ivory Linen Fringe Sari and Denim Jersey Kurta with sheer Joggers set. Organic Hand Woven Khadi Denim, Scrap Hand Distress Denim, Breezy silk Chanderi, Eri Ahimsa Silk and Hand-Woven Linen together lend an interesting mix of rich Indian Handloom Textile for SS20 Collection.
 

View this post on Instagram

 
Sanjukta Dutta held her Assamese roots close to her heart and created regal ensembles out of Assam silk (pat and muga). Designer duo Parul & Ashie gave us some glam day wedding-ready modern ruffled and fringed sarees. Yogita Kadam's collection featured lots of embellished sunny yellow and powder blue lehengas, dresses, and sarees. Similar but more feminine and fairy tale-esque, Priya Machineni's runway was filled with pastel colors and lots of sheer and shimmer.
You May Also Like: These Celebs Opened A New Door To Fashion At Vogue Beauty Awards
Single tones, monochromatic, and pastels were the buzzwords on the Dhi and Shruti Sancheti runways. We saw very femme, modern, and effortlessly chic garments; more relaxed at Dhi, and slightly more heavily embroidered and appliqued at Shruti Sancheti.
Nitin Bal Chauhan took the fashion and gave it an artistic spin with his 'Dementia' collection that visually portrayed the psychological symptoms and grievances of mental illness. The ensembles had some sharp elements, like pointy collars, and easier silhouettes to showcase contrast. The hairpieces and makeup certainly set a very clamorous tone for the collection.
Fluid Elements by Gazal Mishra, Purple Feathers by Pinkey, Abstract by Megha Jain Madan, and Just Like That by Anju Jain, this collective of designers showed us fluid fabrics and flowy garments in the chicest ways possible. From draped sarees and ruffled gowns to feather-light tunics and breezy summer jackets, these collections set major standards for us to dress this upcoming summer.
You May Also Like: 5 Best Dressed Female Celebrities At IIFA 2019
Nidhi Yasha's collection, 'A pathway to Monet' was taken inspiration from artist Claude Monet's paintings. The whole collection a dreamy range of exaggerated sleeves, ruffles, fringes, sequins, and structured jackets. Models walked the ramp in gorgeous outfits in different fabrics including habutai silk, chiffon, organza, brocade, and satin.
Samant Chauhan's collection titled, 'The Starry Night' depicted appliqué and embroidered garments. The wide-ranging use of colorful embroidery on skirts, trousers, gowns, capes, and corsets were the stealers of the show. Other noteworthy highlights were ruffles, bell sleeves, long trails, and asymmetrical designs.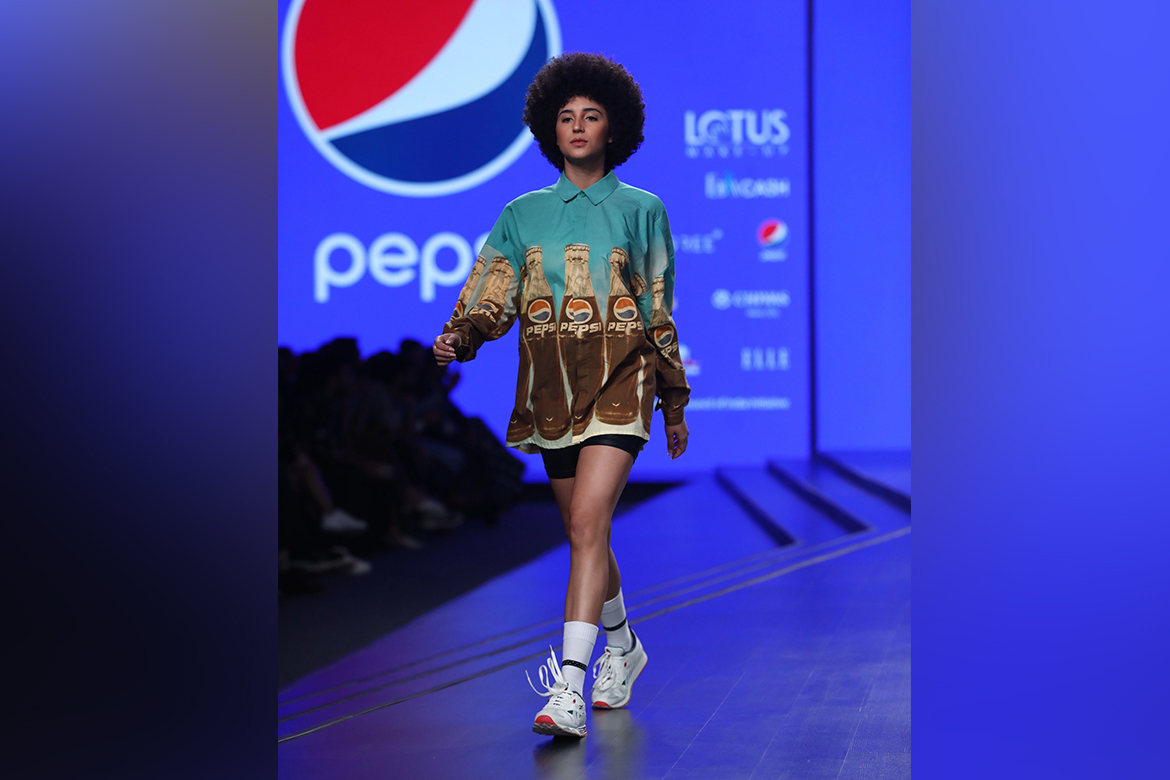 Rimzin Dadu launched her menswear collection at SS/ 2020 show using signature textures, modern cuts, and metallic drapes. The collection also showcased the use of unique metal cords and steel wire designs in textured dresses, skirts, jackets, and sarees. Gold, silver, and emerald were the colors that dominated her designs.
You May Also Like: A Sneak Peek Into Sabyasachi's New Bridal Winter Collection
Mahima Mahajan collection garnered inspiration for Spring 2020 through references from kaleidoscopic embroidery, tropical prints, and colorful shades. The whole representation was done beautifully.
Nithya Reddy looked to a vibrant mix of ultra free-flowing silhouettes in the form of dresses, styled with a myriad of flat footwear. The colors were a muted mix of pinks, yellows, and white with floral prints. Divya Reddy rolled out her collection in dedication to the environmental elements. Models enlightened the mood as they made their way to the ramp in cheerful designs that evoked the flora and fauna.
You May Also Like: Top Three Bridal Fashion Designers To Look Out For This Year
Titled 'The Red Phase,' designer Nidhika Shekhar's collection was inspired by a women's menstrual cycle as evidenced by the red ensembles. The show notes were meant to illustrate the strength of a woman and to empower those that took menstruation as a taboo.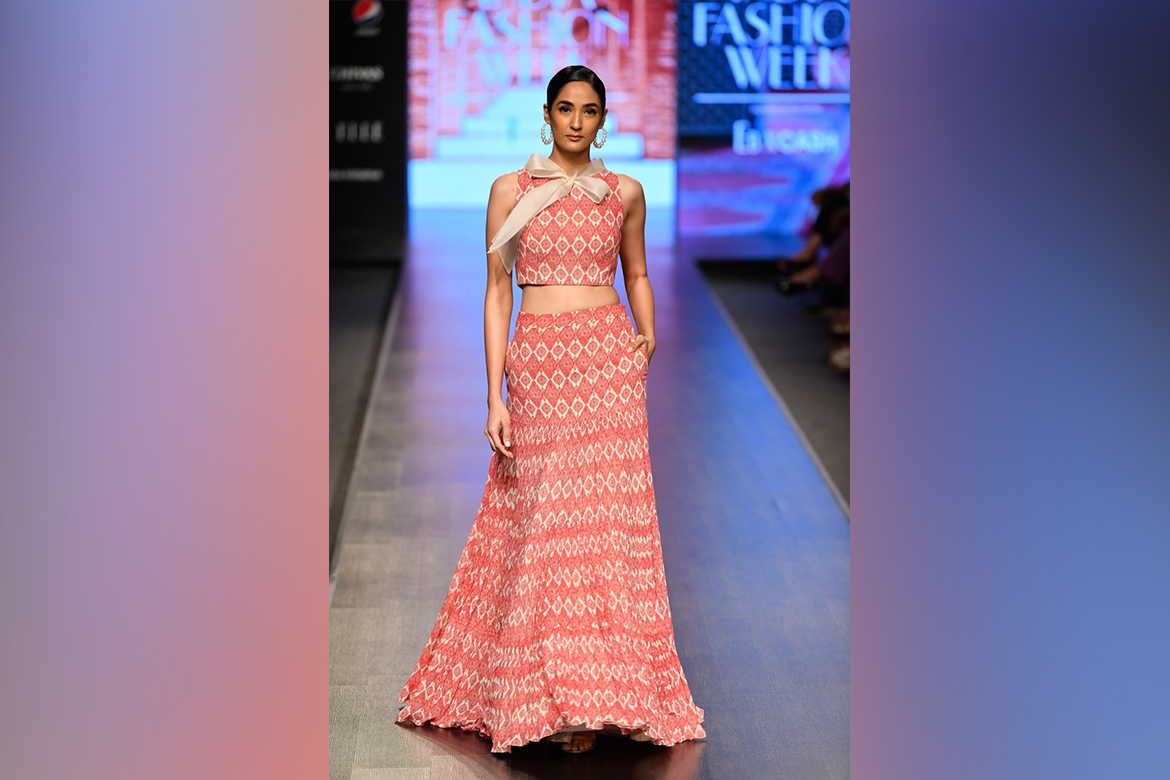 Bhumika Sharma's collection titled 'The Rejma Collection' meant explorations of Marrakesh and Casablanca reminders. The shades and the block prints seemed to be the main through the entire line.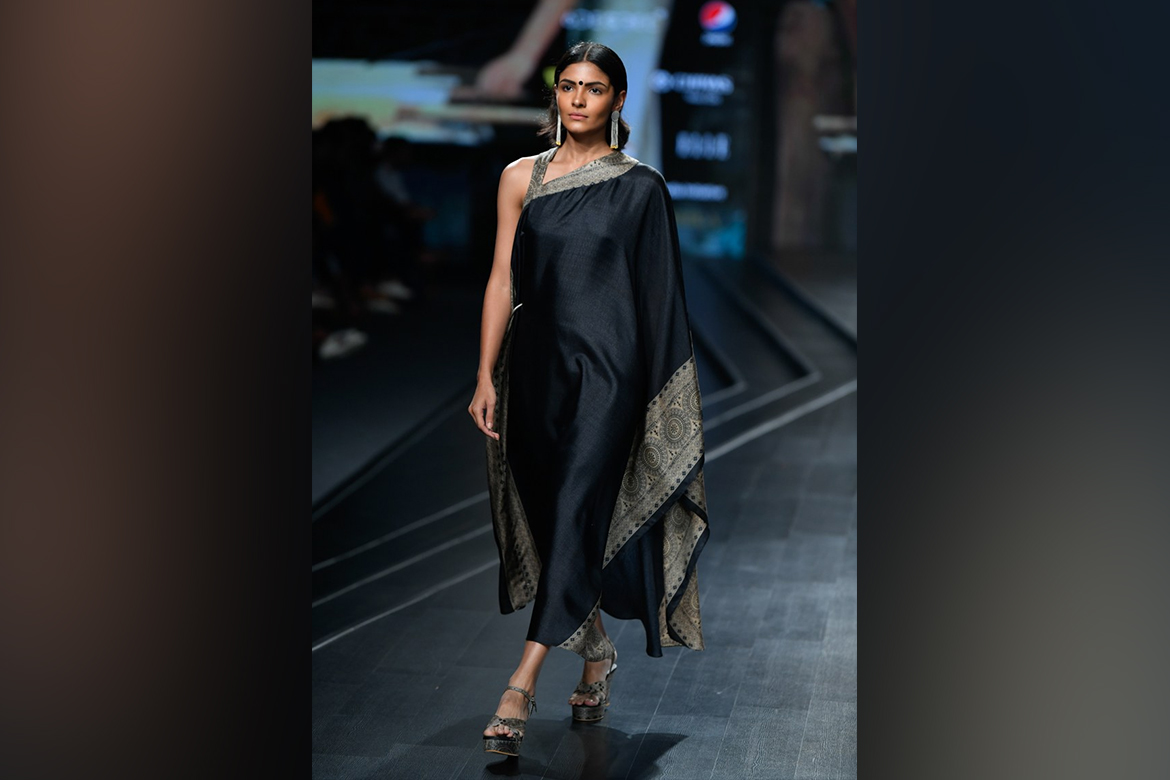 The collection by the designer-duo Rahul & Anushka was an essential vision of feminine qualities dipped in reality. She wears paisley fabric tunics, one-shoulder dresses, sarees, and kurtas alike. Face it, she's the urbane Indian woman, but not afraid to embrace femininity too.
You May Also Like: Deepika Padukone Goes All Dior As She Attends Paris Fashion Week
In a true fashion sense, Dolly J came up with an ultra-modern fever dream-evening gown, bold shoulders, frills, feathery accents, and playful shades. The collection was full-on maximalist, joyful, and exuberant.
Nikita Mhaisalkar's collection was another leap to the show. Gypsy inspired ensembles in animal prints, structured jackets, maxi dresses, paired with neck scarves, served as reminders to create a balance.
Designer Payal Jain paid tribute to her late father through her latest collection, 'Crescent Moon'. The ensembles in the form of gowns, sarees, and skirts were in white with floral depictions. Natural fabrics like silk and organza were used extensively.
You May Also Like: Komal Pandey- A Fashion Icon Ruling Over The World
Suneet Varma presented his pret-travel-destination collection. Mirror and sequined works were the main highlight of his show along with the use of neon, metallic, pastel, black, and blue hues.
Another young designer Sameer Madan's collection, 'Time Capsule' was the 90s inspired featuring statement blazers. Mustard yellow, lavender, burgundy, red, and brown were the colors used. Other accessories included handcrafted beads and dried flowers.
Shivan and Narresh's collection, 'Seoul Series,' was inspired by the South Korean fashion, art, and music. The lineup included luxe modern outfits and athleisure wear. The fabrics used for the resort wear collection were hand-woven Korean lace, Korean PVC, classic organza, and crepe.