Pink Belt Mission is a non-profit organization that aims to strengthen every Indian woman by providing them health awareness, safety techniques, legal rights, cybercrime, self-defense, computer literacy, and vocational training to prevent sexual and domestic abuse.
The organization also closely works with underprivileged children for education. This organization was started by two superwomen Aparna Rajawat and Mansi Chandra.

Who is Mansi Chandra?
An entrepreneur by her profession; Mansi Chandra started her entrepreneurial journey with the motive to be financially independent six years ago and started a small shoe manufacturing factory in a rented space in Agra named Ta. Ra Innovations.
Her grit and determination bore fruits, and within two years she built her own factory and eventually crossed the 100 crore mark in turnover by the fourth year.
For her professional achievements, Mansi has been honored by FICCI as the Outstanding Women Corporate Director and Canara Bank as the Best Women Entrepreneur.
Also, read: 5 Tips To Make Travelling Easier With A…
Mansi stands out, as she is a woman entrepreneur in a male-dominated industry of shoemaking.
Female factory workers in the shoemaking industry would do small jobs and lacked skilled based training that pays well. Mainly as they never received the opportunity to learn or were trained. These important functions were dominated by male factory workers.
To empower her female factory workers, Mansi has been training them with important skills essential for shoemaking and has now successfully trained several of her staff to become more valuable through the knowledge of their skills.
Over the years Mansi has been closely interacting with her female employees and local women and has been guiding them to stand up for themselves, helping them become financially independent.
Most women who reach out to Mansi for help and support are ones who either have lost their husbands, divorced, or abandoned by their families.
As Mansi, herself lost her husband when young, raised her two daughters by herself, and started her own business without any external support. She would not miss out on an opportunity to help women in similar situations and guide them to be financially independent and provide emotional support during tough times.
In a life-changing move, she met Aparna Rajawat, Founder of Pink Belt Mission who shared the same vision of empowering women and, they both came together to define what Pink Belt Mission is today.
While Mansi as an entrepreneur believed in empowering women through financial freedom and job-based skill training. Aparna in addition to this believed in empowering women in 5 dimensions, i.e. through physical strength, mental health, legal-rights awareness, digital awareness, and emotional support, all together along with the knowledge of self-defense.
Today, Pink Belt Mission is not only helping empower women and children for their individual requirements but have also been organizing free of cost self-defense workshops for girls and women, as an initiative to train to protect themselves and stay prepared in times of any assault.
Their shared vision towards women's safety and empowerment created a global impact that furthered the cause.
Also, read: These Designers Presented A Special Collection Championing Hand…
In February 2020, Pink Belt Mission was awarded the Guinness World Record for organizing the largest self-defense session.
Who is Aparna Rajawat?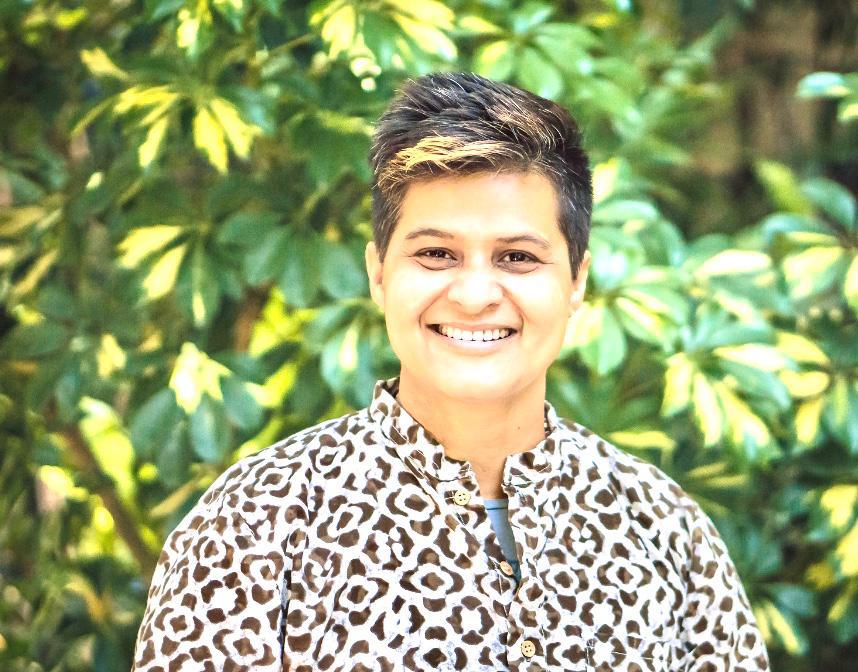 Image souce: Pink belt mission.
Aparna was born in a conservative Rajput family with 5 siblings. Growing up with 2 dominant brothers was extremely difficult for her. She had to endure all the physical violence from her own brothers and that was what made her realize that her inner strength was the only way of protecting herself.
At the time where young girls of her age were still playing with dolls she decided she wanted to learn Karate.
Since there weren't many girls playing this sport; she fought her championships with other boys. It gave her the strength she always was in the need of to stand up tall, undefeated against her brothers and school friends.
She felt the need to not use this strength only to protect her but also extend it to those who needed protection.
She mentioned, when she was only 7 she was fighting for some of her girlfriends who had landed themselves in trouble and a very simple question crossed her mind- WHY CAN'T GIRLS FIGHT FOR THEMSELVES?
The seed that was subconsciously planted in her mind, bore fruits years later in 2016 when she started her very own dream mission called the Pink Belt Mission.

The Pink Belt Mission intends to strengthen every Indian woman by providing them health awareness, safety techniques, legal rights, cybercrime, self-defense, computer literacy, and vocational training to prevent sexual and domestic abuse.
It works on the mental strength, emotional strength, and legal strength of women as they firmly believe that women need to be educated about their rights against sexual assault, harassment, and violence.
Aparna is a 13 time National Champion, two-time National Open Challenge Champion, Silver Medalist in the South Asian Karate Championship and have also been a Kick Boxing Champion.
Unfortunately, she met with an accident in 1997 and had to quit her dream of competing for the World Championship. But the fact that she was finally her strongest self, was indeed a real victory for her.
She also worked as a travel guide and traveled around the globe. She said, "You know what they say. Travelling provides you with a perspective like never before. All my life, I always thought very differently about the role of a woman in society due to the traditional background I came from.
However, after having traveled all around the world, I got the opportunity of interacting with women who helped me change my views about the existence and importance of a woman. It made me want to go back home to my motherland and make every woman feel as liberated as I felt then.
The thought of not being able to do enough made me restless but I still continued to travel and work until one day in the year 2012 when the story of the Nirbhaya Case shook the world.
That was it. The turning point in my life. I quit my job and I finally decided to pick up all my strength and put it to use for uplifting the women who I knew needed me."
Teaching women how to stand up for themselves had always been at the back of her mind, but the Nirbhaya Case reignited this spark. She realized that it was time to get moving, to make women understand their true strength and she started the PINK BELT MISSION. She mentioned," Truth be told, my experiences along the way, were not good. "
"Quite soon, I realized that the basic fabric of the society cannot be changed single-handedly, the government has to become an active part of the solution. All schemes for women are available but they are not implemented correctly.
After studying in-depth, I realized that despite the presence of law for women, lack of awareness makes everything go waste. ", she accused.
She also mentioned," It is not easy to change anything in a male dominant society like India. Empowerment for women is still misunderstood to be a fight of women vs men. At the time I started working on this mission, self-defense was not considered to be a necessity.
It still isn't but I can say the times are better now. Women are waking up and standing up for themselves and I try to provide them with as much help as I can.
Financially too. I started the mission single-handedly with 100 of my first master trainers and now we are one huge family of 2000+ trainers where we have together trained more than 150,000 women."
PINK BELT MISSION OBJECTIVES
It aimed on making women aware of their rights against sexual assault. Further said, It also aims to create awareness for a balanced society in which everyone is respected and treated equally. Pink Belt Mission presently also empowers women through self-defense training and workshops. To date, they have covered 12+ states across India, trained more than 150K girls, have more than 2K Pink belt trainers, and have conducted more than 1K workshops.
The organization believes that strong women make a stronger community. They focus on encouraging and supporting women by spreading digital awareness, giving safety education to handle any kind of abuse, and giving vocational training to start their micro-business.
For the community, they aim to support the unprivileged people of the community. Pink Belt Mission focuses on education for poor children, helps kids with special needs, supports handicapped people to start a marginal business, and provides welfare schemes for elderly people's medical support. They offer career counseling for young people to continue their financial education, and platforms to develop their sports and cultural talents.
This year in February 2020, Pink Belt Mission was awarded the Guinness World Record for organizing the largest self-defense session.
For more information: www.pinkbeltmission.org