Special events are always exciting, but deciding what to wear can be stressful, especially when dress codes are involved. When you receive an invitation with the words "cocktail attire," it's natural to feel a little daunted. Choosing an outfit that is appropriate while still being fabulous can be a challenge. To ensure you turn heads while fitting in at your next event or function, we have this handy guide to cocktail attire for women. The cocktail outfit is a standard dress code for evening parties and functions. For women, cocktail attire calls for a dress that finishes at or above the knees and high heels. The cocktail look should always appear sophisticated, but they can also be fun and embrace exciting colors, embellishments, cuts, and unique accessories.
The cinderella gown
If you want to fulfill your childhood fantasy of being a princess, then this evening gown is the way to it. A magnificent icy-blue ball gown with pink floral prints and motifs on it will give you a stunning look.
The grey tube cocktail dress:
A voluminous cocktail dress, with floral motifs is an apt choice for an evening function.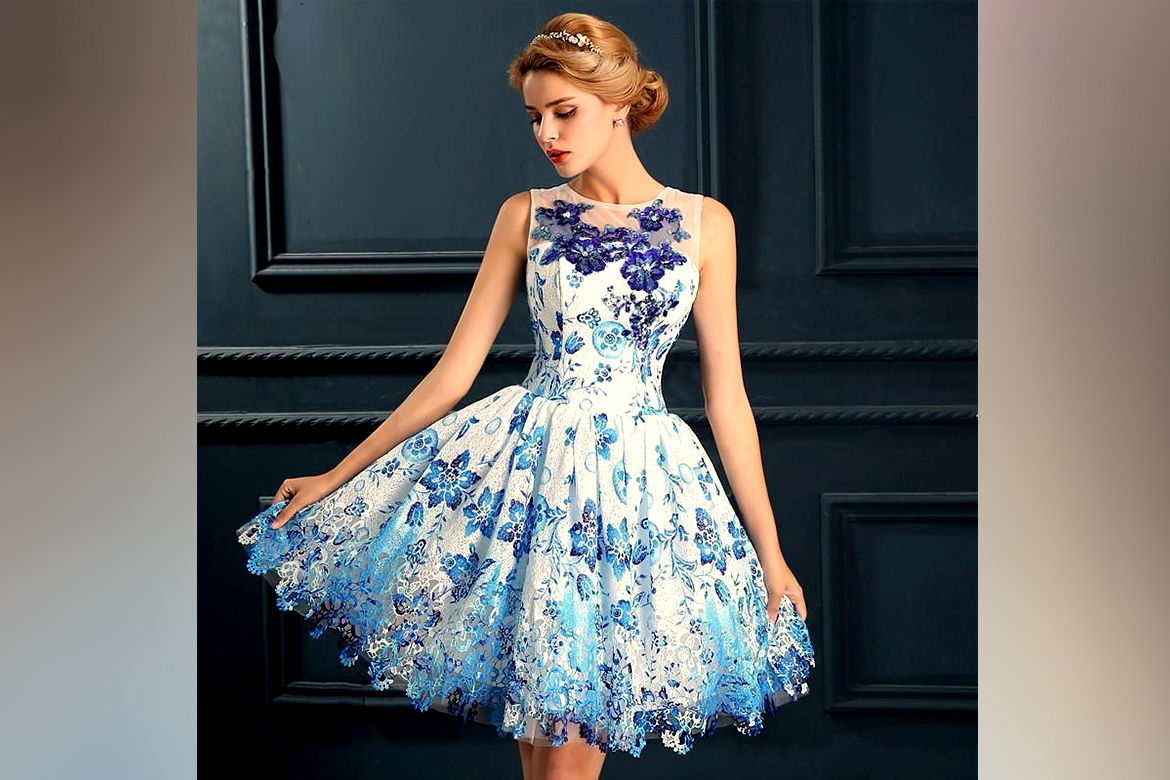 The ruffled cocktail dress
This cocktail dress combines two latest trends – pastels and ruffles and thus had to be on the best cocktail party dresses list. Wear this evening gown to cocktail/reception and make sure to turn heads with a mermaid cut.
The reception gown with a long trail
If something-extra has always been your style statement, then you too can't resist this ball evening gown with a gigantic trail. The customized evening gown with lace detailing will made a statement at the wedding party.
The combination of gold lehenga and gown
If your heart is set of all things gold, then a saree gown will speak to you while looking for a cocktail dress! For those who can't choose between a lehenga or a gown, this is a great option.
The vintage evening gown
If something jazzy and shimmery is not your thing for cocktail dresses, then you'll surely love this burgundy ball gown with ruffles on it. What I love the most about this evening gown, is the floral prints on it, giving some major vintage feels to it
The icy-blue and beige cocktail dress
If you are looking to make a statement, but don't want to wear an over-the-top gown, then ice-blue and beige cocktail dress with subtle embroidery is an apt choice.
When it comes to cocktail outfits, it's always best to be sure about your choice. The cocktail and reception events will be the times when you can let your hair down, give your heavy lehengas a miss and opt for some stylish silhouettes and edgy designs. They are the perfect occasions to opt for stunning cocktail dresses & reception gowns to dance your night away. Although, just remember, that your cocktail outfit should be a perfect balance between style and comfort.