In India marriage and its ceremonies are not less than a festival. In India, Mehndi is not only, done for fashion but, since centuries before marriage girls, were applied a mehndi on hand and legs. It is a culture in India 1-2 days before marriage, bride, and groom applied a Mehndi. Mehndi is also known as henna. Here we present you the 25 Latest Bridal Mehndi Designs of 2021.
The henna shade looks beautiful but, apart from that! Do you know henna is applied to the bride's hands & feet because in Indian tradition if Mehndi's colors are bold then it is said that their husband loves her the most!
Also, read: 17 Wedding Car Decoration Ideas That You Can Use For Your Marriage…
No doubt, your partner loves you the most but, what if the Mehndi color results in dark. And the design is not so good?
Every girl dreams that their "bridal Mehndi" must be the best that displays the love of her life. On other occasions also girls love to draw a Mehndi on hand. But, before the wedding, many girls are sitting together and the bride applies a Mehndi and it is also a Mehndi ceremony which is celebrated. Not just in India but, many of the countries having the culture that before marriage Mehndi celebration exists.
Do you want the best Mehndi that looks awesome and also teamed up with your outfit then, dear bride before looking elsewhere, scroll down to this extremely beautiful yet elegant design that can surely blow your mind!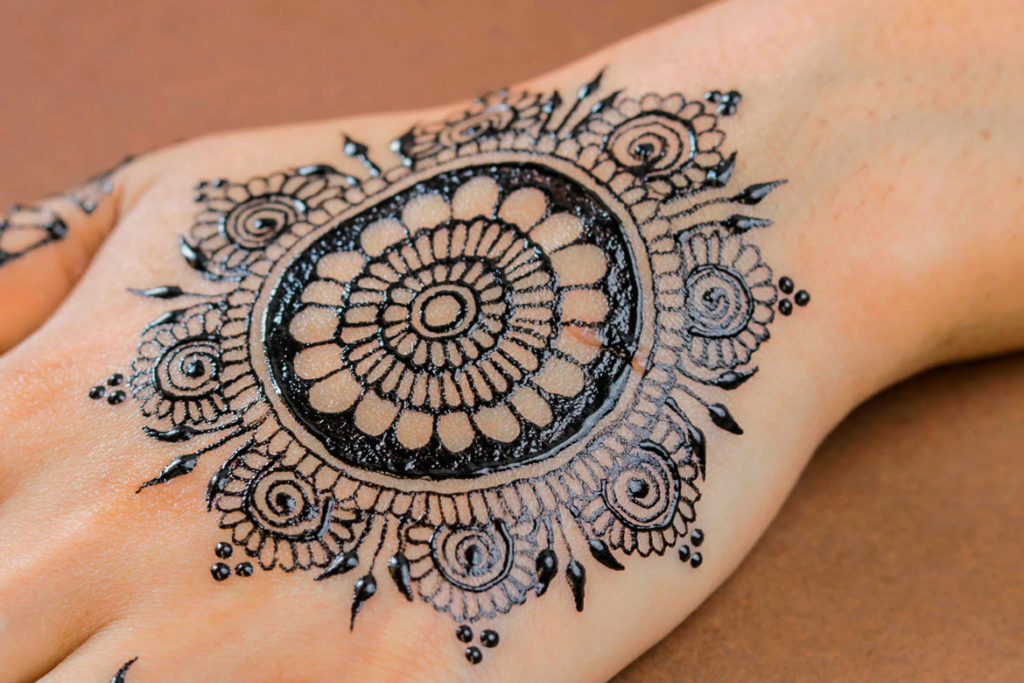 This Mehndi design is surely bookmarked by the best professional!
For sure, you will be impressed with this henna design! If you have a fondness for doing something unique in life, then this bridal or out-of-the-box Mehndi is perfect for you. Give 3D effect to your mehndi and feel special.
Combine bride-groom & floral design mehnditional stthatridal Mehndi.
Give some different glitter shades on mehndi but, make sure not on the whole arms and leg Mehndi but, 1-2% glitter shade either red, blue, or whatever the color you want to give it on that. Combine it with a floral design which will add a shine to your bridal mehndi.
Go for Radha Krishna or shiva-Parvati portrait.
1-2% shade of different colors on Mehndi can surely take the design of the ordinary bridal Mehndi to the inspirational bridal Mehndi for sure. With getting Radha-Krishna and Shiva-Parvati mehndi designs will add the beauty to your hands and relation. It is said that the love shared by Radha Krishna and Shiva Parvati is endless and this mehndi design will make your bond also endless.
Glittery elephant design Mehndi.
In your favorite Mehndi add an elephant design around that bows or flowers also on the elephant, peacock groom portrait, or in the groom name add some shade of glitter, as a result, your perfect Mehandi is ready.
Trail Mehndi design.
The trail pattern mehndi designs are long and slender designs. This design gives a slender look just like a bird tail. Many floral designs are intricate in the design. The appearance is just like a feather tail. There are leafy design patterns with dotted design fusion in them. It looks awesome with an elegant style
Checkered pattern mehndi design.
The checkered pattern mehndi designs are in fusion with floral designs. The prominent designs are symmetric designs with geometric checkered patterns. These mehndi design patterns give an indo Arabic look. An approach of modern style mehndi with stylish look.
Bloom  Mehndi design.
Bloom mehndi designs are well known for space in designs. It gives a clear blossom floral look with spaces in the design. These bloom designs look awesome for a party. The mehndi design gives a look like a flower blooms by the mehndi design. These are trendy mehndi designs for girls. This design gives an enchanting look
Ornament Mehndi design.
The ornament mehndi design pattern looks awesome on the backhand side. This design gives a simplicity in look and also resembles just like an ornament. These mehndi designs give a look of wearing ornaments. The designs are eye-catching and give a royal look.
Contemporary Mehndi design.
Contemporary style mehndi designs are trending. These designs are amazing with different styles of patterns. These designs are drawn by girls and give a modest stylish and flaunt look. They are fusion designs. There are swirls patterns in the mehndi design. A big round pattern with swirls is drawn in these designs.
The Raja Rani Mehndi Design.
The traditional and timeless Raja Rani Theme Mehndi is one of the most preferred designs by brides for their D-Day. Raja (King) motif on the one hand and Rani (Queen) motif on the other combined with bold floral motifs and traditional lace look splendid. The precision and detail were given to Raja Rani Motifs and other prominent features are worth the praise.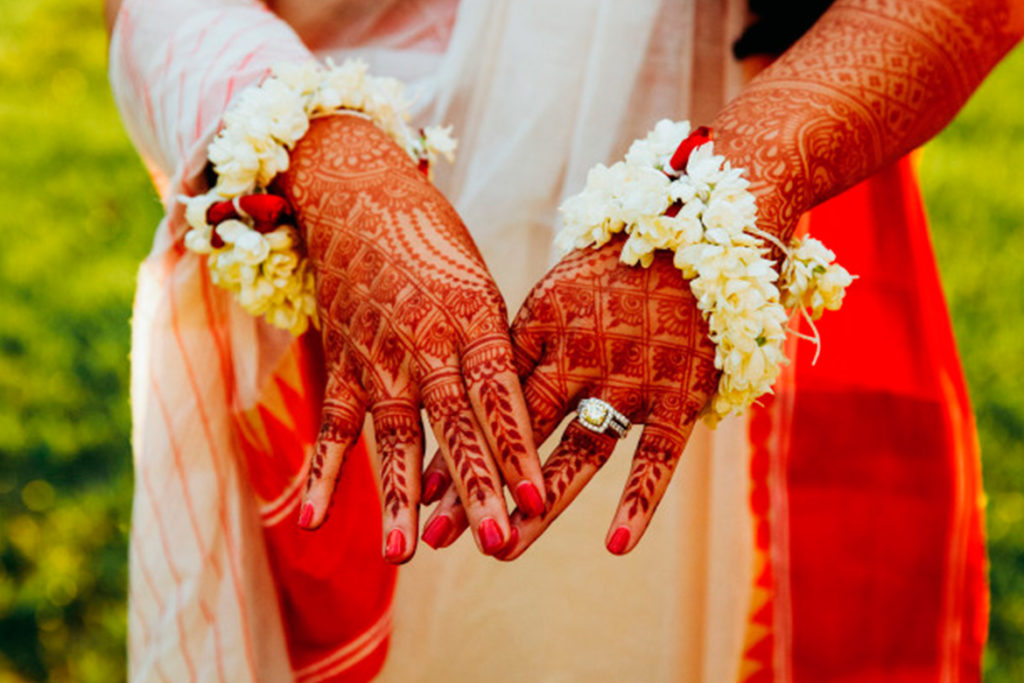 The Bambi Motif Mehndi Design.
The Bambi motif mehndi design is a traditional design that inspires other mehndi designs. The unique motif design can fill the entire hands up to the elbows or upper arms. The same pattern can be used for legs also. The combination of the Bambi motif with flowers and mesh is a pleasant addition to the Mehndi design. Isn't it a refreshingly different design!
Bride and Groom Portrait.
The evermore and classic bride and groom portraits or caricature in the mehndi design is a trend these days. The mehndi design with bride caricature on one hand and groom caricature on the other will be best for your wedding day. Bride and groom portrait clubbed with floral and lace motifs depict the tale of love in bridal mehndi design.
Elephant Design with Traditional Mandala.
The pair of elephants carrying Jai Mala in their trunk on the front side and traditional Mandala design on the back of the hands is for the brides who want traditional artwork. The bold and delicate pattern of jaali (net) with elephants and traditional mandala gives this mehndi design a well-balanced look. The fingers are adorned in a leaf pattern to provide a classic touch.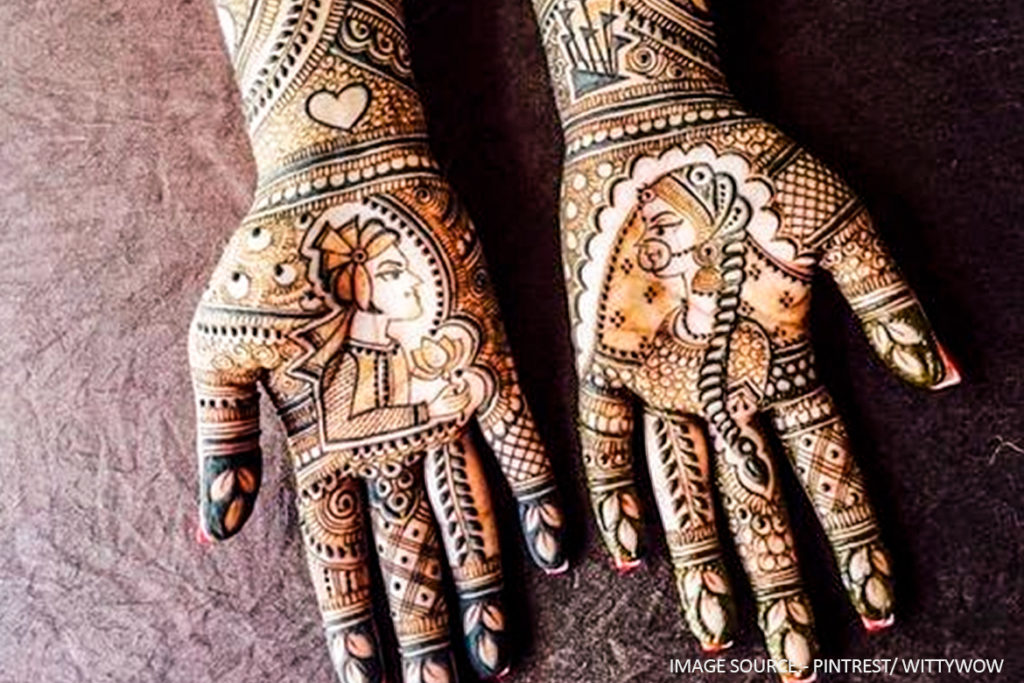 Floral Motifs Mehndi Designs.
Floral Motifs Mehndi Design is a combination of flowers, petals, and leaves. All these are combined in a sequence to create a Mehndi Design that is best for the bride's wedding day. This design majorly consists of similarly made flowers, petals, and leaves on the backhand also.  This design is bold and elegant with the use of flower and leafs patterns covering your hand with the freshness of the flower.
The Mandala Mehndi Design.
A heavy mandala mehndi design is made right in the middle of the front and backhand. An amalgamation of mandalas with geometric shapes and swirling patterns up to the fingertips is the best part of this design. A simple mandala on the front and back of the hand is the foremost choice for brides who want minimal design. This mehndi design is Oh So Gorgeous!
All rituals of wedding design.
A wedding is a ceremony where two souls take vows to live together and take care of each other in good and bad times. The rituals performed during weddings like sindur daan, phere, and the Doli rituals are drawn on the hands of the bride. This mehndi design is traditional and intricate that never goes out of style. A perfect option for the traditional bride!
Arabic-Indo Fusion Design.
This Mehandi design is for the brides who believe in the "Less is more" mantra. This design is a contemporary Arabic Mehandi design that does not cover the whole hand. This minimalistic Arabic Mehndi design has simplified floral motifs flowing from one side of the hand to the pinky finger. It can be paired with a designer jaali pattern as well.
Mesh bridal mehndi designs.
The mesh (jaali) design compliments most of the Mehndi designs as this pattern never becomes old. This easy mesh pattern can easily be coupled with different motifs like peacock, lotus flower, Ganesha, and many more.  This Mesh design will make everyone compliment your bridal look. The border lace up to the tips of fingers adds to the beauty of this mehndi design.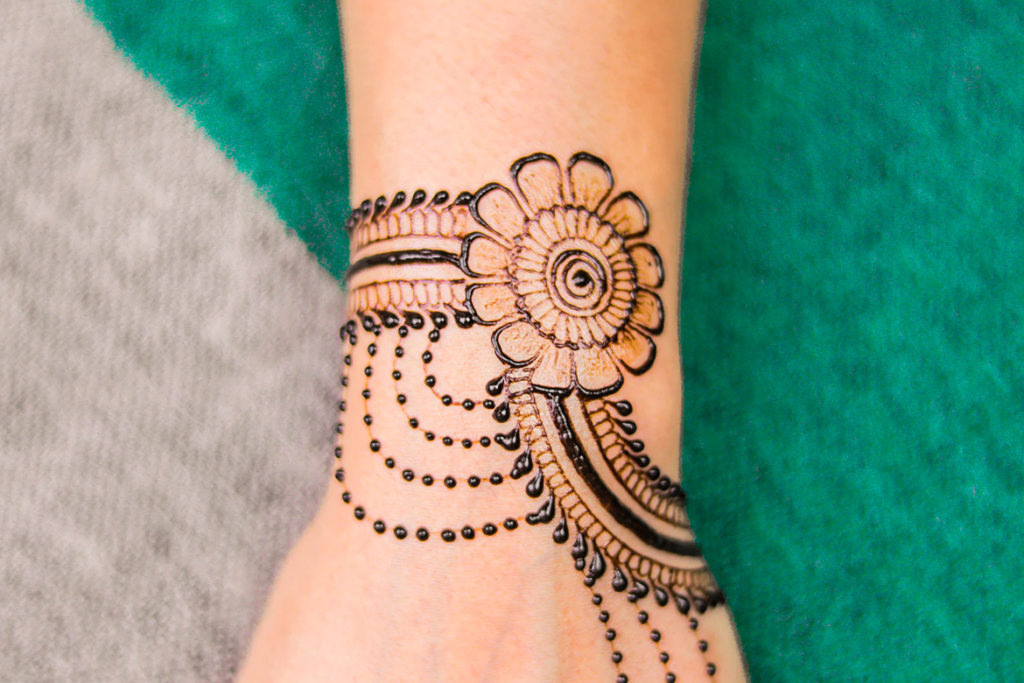 Lotus motif mehndi.
The lotus bridal mehndi design is intrinsically popular among artists nowadays. Be it on the palms or the forearms, this design looks amazing. The lotus design with jaal or geometric pattern highlights your entire mehndi. You can infuse huge single lotus motifs, or you can accentuate the entire bridal mehndi design with this. These striking lotuses look breath-taking and swooning.
Baarat & figurines Mehndi designs is very popular among 25 Latest Bridal Mehndi Designs !
Are you looking for bridal mehndi designs that are elegant and unique? Go for baarat and figurine Mehndi designs. There is nothing more beautiful than a full baarat scene drawn on your hands. Starting from groom figurines on a horse with various types of shehnai and figurines of Bharati to the bride's beautiful palki. This will be the best design a bride can print on her hands so that she can remember it for many post-marriage days too. Although this design can be the most expensive and time-consuming mehndi design for brides, once it is all done the cost and time spent are well worth it.
Also, read: "Love at first sight"! Myth or a fact? 15 signs to identify…
Full wedding day sequence design.
Baarat figurine Mehandi designs maybe in trend these days, but if the bride wants to add some more elegant and magnificent touch to their mehndi, she can try to have a wedding day sequence on her hands that perfectly depicts the overall marriage day. From the bride and groom makeover, Jai mala, mandap rituals to vidaai, these Mehndi designs add more beauty and glamour to their hands. It can be drawn perfectly with a small flower and peacock motifs with small lotus flowers on either side of the hands.
Bride & groom figurine designs.
The loveliest Mehndi pattern ongoing trends. The bride's hands are covered with her loving husband's portrait on one hand and in another, it's her portrait. This mehndi design looks very simple and beautiful but it's very complicated. One needs to hire a caricature artist to draw these mehndi portraits on the bride's hand. This mehndi pattern perfectly depicts the bride's love for the groom. Earlier brides wrote their husband's name on their mehndi design to increase the love bond between them. But nowadays along with the name, the bride and groom portrait is very trendy. It can be drawn with both hearts shaped frail designs on both hands covering the portrait forming a heart shape.
The horoscope specials design.
A bridal mehndi can go more interesting if a bride chooses to draw this mehndi design on her hands. She can have her and groom's horoscope signs drawn in it along with important dates. She can have their birth dates, anniversary dates, or proposal date written on it with a sweet message. She can also have a variety of social media handles on which they met or the name or small Icon of the location they met for the first time. This Mehndi design is best to cherish those moments which she and her groom might forget or want to relive their beautiful memories.
Love quote design is the among 25 Latest Bridal Mehndi Designs.
Is there anything that you want to say to your husband to be for a very long time, but unable to do so? Try writing it down on your Mehndi design. Yes, it's the new normal way of conveying love messages to your husband without any problems. You can have written various love quotes dedicating to your husband or simply just a Shayari or a small message for your husband. This is unique but the most popular and interesting Mehndi design ever came. You can use various calligraphy artists who can write very beautifully on your hands the message or quote you want to see on your hands.
Showing your love with words or through messages is an old trend right? Then why are you waiting to reflect your love towards your partner to everyone with the graceful Mehndi designs!
Also, read: 15 Most Common Myths About Women That Men Believe.
We hope that until the ending of your scrolling passage, you got the perfect design for you!