A skin care routine should be really simple and effective. The idea is to get the best skin by spending a limited amount of time daily. Applying skin care in the right order ensures the skin gets the maximum benefits. So, it's really important to use the products in a skin care routine in the right order. So, here we give you the correct order of products for a morning skincare routine.
STEP 1: CLEANSER
Start by washing your face with warm water and using a gentle cleanser on the face based on your skin needs.
STEP 2: TONER
Toners are the most underrated item of skin care. Toners are assumed to be a harsh item that can irritate the skin. Well, that's not true at all. They act as a delivery agent of vitamin B and antioxidants. Each type of toner has a different purpose so make sure you pick the right one you need. Toners are a great way of maintaining the PH balance of the skin. Avoid using toners with alcohol.
STEP 3: ANTIOXIDANT SERUM
Serums are great for treating some specific concerns. They are super-concentrated and nutrient-dense. They show great results when kept close to the skin. There are various serums available in the market, although I would say pick up an antioxidant serum.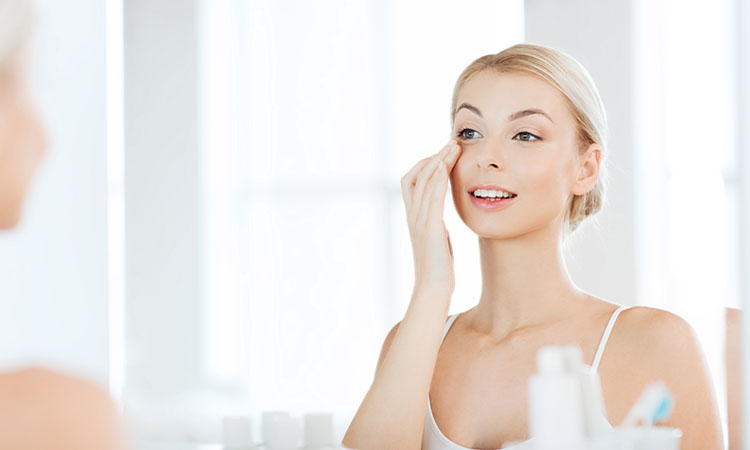 STEP 4: EYE CREAM
Eye care is quite neglected. Using an eye care cream offers thickness to the eyelids, reduces puffiness and improves the elasticity of the skin area around the eyes. For the daytime, skin care its best to use an eye cream with SPF.
STEP 5: MOISTURIZER
Everyone needs a moisturizer. It's a myth when people say that oily skin doesn't need moisture. Everybody has a natural lubricating system known as sebum that saves us from the outside conditions and infections. Even better the moisturizer gives us the extra hint of hydration needed to deal with the havoc caused by chemicals, weather, and the sun. Always apply a moisturizer when the skin is still damp.
Step 6: SUNSCREEN
Sunscreen must become a compulsion when you are talking about the daytime skincare routine. A number of sunscreens solve the purpose. Using a physical or mineral sunscreen help to physically block the UV rays. However, when you pick up a chemical sunscreen, it becomes even trickier. As the absorption of the sunscreen becomes difficult after applying the moisturizer. So, it's best to use a physical sunscreen with zinc. Zinc provides protection against UVA and UVB rays.
Read More: Amazing Hacks For Whiten Yellow Nails At Home