Until you go to the market and start looking for dining chairs, you will not get an idea of how tedious this job is. The idea lies in choosing the best for the given space and when you go ahead you get plenty of options in the market. You get the wooden, cane, metallic, etc.. but one thing that stands out in the crowd is acrylic chairs. The acrylic chairs are made up of synthetic material called acrylic. These chairs are known to be both durable and can be moulded into any funky or classy design making it a great choice to be paired with any style of a dining table. So, when you are thinking of adding some new chairs yo the dining table or probably any other part of the house. Do you give acrylic chairs a chance?
You May Also Read: How To Have FengShui Inspired Entry For Your House?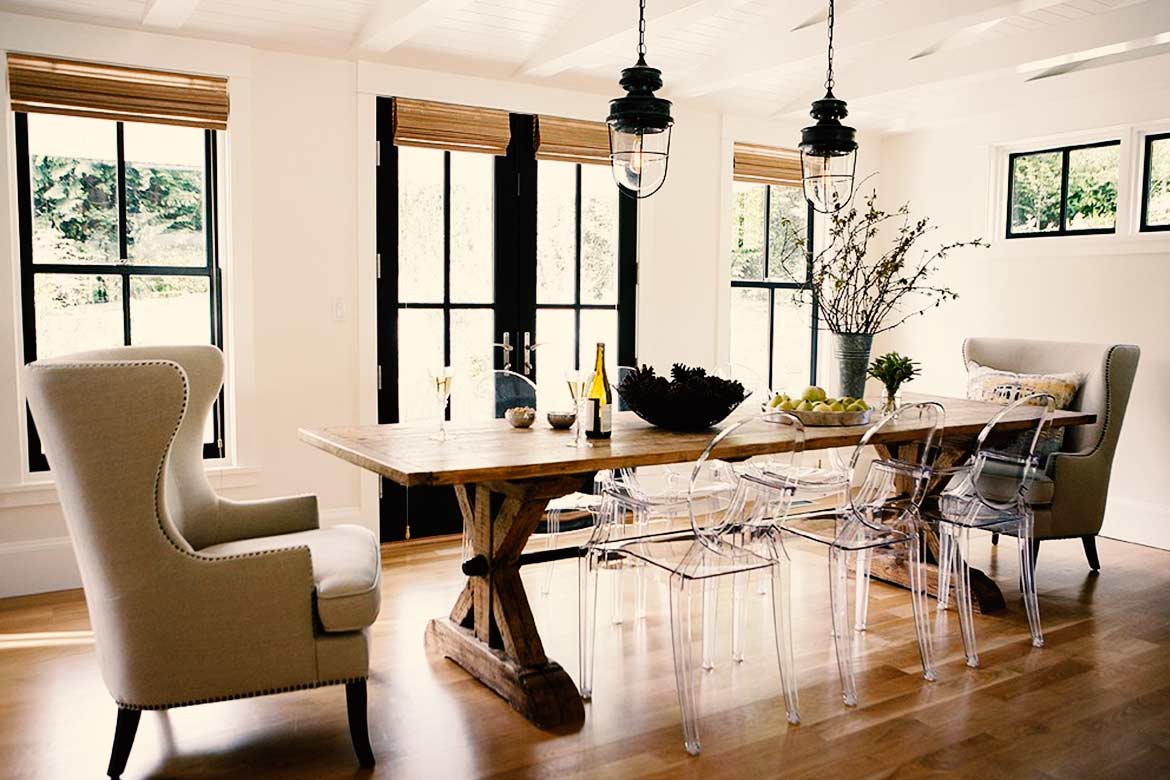 Why acrylic chairs are a great option?
Minus the visual weight:
When working on planning the dining room, do think about an important aspect known as the visual weight. Visual weight refers to the measure of force an object has on the eye, otherwise known as a measure of how heavy an object looks. When you successfully balance out the visual weight, then it means that you have bought the best item for the room. Acrylic furniture is a great equalizer when it comes to achieving this goal. It adds pretty less to the visual weight and more to the utility, And, what majorly makes it shine is the design elements. These pieces also pack a punch aesthetically. Their sleek lines and sharp edges lend themselves well to a modern look.
You May Also Read: How To Add Warmth To You House In Winters
Always versatile:
Don't think your acrylic furniture is versatile. The fact that the acrylic chairs can be super versatile because they can be turned into any shape or size as per the choice. The customization aspect of the material makes it an ideal choice for buying the chair. If you have less space and wish to avoid making it too cluttered use a slimmer version, while you can be a little over the board when you have space.
No space can say no:
Not sure of how you going to fit in a small space. The acrylic chairs are pretty accommodating. These chairs are a natural fit for small dining spaces. You can have a full set of chairs without adding much visual weight to space at all. If you have a small table-use slimmer or ones without much of side handles etc to make it look slimmer and less space taking while if you plenty much space you can add ones with the colour to gather attention.
Tou May Also Read: 7 Ways To Make Your Home Decor More Pet- Friendly
Mix and Match:
Who says you have to have a dining chair incomplete acrylic, one smart tip of the fact is to have dining chairs that can be teamed up with any other material like wood or metal. You can have the back and the seat made with acrylic and the legs with wood to match with the table. Alternatively, you can flip the script and have acrylic seating with solid legs.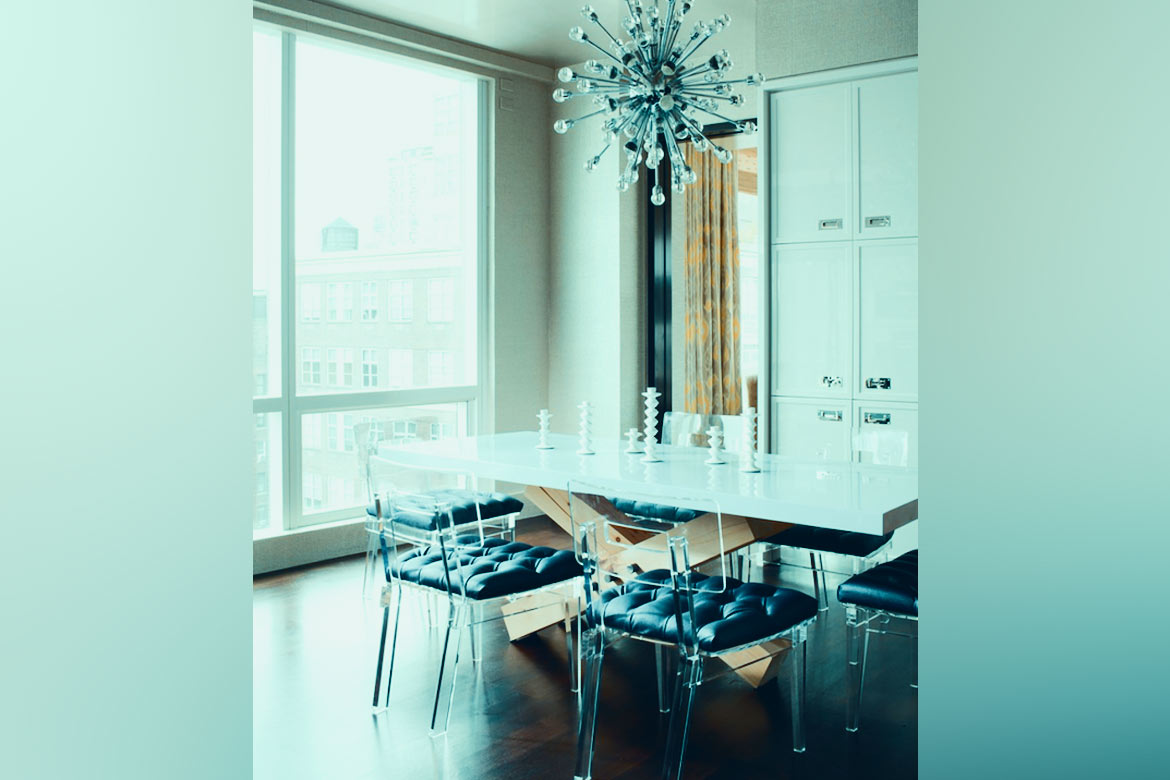 Quick trends to add acrylic chairs to your dining table?
A smart way is to match the chair's upholstery with the neutral palette used in the surrounding dining area to keep the look light and cohesive.

Make the acrylic furniture to stand out in the room by using only one of them amongst the others. Making it the focal point in the room.

Y'all can use acrylic furniture to add a cool factor to your workspace. It doesn't get much better than a see-through desk.

For adding some zing to a white space, you can choose acrylic chairs with a colour pop like orange, yellow or green. This will add some colour and brightness to space.

Pair up green apple translucent chairs to mix textures and hues. This apple green hue looks so fresh when collocate to the translucent chairs bases and clean glass!

Choose stylish modern chairs made up of innovative unified shells made of durable semi-transparent acrylic in blue shades. The back and the seat look like water with homocentric waves, while the sides have been made with metal tubes.

If you have an island kitchen, the acrylic chairs of multiple or rainbow shades are a great choice. These chairs are the best option for any dining room or kitchen island, they come in many finishes, they are packed in comfort. So, a modern-looking design packed with comfort is all we need.

A nice combination of traditional and innovative styles. This chair has been added with arms, it is chosen for commercial and home indoor or outdoor areas. Clear acrylic surface is very unique and resistant to wear or damage.

Pairing chairs of different materials makes for an eye-catching design. Make use of the wisdom of different textures. Pair up a metal chair with an acrylic chair.

Make use of the acrylic chairs, when you have the dining table placed in the kitchen. The idea is to acrylic seating can complement a sophisticated kitchen island.

Use metal borders in acrylic chairs to make the chairs look edgy and gather some attention.

Let the upholstery on the chair seats matches that of the banquettes.

Hang a beautiful artwork just before the wall and then let use acrylic chairs to gather all the attention to the artwork.

If you wish to add some visual weight, use the backrest and the armrest to experiment and make the chairs more trendy by adding acrylic chair legs.

If your dining room is close to large windows that boast about the beautiful scenario, the idea is to use acrylic seating to create an entrancing variation with the scenery outside
You May Also Read: 20 Golden Vaastu Home Decor Rules For A Happy Family
These are a few ways that you can make use of the acrylic chairs in the dining area. Although, they are pretty versatile and can be used in any part of the house. They do not only add to the utility but also make the maintenance easy. The idea is to have chairs that are easy to maintain and less costly, then these are the best choice.