When one talks about Kitchen decor, it is a whole new world. There are endless ideas and possibilities when you are looking for decorating your kitchen. It is just how the homeowners want the kitchen to look decides the theme. One stylish theme that has gained a lot of popularity is the rustic kitchen decor. When you talk about the rustic kitchen decor, it is somewhat a beautiful combination of the country cottage and farmhouse decoration. So, if you are a fan of the countryside living then this kitchen decor will be the apt choice to decorate the kitchen with. Here are the 5 elements that you must add to the rustic kitchen decor to make it look perfect.
Stones:
Ok, I don't mean to place stones on your tabletop. When we talk about rustic, it talks about nature. So, nature is more than wood. It is about greens and stones as well. Adding stones to the kitchen gives an amazing feel to the kitchen decor. You can add a hint of stone close to the fireplace or cover an entire wall with river rocks. If you are bored of the usual floor, then you can try the flagstone floor for the kitchen. But, make sure to add some rugs to the place to break the scheme.
Colors:
Rustic Kitchen decor means greens, grays, browns, mud or anything that favors warm shades. The rustic kitchen should have earthy tones. Anything that talks about the earth. Don't get too carried away with colors when you are opting for rustic decor.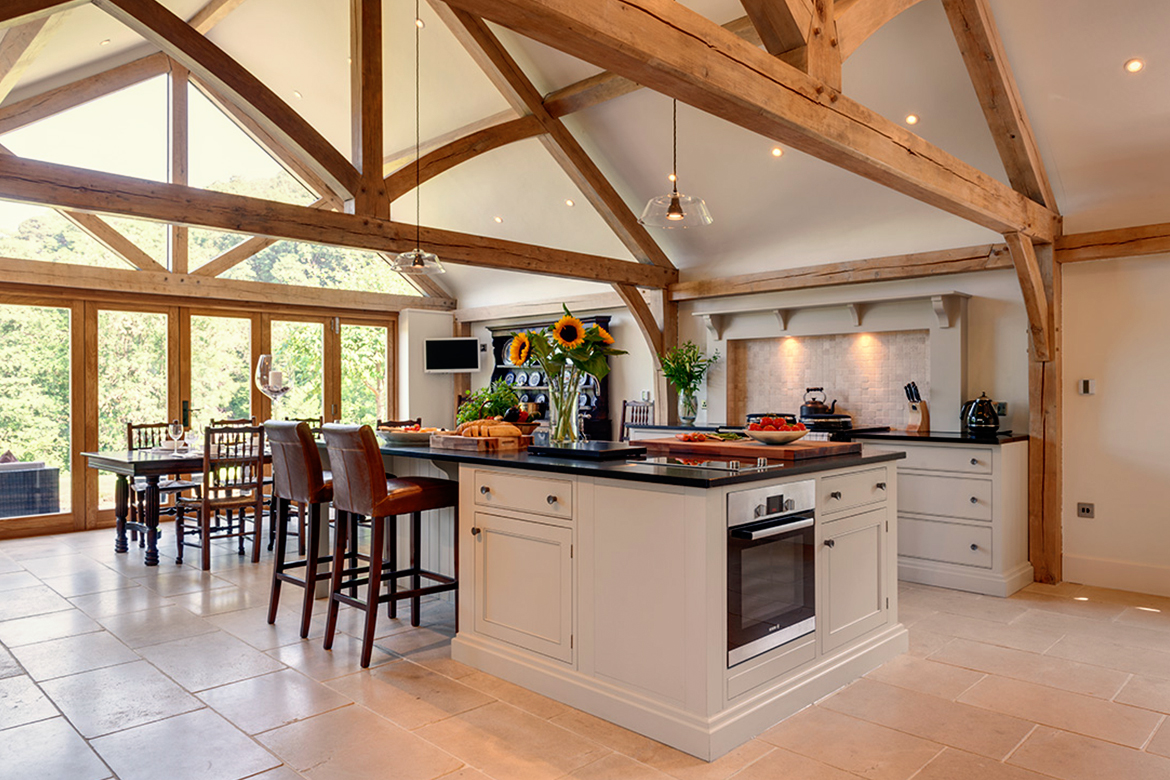 Accessories:
Rustic kitchen decor can never be complete without adding some accessories to the place. When you are looking to accessorize a rustic kitchen decor. The best thing to buy is ornate, carved mirrors, Navajo rugs, woolen textiles, stone pineapple statues, twig-style furnishings or grandpa clocks. These are some common and safe options you can invest in. Otherwise, you can play as much as you like.
Hanging Pots:
Unlike the modern-day modular kitchen, rustic kitchen looks for a little more old fashioned feel. Invest in a huge wrought iron pot rack with gleaming copper pots dangling from the ceiling. We don't say you have to buy an expensive one and hang everything on to it. But, it's a smart idea to hang pots that you frequently use outside. If you like to give it some more feel add an old barn ladder would be great, too.
Kitchen Cabinets:
A rustic kitchen can never be complete without the use of wood. But, the use of wood should entirely depend on how you want the kitchen to look. If you have a big space, it's a great idea to invest in darker wood cabinets. While if you have a smaller space it's a better idea to invest in bleached white wood or you can invest in buying lighter shades of wood like oak and pine. Use butcher block countertops to offer a warm and comfortable feel to the kitchen along with adding to the rustic kitchen element.
Read More: Ideas For Flower Jewellery You Should Wear On Your Haldi- Mehandi!