The bond or relation which two friends have in between them is truly amazing and great. Friendship shares everything whether emotional moments, happy moments, troubles, struggles, sadness, and more signs girl likes you but trying not to show. It could be very incredible when you have a person who is there and stands beside you in every situation. The not only friendship between two guys or two girls is wonderful, but nowadays the opposite gender i.e a boy and a girl also share a lovely friendship bond between them.
Also, read: 17 Wedding Car Decoration Ideas That You Can Use For Your Marriage…
When the friendship between a boy and a girl grows and becomes deeper with time, they might both get used to each other and get attracted to each other. And sometimes, this attraction is the new phase of their lives which might bring them closer. They silently started liking each other, started doing every activity of their day with each other, they started taking care of each other as a life partner did, and more.
Slowly and gradually this bond becomes stronger, deeper, and truer. And the feeling of both becomes more intense and clear. But might due to the fear of the family, society, or not sure about sharing the future, girls might hide their feelings just to ensure the boy's happiness. Even though she knows the feelings of him. She silently and secretly keeps liking him for days, months, and even years but cannot accept. But how does a boy come to know that the girl whom he likes the most also started liking him like he does, because she is not accepting nor expressing it?
To find out this, we have formulated an article which will tell you the signs that she has started liking you. Through these signs, you can be sure that she also likes you but just ready not to express it.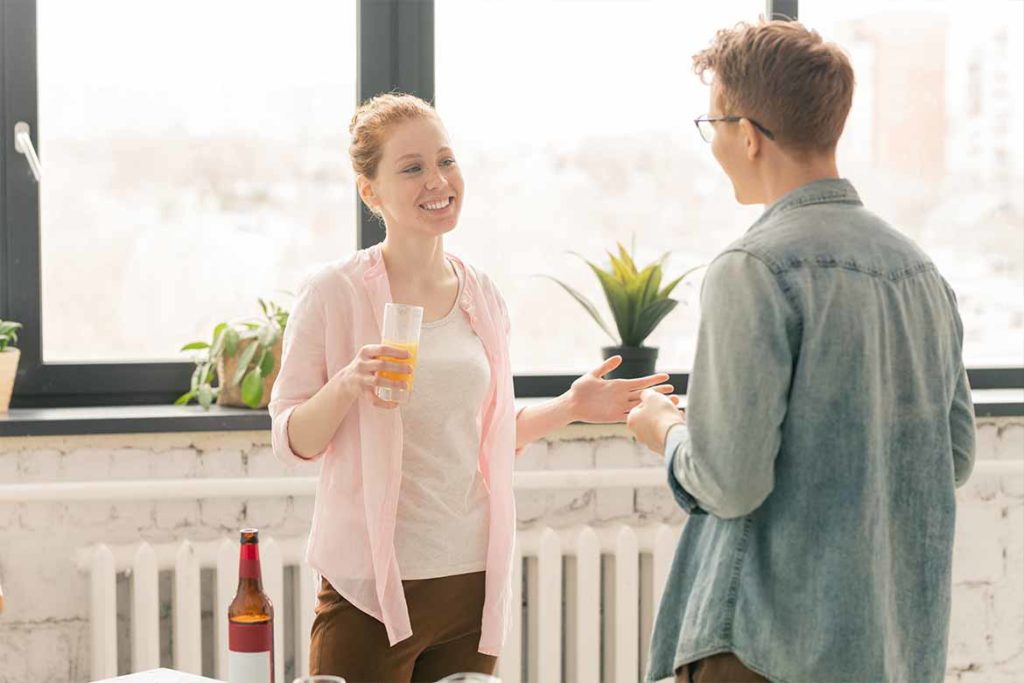 Watch her body language – It's obvious when a girl starts liking you, she will change her body language. Changing her body language means whenever you will be around her or near her or she might have seen you coming towards her from far away, she might start blushing just looking at you and whenever, you look at her, she might gets shy and will not look at you and starting looking here and there or started talking to her friends. This is the most common sign seen on girls whenever they started liking some guy secretly.
She might start wearing your favourite colour or the colour in which you have called her beautiful and wonderful. Whenever you come close to her, she feels out of this world and more.
Be on the lookout for accidental flirting – Accidental flirting is not only done by boys and men who have feelings for girls. But nowadays various girls also started doing this with the boys whom they like. Residential flirting by girls can be done in various forms like when girls saw you they started having dilated pupils, starts sweating, starts licking her lips, blushes, keeps staring at you, starts playing with her hairs, will glow more than usual, starts talking loudly so that you can hear them and many more.
Also, read: 30+ Magical Entrance Decor Ideas To Quirk Up Your Wedding Walkway
This can be a sign for you to understand that she likes you the most but doesn't want to show it to anybody.
Starts talking much or little – It's a girl's nature, that they are very much talkative. Gossiping and talking exist in girls' blood. A girl can speak for a day-long without being bored with the person whom she likes. But sometimes when a girl starts liking you, due to shyness she becomes too talkative or sometimes cannot utter a single word.
Whenever the boy whom she likes comes in her way or comes in front of her, she might get nervous and directly walks away because she doesn't know what to talk about or keeps blushing and smiling while listening to you. Or sometimes when she feels like talking to you, she might become mad and can speak non-stop which sometimes might make you bored as well.
She will become closer to you – It's a fact that whom we love, we want to get closer to them in every manner, whether physically, mentally or emotionally. And when a girl comes closer to you in any way, this depicts that she likes you and wants to become yours.
She will try to clear all hurdles and obstacles which might affect you and her bond. She gets jealous when you talk to other girls. She might clear all the disturbances that come between you both. She starts talking to her friends and other guys less. She will have your name in her mind, soul, and mouth every time. She will search for a chance to touch you physically or get closer to you in the form of hugs and kisses.
Also, read: How To Practice Self-Care As A New Mom
She provides you with some serious social media actions – As we know in today's generation, social media is very common amongst various teenagers and youngsters. It can also be a great sign of getting to know that a girl likes you but hiding. She will make every possible way to get connected with you on various social media apps. She will search for you everywhere online and if she doesn't find you, she will ask you to join. And as soon as you both get connected on focal media, she becomes crazy, happy and mad on you.
She will start tagging you in every post, will send various types of videos and pictures, uploads your picture and her with a beautiful caption, pokes you, searches for your profile, likes, comments, and shares your posts, and also saves it.
She just knows things – It's a girl's behaviour of keeping remembering various things which you might have told her. But when she likes you, she will note down everything which you told her in her mind. Even when what he is saying is not necessary for you, she will also pay attention to it.
She will enjoy and cherish every conversation she had with you online or face to face. She will love to hear your disliking and liking so that if anytime necessary like birthdays, she can prepare according to your liking. She wants to know everything about your family starting from small details to anything big that happens to your family.
Her friends give it away – This is a very common sign which you can notice to know a girl like you. When a girl likes you, she will introduce you to her friends and not keep you up to her only. She will make sure that you meet her friends and feel comfortable around them.
Another sign which depicts that a girl like you is that her friends keep asking very personal questions which at times makes you shy too. They will ask questions related to you and her friend shares. They will ask various questions about the girl like how is she, do you like her, why she keeps talking about you, is there anything between you and her going and others.
She pays close attention to you – One more sign that she likes you is that she will pay very close attention towards you. She might not be an observant person, but when you are around her, she will make sure to notice every detail about you whether small or big. She will notice how you walk and talk, what do you like the most, who are your dearest friends, who are there in your family and many more things.
Also, read: How to Make Your Kids Do Chores
She will also pay close attention to what you wear, what your hobbies are, how you treat younger and older people to you, she will ask your birthdate and month and more. In short, she will notice everything to make you feel special and lovely unknowingly in friendship.
She pretends to be jealous – The other sign which she will show is pretending to be jealous. This means that she will behave jealousy or get jealous when you get close to other girls or even talk to other girls in the fear of losing you. She also might be jealous of various little things which you do or share with other girls and boys but not with her. She might feel less important in your life when you get close to other girls.
She will get jealous of a lot of things that you do even when she knows that you are doing this just to make her jealous. Sometimes this jealousy might lead her to burst off with tears or something. This might make her feel bad.
She shows signs of nervousness around you – Another sign which proves that the girl likes you is that she gets nervous around you or acts nervously. Her body might get shaken, fidget or act a little jittery around you. When you come close to her, she might want to touch your face, hands, arms, shoulder or might want to hug you, but due to nervousness, she is unable to do so.
You might get to know about her whether she gets nervous or not through her body movement or by her talking way. If she is nervous she will be unable to speak to you properly and easily. She might say something awkward due to nervousness or might not be able to speak properly.
Excessive or lack of eye contact – The other sign through which you will come to know whether a girl likes you or not, is through her eye contact. Sometimes a girl who likes a boy keeps on staring at the boy for long or sometimes, she doesn't see the boy due to her nervousness or she being shy.
Excessive or lack of eye contact can also be a big sign of a girl liking you. A girl tends to keep starting the boy whom she likes but due to fear or nervousness, she denies this fact. When you are not around her, she searches for you to make eye contact whereas when you come closer to her, she will look here and there, up and down but not to you.
Also, read: 5 Tips To Make Travelling Easier With A…
She touches you – As soon as you get closer to her, she might want to touch you. It's another sign which indicates that the girl starts liking you. The touching doesn't mean that the girl is inviting you to her bed or something, it just simply means that she wants to have a touch on your arms, shoulder, face, and other parts of your body to just feel you.
A girl who likes the boy wants to touch her arms and shoulder to get your feel. This touch might make you feel strange about the girl or you might get confused about what she is doing, but it just means that likes you and wants to spend the future with you.
These signs mentioned above are best to assure that a girl likes you but is not showing. You can easily notice these signs in her through her facial expression and body language. There are various more signs through which you can depict that the girl likes you but not expressing it.
And if you also have a crush on any girl, notice these changes or signs in her to get to know what she feels about you. And if the feeling is just the same as yours, don't waste time anymore and go confess it to her. You can notice these signs by making her hang out, helping her in activities, or asking her for dinner or a lunch date. Or make yourself more protective and possessive towards her, so that she can express it to you.
Before making any step towards her, noticing these signs will give you assurity of her feelings. Sometimes the reason for not showing her liking for you can also be that she doesn't want to get in a relationship or sort of something at this point, and wants some personal space.
Also, read: 17 Wedding Car Decoration Ideas That You Can Use For Your Marriage…