If you want to throw a Holi party at your home for this year's Holi celebration and searching for some useful decoration ideas then, you are at the right place. People believe that festive decoration needs lots of expenditure, especially, when you want a professional touch for a perfect Holi party. Hosts of such festive parties always want to make their guests amaze with astonishing adornments. Well, the good news is that now you can leave that impression on your friend and relatives with your pro like Holi embellishments. This can be happened just by changing and adding a few things to your normal interior. Let's learn the tricks and be an expert in decorating your house for an exclusive Holi party- Decorating Your Home On Holi.
1. Make Colorful Entrance:
Entrance is one of the important segments for Holi-party decoration; so, never forget to decorate that area ever. There are lots of things available in the market to decorate the entrance gate. If you don't like them, use simple flower embellishments for the gateway. Here are some tips in this regard-
Use vibrant marigolds to highlight the top of your entrance gate
Curtains would look great on both sides of the gate
Bushy plants also look good on the entryway
Flower petals can make the ground of your entrance more catchy
2. Use Rangoli Art for The Floor:
Once the entrance is decorated, focus on the floor of your house. Rangoli is the best thing to embellish a floor for the festival in our country. Different people use different things to create colorful Rangoli. Powdered colors are the best thing to make a perfect Rangoli on Holi.
However, some people use multicolored glitters, colorful flower petals, fabric-colors, etc. to make more attractive Rangoli for festivals. We prefer to use powdered-color to make the Holi decoration beyond ideal.
Also, read: 10 Best Ideas for Holi-Party Decoration at Office
3. Focus on the Hall Decoration:
Hall is the center part of the house, and guests mostly take a halt in the hall, so, you must focus on the hall decoration, while creating it for a massive Holi celebration. Some ideas you may apply in this regard-
Use some colorful Rangoli stickers on the floor
Make a spruce-up ceiling with chiffon curtains
Change the cushion covers and use different bright color for each cushion
Place some colorful and designed candle stands on the cupboard or a table
Hang a large image of color-pops on the center of the wall
And don't forget to emphasize the door of your hall with colors, paintings, balloons, etc.
4. Use Festoons and Stickers for Wall:
Wall decoration is also essential for a perfectly decorated hall on Holi celebration. You can create decorative objects through the DIY process, or buy readymade adornments from the market. Festoons and Holi stickers are the best items to use here.
You can use golden threads, colorful paper cuttings, a placard with Holi prints, previous Holi -celebration pictures, etc. to make the festoon.
For the Holi-sticker, make stickers with 'Happy- Holi' tags, stickers with Rangoli imprints, color-abstract stickers, stickers of colorful flowers, etc. would be a great choice.
5. Create Vibrant Window-Look with Colorful Curtains:
Curtains are one initial part to change the look of your room during a Holi decoration. So, no matter how bright curtains you have in your room or hall, exchange them with colorful new curtains during the Holi decoration.
Transparent and chiffon-made curtains look best to create such a Holi look. Purchase single-colored curtains and place them randomly, one after another, under the pavement. Holi celebrations start during day time, thus, such colorful-curtain look displays amazingly beautiful when you put them on an open window.   
6. Brings Multicolored Planters for Balcony:
A balcony is a small part and you don't need many adornments to decorate that area. Just be accurate and smart in the way of decorating the small terrace in front of your room.
Planters are the most common object we use to beautify our balcony. They add natural beauty and provide eco-friendly weather to your room too. You can either paint your planters with different paints or change them with multicolored new planters.
Also, read: 6 Trendy Jacket Designs For Women in Winter to Keep You Warm and Stylish
7. Add Colors To Other Displayed-Parts of The House:
A house needs to be decorated head-to-toe when it is embellishing for a perfect Holi celebration. Hence, don't leave a single part of your home during the decoration of the Holi celebration. Here are some ideas in this attempt-
Bring glowing and colorful rugs or carpets for the open floors
Hang colorful tussle-curtains for partitions
Place colorful wall-hangings
Blow vibrant ceiling lights
Use colorful bedsheets and bed-covers
Put some color sticker over the door of shelves and wardrobes, etc.
8. Make the Outdoor Adornment Lavish:
Now, come to the decoration of the main segment of your celebration and that is the outdoor area. Outdoor areas mostly explore for playing Holi, so, you must adorn the area compatibly for the massive celebration. Here are some brilliant ideas to decorate your outdoor area for this purpose-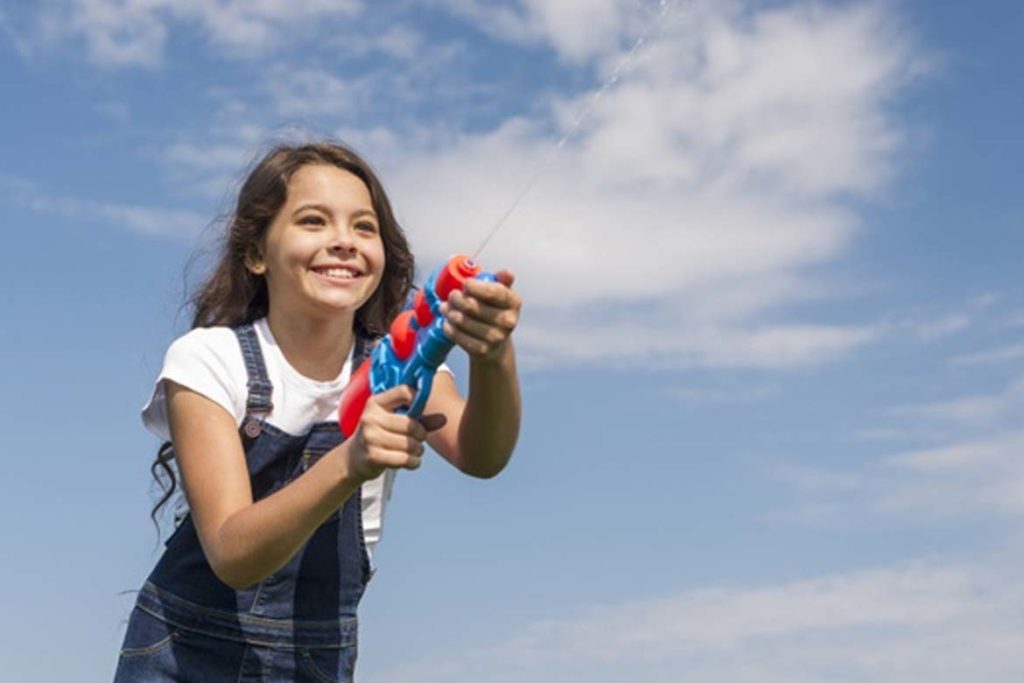 Hang bright and hugely colorful ornaments
Make paper-cuttings cascade
Create a large shamiana (the big tent-head) over the head
Droop light and colorful curtains around the stage
Spread some colors creatively on the ground
Write down the tag of 'Happy Holi' with the powdered-colors or flower petals on the ground
Decorate the pool or fountain with colorful garlands
And decorate the game-booths too with readymade ornaments
9. Don't Forget The Fence:
You must not forget about the soundings of your outdoor area, along with the center part. Fences or railings are something we used to barrier the outdoor area. One must not overlook this area and the fences while searching for a flawless Holi look.
Try to make rainbow colors on your fences or railings to make them colorful and elegant both at the same time. If you don't want to recolor the fences, put multicolored cover-ups or hang huge-colorful tags, place vibrant festoons over them.
Also, read: 6 Trendy Jacket Designs For Women in Winter to Keep You Warm and Stylish
10. Create Perfect Holi Table and Holi Thali:
Holi table and thali (platter) are some objects that complete the Holi celebration. When your guests go to take colors for playing Holi, they should get more inspired by your colorful theme. So, Don't forget to adorn the place where you put colors of Holi and use your creativity here as well.
Place a vibrant table runner or table cover over the color-table. Decorate the edges with colorful paper cuttings or bright tussles. Keep the colors in different colorful small containers with open-lids. Add some sweets, a pichkari (color-thrower), some powdered-colors, etc. to the Thali.
11. Include Your Colorful Theme in The Menu:
Holi celebration is incomplete without a perfect meal. Try to merge your color theme in your menu too. From the starter to the main course, try to incorporate the colors everywhere. Some applicable ideas in this regard are-
Stuffed bell-papers
Cupcakes with colorful creamy toppings
Meatballs and fish balls with different-colored sauces
Fruit and vegetable Salads
Snacks fried with different food coloring
White chicken, red chicken, green chicken items
Verities of colorful sweets
Ice-cream stall with different flavored and different-colored ice-cream 
Thandai (Holi drinks, made of yogurt) in different colorful glasses, etc.
12. Use Colorful Props:
Holi props are also an important part of your Holi decoration, especially, while you are hosting a party at your house. Colorful crowns, eye-mask, scruff, colorful frames for the photo booth, Holi stickers with pichkari, mustache, sunglasses shapes over sticks, water balloons, etc. are some useful props.
Try to make your Holi party props at home through the DIY process, if you have time. This will allow you to bring unique and exclusive Holi props for your celebration.
Also, read: 40+ Latest Marwari Mehndi Designs Of 2020!