Holi is the most vibrant festival in our country. It adds colors of joy and flushes out all the gloominess from our lives. Currently, Holi is knocking at the door and we haven't focused on this important carnival due to the fear of the running pandemic. So, let's not afraid anymore and show the fetal virus how we can celebrate life with colors and keep it away at the same time with some smart moves. Here we came up with some ideas on how to decorate a beautiful Holi party at your workplace expertly along with applying perfect protections in this period of crisis. Let's check them out and make your office Holi party truly unforgettable for the employees- Best Ideas for Holi-Party Decoration
1. Bring In Colors:
Holi is one festival that cannot celebrate without colors, so, why not bring colors for our decorations as much as we can? Colors don't indicate powder or liquid colors which we use for playing Holi; they mean add colors in every corner of the office, whether it is the decorations, the dress theme, the food stall, or the snacks items. Use colorful things and objects that you use in the office for that Holi party. Some useful substances in this regard are as follows-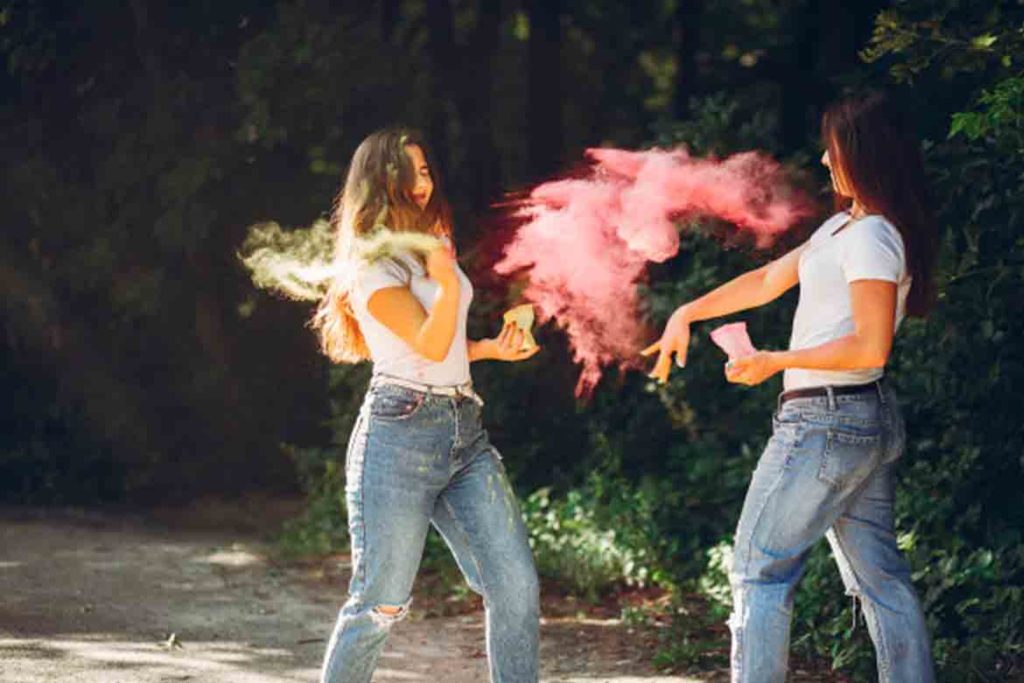 Colorful festoons
Colorful tags with different colors
Colorful paper cuttings
Vibrant chandelier
Colorful flower arrangements
Bright pandal clothes,
Colorful curtains
Colorful snacks,
And colorful drinks, etc.
If you want to give a boost start to your Holi party then, don't forget to decorate the entrance of your office. A great entrance can give a great start in the celebration of the Holi party. The entrance will display the trailer of the whole picture of your party. Some useful ideas for a perfect Holi party entrance can use these things wonderfully-
Also, read: 19 Ways To Tell Someone You Are Not Interested In Dating
2. Decorate the Entrance:
Vibrant curtains
Colorful petals for  floor
Hanging tussles
Bright candle stands
Catchy and colorful rugs
Exciting paper buntings
Colorful pom-poms
3. Add Some Catchy Adornments:
After making the entrance exciting, you must make the other parts of that party compatible with the lavish doorway. From outdoor areas to workrooms and from cubicles to the hall, make sure that every part of the office is equally adorned. Here are some useful ideas you can apply in this attempt-
Cover the pillars with colorful paper cuttings
Hang colorful  festoons at the outdoor areas and over the fences
Use vibrant curtains to decorate the top surface
Droop colorful balls and hued lights at the center part of your party
Adorn the table of colors, drinks, and foods with long colorful tussles
Use flower for the pool area or create a temporary pool and décor it with flowers
Be creative with some colorful balloons at the cubicle area
Place painted pots at some highlighted area of the office
And try to use painted rugs on the entire floor of your office
4. Use Flower and Balloons for Your Decoration:
Flowers and balloons are some most common decorative objects you can use in your Holi office party decoration. They are compatible with any type of embellishment and suitable at any part of your office if you know how to use them perfectly. Here are some commonplaces you can use flowers and balloons best in your Holi party adornment-
Use flowers at the entrance gateway, balcony, staircase, railings, flower rangoli, etc. places
Use balloons for decorating pillars, office halls, cubicles, personal cabins, exit gates, working desk, etc. places.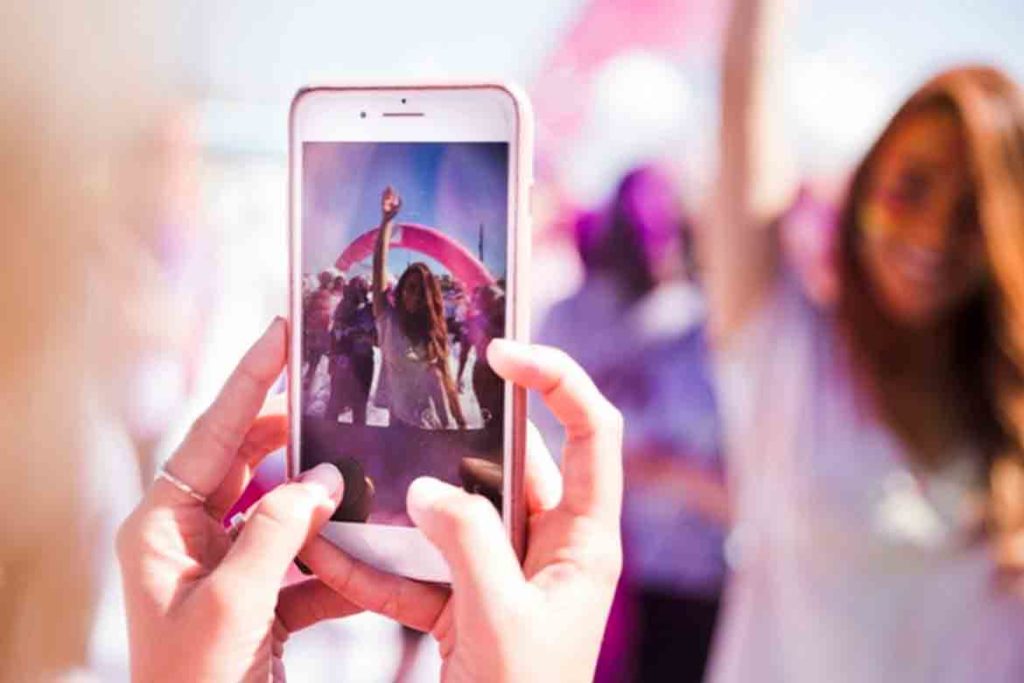 5. Display Some Holi Pictures:
If you are thinking of decorating the walls of your office during a Holi-party, use some colorful pictures to do so. Colorful pictures can add a wonderful vibrant touch to your attempt without being over-congested. If you use heavy adornments or props to decorate walls, it may seem unmatchable with the other parts of your office. Adding colorful pictures may look classy and elegant to the entire office room. Some ideas in this attempt are-
Abstract color paintings
Pictures from the previous Holi party
Colorful landscapes
Vibrant and distracted wallpaper
Colorful paints of cartoons
Colorful face structures
And colorful paintings of flower planters
Also, read: Feeling Ignored? How To Respond When Your Boyfriend Ignores You
6. Use Colorful Paper Cuttings:
Paper cuttings are essential for an attractive Holi decoration. They are extremely cost-friendly, come in vibrant colors, compatible with any type of other decorations, and extremely flexible to use, so, you can twist, turn, or create any type of art with them. Some typical ideas to use these paper cuttings in your office Holi party decoration-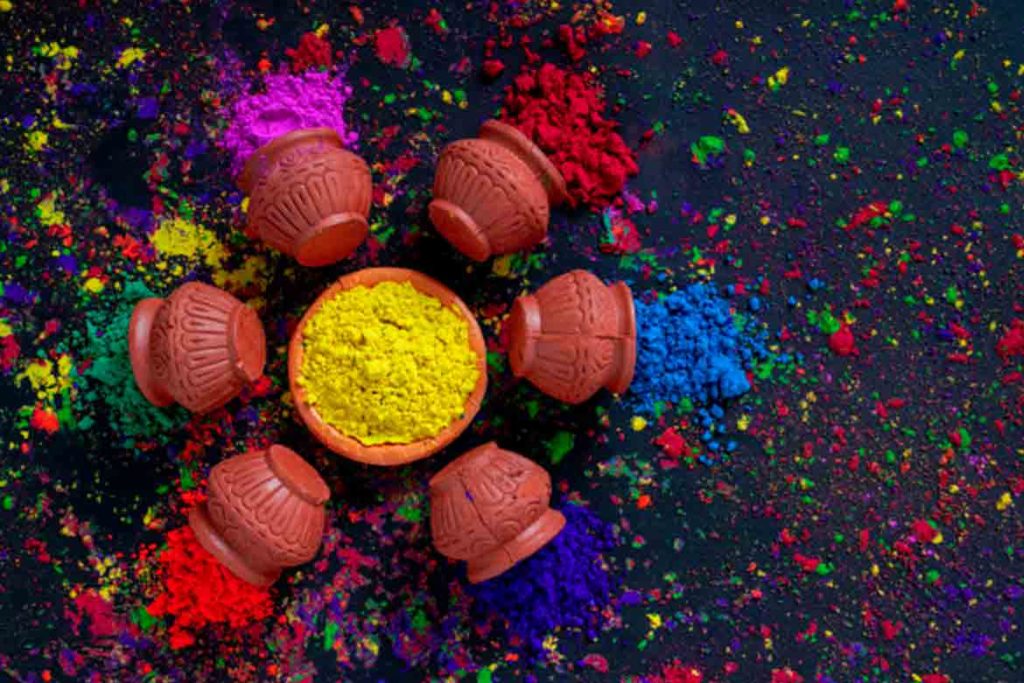 Use to make ceiling cascade
Apply them as transparent curtains
Make colorful chandelier with them
Use to make hued lights
Make colorful rainbow on the wall
Use them on the windows to make the sunrays more colorful
Or use them to make the desk colorful
7. Find The Proper Props:
To make your office party decoration perfect, learn to use proper props in the right place. If you use flowers for the ceiling, paper cutting for the floor, balloons for the entrance, and pictures for the outdoor areas then, you will spoil the entire decoration badly. Be conscious about which prop suits best at a spot and see, how easily you can be an expert designer.
Try to be perfect for the theme props of a Holi party as well to make it perfect from every aspect. Colorful hairband, eye-mask with different shades, colorful picture frames, rainbow, scarf, etc. are some useful items you can use in this attempt.
Also, read: 20+ Wedding Anniversary Messages For Husband
8. Issue A Theme:
Select a theme for your Holi party decoration to bring the touch of perfection. Theme parties always help to decide what items you should include what to avoid in your party. A theme-Holi party includes food, decoration, dress-code, and drinks all on its list. So, if you want to be perfect at every stage of decoration for a brilliant Holi party, choose a perfect theme for it. Some preferable themes you can choose in this regard, are-
Traditional theme
Modern Holi party theme
Holi with Powder color theme
Tribal Holi thee
Holi pool party theme
Holi with shower booth theme
Holi with masks
Holi decorations with artworks, etc.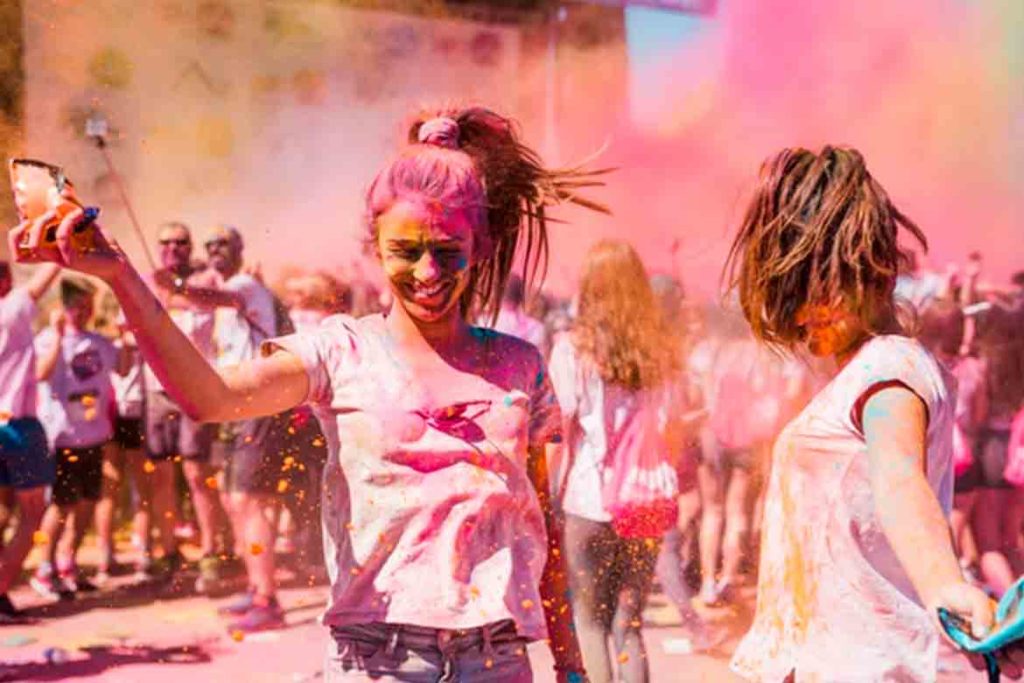 9. Go Organic:
You can't forget about the safeness of your skin, eyes, hair, and overall health in the hassle of the Holi celebration, right? So, prefer to use only organic colors to play Holi. Organic colors keep our skin safe from any kind of allergies or sensitivity. It has been seen several times and people start getting massive skin issues if they use harmful colors to play Holi.
Herbal colors are now available in the market during the time of Holi. They come with varieties of vibrant shades and with different amounts at affordable prices. Use only these colors to make your Holi celebration pleasing yet secure.
10. Utilize Outdoor Spots to Play Holi:
No matter how small outdoor place you have in your office area, always explore that space to play Holi. Celebration of a perfect Holi party is incomplete without the madness of playing colors. This segment of playing colors needs an open area under the sky, under full sunlight. Also the food stall, the thandai-booth, pool with color-water, etc. everything fit more flawlessly in an open outdoor area.
Besides, some Holi decorations suit more accurately in an outdoor space than indoor areas. So, try to select a place from your office outdoor area and explore it following our ideas to make your Holi office party decoration stunning than ever.
Also, read: 17 Wedding Car Decoration Ideas That You Can Use For Your Marriage…