Hibiscus is a commonly found flower. But, well we know about its beauty. Have you ever wondered what this flower can solve your major hair problems like hair thinning and baldness? Yes, it's true. Hibiscus flower is a secret that can save you from these problems.
How does Hibiscus for hair growth help?
The flower is blessed with nutrients like vitamin C, Phosphorous, riboflavin, and calcium. The flower is a powerhouse of amino acids that nourish and strengthen your roots, making your hair look shiny and healthy. Apart from this, the flower contains carotene that prevents the graying of hair.
How can I use Hibiscus for hair growth:
There are a lot of ways of using Hibiscus for hair growth. Well, here we list a few simple ones that you can easily follow in your free time.
Coconut Oil with Hibiscus: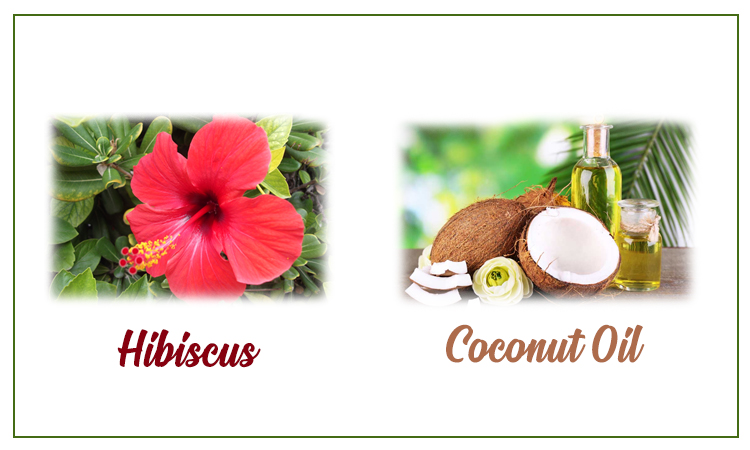 What a great combination when coconut oil is blended with the benefits of hibiscus. This is a simple remedy all you will need is 1 bowl of coconut oil and 8 hibiscus leaves and flowers. Finely make a paste the hibiscus flowers and leaves. Heat coconut oil to turn it into liquid form. Mix the paste with the heated coconut oil. Let it cool. Then place it in a container. Use 3-4 spoons to massage with your fingertips on the scalp. Store the rest. You can leave this overnight as well. Wash with shampoo in the morning. This oil promotes hair growth and rejuvenates the scalp.
Hibiscus and onion: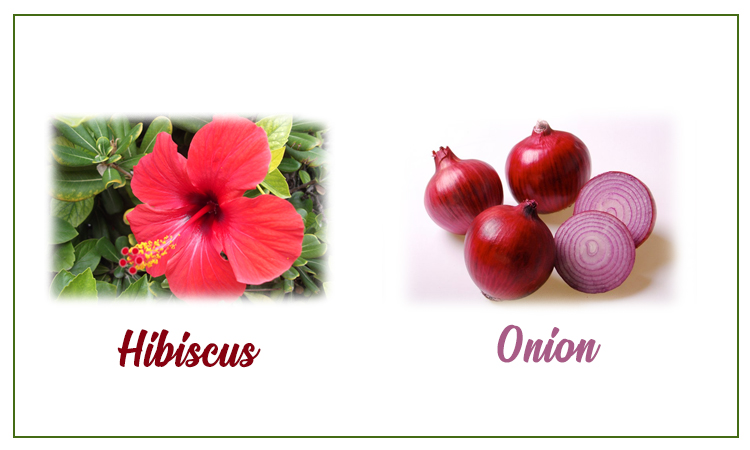 Most of us are struggling with growing new hair on the bald patches on our head. So, this concoction is the best for this. Onion works wonders with improving hair health, thanks to the sulfur in it. Onion combined with the leaves and flowers of hibiscus work wonderfully on growing new hair and restricting hair fall. All you need is 10 Hibiscus leaves and 1 Onion. Start by peeling the onion and grinding it in the mixer. Once the pulp is available to take out the onion juice. Now, blend hibiscus leaves and flowers in the grinder into a paste. Mix this paste with the onion juice and keep it aside for at least 15 minutes. Apply the mixture over your hair to stop hair loss and promote new hair growth.
Neem and Hibiscus: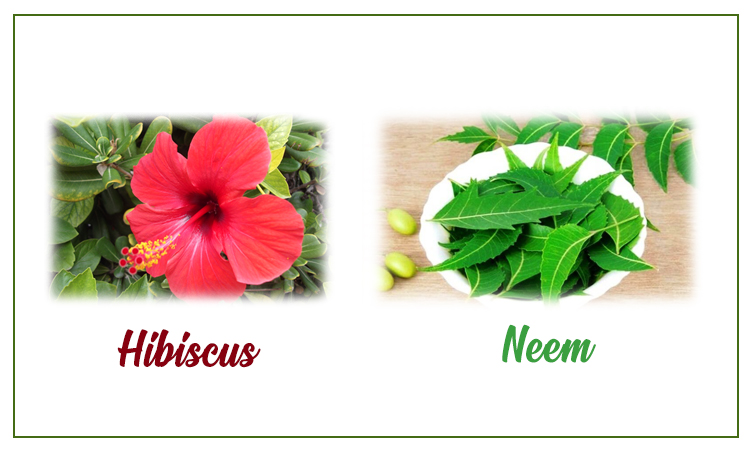 Struggling with dandruff, itchiness and flaky skin, then this tip is a must try for you. All you will need are a few neem leaves and hibiscus flowers and leaves. Grind the neem leaves to get the juice. Now grind the hibiscus flower and leaves into a paste. Mix the paste with neem juice into a mask like consistency. Apply this mask all over the hair starting from the roots to the ends. Using this mask for a few days will help you fight dandruff and flaky skin thanks to the antibacterial properties of neem while the hibiscus will provide hair follicles the needed nourishment.
Read More: Beneficial Banana Hair Mask For Dull And Dry Hair