Are you in a relationship with a geek who loves books? A relationship with a man or woman who loves books is really
difficult as they love their copies more than you. And instead of chatting or calling you at wee hours. They will like
sticking to their books. So, here we give you some great love books to gift your gf or bf to just add a little zing to your
slow-paced love story.
1. Love Story By Eric Segal:
Ok, I am biased for placing this on the top of the list. But this one is a classic 1970 novel with a great film based on the
same name. Love Story is a heart-wrenching love story with a famous line "Love means never having to say you're
sorry."This author Segal narrates the story of two lovers Jenifer and Oliver with distinct backgrounds but their love
flames up even live up the heat of unforeseen circumstances.
2.The Notebook by Nicholas Sparks:
The Notebook is inspired by a true story and has been adapted in many forms like films, series, etc. However, with
novel Nicholas Sparks has won millions of hearts. Allie and Noah is a story of two lovers who share a summer season
together, then torn apart by World War II. They reunite after a long gap of 14 years when Allie is engaged to another
man.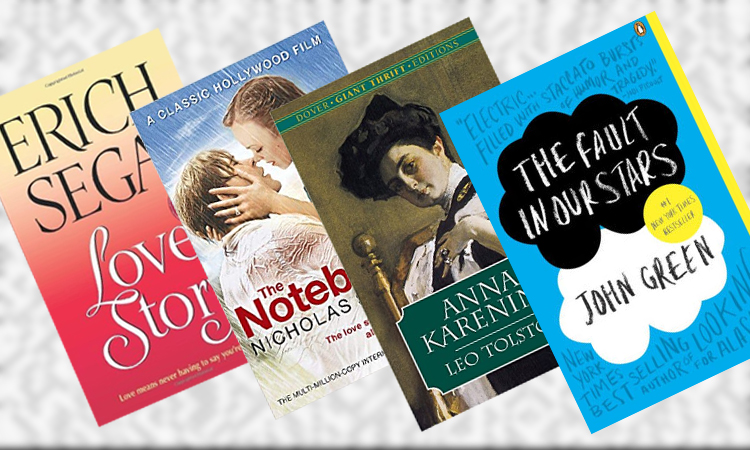 3.Anna Karenina by Leo Tolstoy:
Anna Karenina is a cult classic by Leo Tolstoy. This talks about the temptation the lead character Anna Karenina
succumbs to after being stuck in a loveless marriage for years. She falls in for a handsome guy named Vronsky. She
falls in for the temptation of making out and feeling loved. I believe it is one of the most doomed love stories and a
memorable classic.
4.Gone with the Wind by Margaret Mitchell:
This is a classic romance. It talks about the political, social and romantic themes. This was first published in the year
1936. So, if you have not read this one.
5.The Fault in Our Stars by John Green:
An unusual romance that makes way cancer support group, the love story finds its way through illness and tells us the
fact that you can find love in the most unusual places in the world.
Read More: Why "Romance" Is Important In A Romantic Relationship?