Active users of Facebook and Instagram may have noticed a barrage of activity surrounding HappyShappy horoscopes. Or perhaps you've seen friends posting these on Whatsapp or Snapchat. So what is this HappyShappy Horoscope, and how did it become so popular within a short time? Well, here are all the details.
HappyShappy is a free, mobile-first discovery platform app on which users find idas, inspiration and quality homegrown Indian labels. The startup is known for offering innovative solutions to modern-day problems.
The latest feature by HappyShappy that has captured the attention of millennials and Gen-Z alike is "Daily Horoscopes" – an astrology section in the HappyShappy app that helps users navigate through the ups and downs of everyday life with special insights for each zodiac sign. And this isn't your grandma's horoscope with a traditional outlook.
Bright colours, urban slang, cultural references and an unapologetic yet cheerful tone that charms its way to the user's heart – these horoscopes are a fresh take on something that's long been warded off for being boring and unrelatable. HappyShappy has created something unique here. And this is aligned with its mission to promote mental wellness, help users achieve a better lifestyle and encourage them to embrace their individuality. It seems, in a world where everyone is so obsessed with themselves, where FOMO and peer pressure rules the lives of many, HappyShappy aims to promote self-love.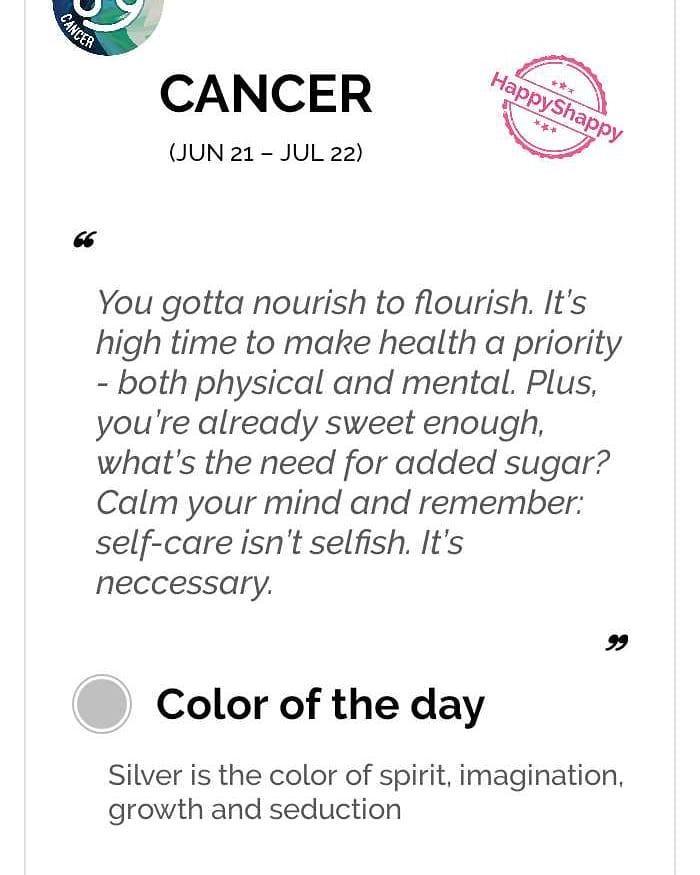 The horoscope feature hit the Play Store in September 2019, and within two months, the app has spread like wildfire all over the country. Young Indians are going crazy over this app, having too much fun reading their daily horoscopes. Vivek Singh, a Bengaluru based 3-D artist and a Piscean comments, "I started reading the horoscopes on a whim and got hooked to how quirky and on point these are. It's freakishly in-sync with my day and feels like it's written just for me."
Mahima Chandra, a Capricorn from Kolkata, agrees, "The app accentuates your entire day in more ways than one. It sets your mood before your actual day begins, and leaves you with a positive afterthought. Personally, I don't believe star signs influence my life. What I DO love, however, is how often my HappyShappy horoscope makes me laugh and uplifts my mood. Even on the days when my prediction isn't favourable, the app breaks the news gently and motivates me to deal with things head-on."
Taking the daily horoscopes a step further, HappyShappy bring the zodiac back to their discovery platform. Each day's horoscope is matched to a lucky Colour of the Day, and users are suggested unique ways to incorporate their lucky colour into their wardrobe, meals, shopping and more. HappyShappy has redefined celestial based fashion by embracing a calm, informative and quirky vibe. Users can now discover fashion & beauty-inspired predictions for each of the twelve zodiac signs, inspired by this Colour of the Day. This helps users refresh their wardrobes but encourages them to do something just for themselves. 
For some people like Ashna Chaudhary, this is a life-saving feature. Ashna, a Mumbai-based stylist works in fashion where one has to bring one's A-game to work. For this Gemini, it's a simpler alternative to remaining up-to-date about what's in vogue. "I no longer have to keep ten different apps to ace the fashion game. Thanks to my horoscope, every day, I have tons of fresh ideas that match my mood and personality. It lets me categorize outfits by individual piece or entire outfits, and truly creates a digital version of what my wardrobe should have."
So what does HappyShappy have to say about the success of its horoscopes? HappyShappy says the launch of this feature has successfully attracted a 40% rise in its unique visitors of the platform. "We are overwhelmed by the staggering popularity and positive response to the Daily Horoscope section. That so many young women and men are recommending it among friends is a great sign for us. This initiative of offering an immersive zodiac experience is yet another way to solidify our capability as a startup" says Sana Hoda Sood, Co-Founder and Creative Director of HappyShappy.
It seems HappyShappy Horoscopes are for everyone, regardless of whether they believe in astrology or not. Even if taken lightly, it's a feature that provides a daily dose of entertainment, if not inspiration.