Lakme is India's number one cosmetics and premium skincare brand from Hindustan Unilever Ltd. Lakmé has been the pioneer of make-up and cosmetics in India since 1952 by launching numerous high-performance products. Combining international cosmetic technology with an in-depth understanding of the Indian woman's needs, Lakme offers a comprehensive beauty experience through its extensive products and contemporary services at Lakme Salons.
When you have a platform to showcase some of the best creative talents in the country, you ought to witness different styles and trends on the runway. The five-day Winter/Festive edition 2019 was an amalgamation of sustainable fabrics, contemporary silhouettes with Indian aesthetics and trendsetting styles to look out for. There were a few designers who didn't fail to impress with their work.  Collections were dominated by surface texturing, applique, embroideries and embellishments this season. Fashion designers experimented with textures in their respective collections. Complementing the fluid silhouettes were an array of embellishments through motifs that stood out in every design. The leaf stood for sustainability and also made for an interesting texture on each outfit. So let's take a look at who stood out at this year's Winter/Festive edition.
You May Also Like: Deepika Padukone Goes All Dior As She Attends…
Sunaina Khera experimented with textures in her collection. Inspired by floral motifs, she enhanced one of her creations with embellished floral patterns across the garment, making it a perfect artistic piece on the ramp.
Akshat Bansal's creation was as futuristic as it could get. Bansal used recycled polyester and marine plastic waste material in his collection.
Amit Aggarwal fashioned his collections from new-age, sustainable synthetics. The designer used free-flow fabric made from recycled PET bottles to bring his collection of structured evening wear to life. He launched his luxury pret collection called Flux at the Lakme Fashion Week winter-festive 2019 with cricketer Hardik Pandya and actress Lisa Haydon as showstoppers. Aggarwal, who is known for engineering recycled products in the garments he designs, has this time tied up with R-Elan, Reliance Industries' textile arm to create the grandeur pieces in fluid, free-flowing fabrics. The designer has used recycled polymer strips to add structure to the gowns, dresses and skirts. Sheer wraps, exaggerated sleeves, power shoulders and billowing skirts were the highlight of the show. The techniques such as plisse, fine draping and three-dimensional embroideries were used that added a texture of the pieces. Electric colors, shiny metallic shades of silver, blue, purple and green, emerald, petrol, neutrals like gold, blush, and ivory made the collection pop up. The collection was a great play of contrasts, structures.
You May Also Like: A Sneak Peak Into Sabyasachi's New Bridal Winter…
Fashion designer Rina Dhaka has been in the industry for over three decades now was stunned by the confidence that the plus size women and men showed on the ramp. And seeing them gave her confidence. The highlight of Dhaka's show was actor Delnaaz Irani who grooved on the ramp like a diva.
Young and home-grown label Six5Six Street interpreted street style in its own irreverent, individualistic ways. Co-founded by Delhi-based siblings, Avni and Ambar Aneja, Six5Six Street's 'WE 2.0' was a sartorial interpretation of the world we currently live in and where we're possibly headed. The line comprised cropped denim jackets, T-shirts, flared jeans and boxy jackets. Clever use of accents, holographic prints, statement pockets, color blocking, slogans and contrast patches and a talent for storytelling are Six5Six Street's strongest suits.
Designer Kunal Rawal launched his latest collection "Confluence" at the Lakme Fashion Week Winter/Festive 2019. Rawal's collection, dominated by black color, comprised outfits that were comfortable and multi-purpose. The layered kurta trousers, suits, blazers, shirts, and sherwanis were given fuller looks by using embroideries. The highlight of the show was the crop jackets paired with sherwanis and kurtas, wore with straight trousers. Models walked the ramp wearing tie-dye crop jackets with tie-die kurtas in off white and dark brown. Skinny pants are going to come back in different fabrics and colors to fashion. For the grooms to be, the collection had kurtas with dhotis, shimmery sherwani in off white, charcoal black and dark navy blue colors. The designer also showcased a few pieces for women that comprised tailored fit evening dresses and gowns in silver and black colors.
You May Also Like: 5 Best Dressed Female Celebrities At IIFA 2019
Biskit's line of unisex clothing, 'Spaced Out', conceptualized by Shruti and Harsha Biswajit, is characterized by clean lines, neutral colors and statement accessories. The collection featured jumpsuits, oversized T-shirts, overalls and streetwear sets. One of the coolest pieces in Biskit's collection was the signature black, detachable duffel bag that also triples up as a tote and a sling bag.
Jay Ajay Jajal's bold use of neon, neoprene and ornamentation popped on the runway as his brand, Jaywalking, made its fashion week debut. The founder of this gender-neutral label sent graphic T-shirts, tracksuits, slim denim jeans and hoodies down the runway on day one at Lakmé Fashion Week.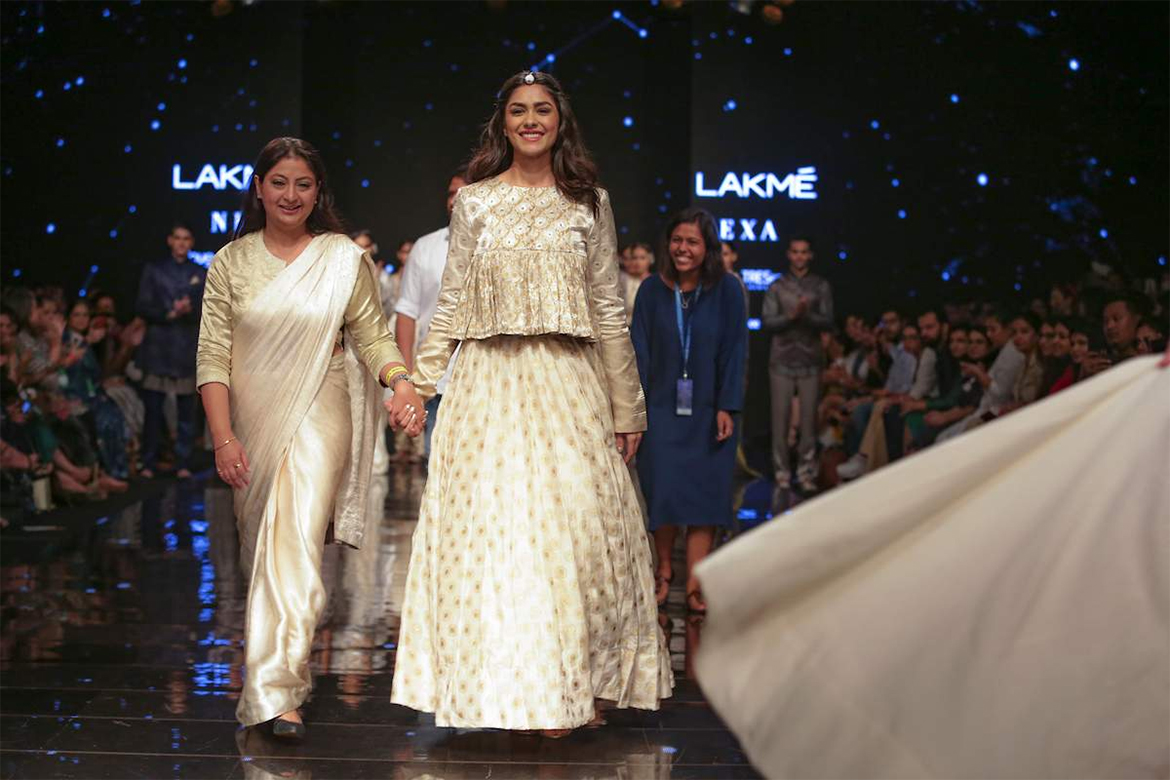 Udaipur-based global premium contemporary brand Aavaran by designer Alka Sharma presented the collection called 'Miniature Moon' which specializes in dabu mud resist, hand-dyed and block-printed apparels. The designer launched its opulent and regal range 'Aavaran Luxury.' Aavaran was launched to sustain and revive the ancient, traditional craft of dabu print and provide economic empowerment to the indigenous craftsmen of the region.
You May Also Like: These Celebs Opened A New Door To Fashion At Vogue Beauty Awards
Ace designer Payal Singhal showcased her latest collection titled PS20. The designer has kept the collection very playful with the use of boho silhouettes and pop colors apart from chalky whites and ecru, pastels like periwinkle blue and pale rose and black. Sequins, frayed tassels, mix thread embroideries, leather embroidery, and patchwork have been used to create 3D textures on the jacket cholis, lehenga salwar, bomber jackets and deconstructed blazers, drop-crotch pants, cropped skirts and saris that comprised the collection.
Narendra Kumar's Winter/Festive 2019 collection revolved around relaxed athleisure pieces. Titled 'Stranger Noises' by FKNS, the show posed as the fourth installment of this protesting label's fashion series. Inspired by the social events in the world 'Stranger Noises,' was a line of conflicting and contrasting creative ideas that reflected the mood of the current atmosphere of the world.
Couturiers Rohit Gandhi and Rahul Khanna made a comeback at Lakme Fashion Week Winter/Festive 2019 after 15 years. Titled 'Interstellar', the collection in association with NEXA, highlighted the dynamic duo's global sensibilities and impeccable cuts, which embodied NEXA's characteristics – new age and innovation. The color palette revolved around black and white with tones of grey, platinum and gunmetal along with the signature NEXA Blue. Lush and opulent materials such as plush satins, frosty silks, sheer tulles and suiting organzas brought grandeur to the ensembles.
Under the womenswear category, fringes and angular asymmetrical elements accentuated sensuous dresses, gowns, wrap slim skirts, halters, high slit dresses, plunged neckline fringed mini sheaths and one-shoulder dolman sleeved mini. Standout pieces include the coat-dress sheath, shorts with wrap sheer mini and the one-shouldered ombré gown with embroidered bodice.
Menswear featured corded jackets with kurtas, waistcoats, jumpsuits with extended shoulders, short one-lapel jacket, longline jackets, one button, layered jackets and double-lapel jackets with large welt pockets.
You May Also Like: Amit Aggarwal & Suneet Varma … Again At ICW
Fusing the contemporary with the traditional and weaving a tale of fun, flirty silhouettes are a characteristic that Arpita Mehta has come to be associated with. Antique coins, ghungroos, mirror work, cowrie shells mixed with a myriad of prints channeled in major Coachella vibes and set a boho mood. Intricately embellished jackets, slim kurtas, flowing shararas and stylishly belted kaftans crafted out of luxe materials such as Tabi silk, Modal and silk organza set the tone of her Winter/Festive 2019 collection. Strappy blouses, risqué necklines and sensuous cuts served as the perfect selling point for the new age woman who is forever on the lookout for something out of the ordinary.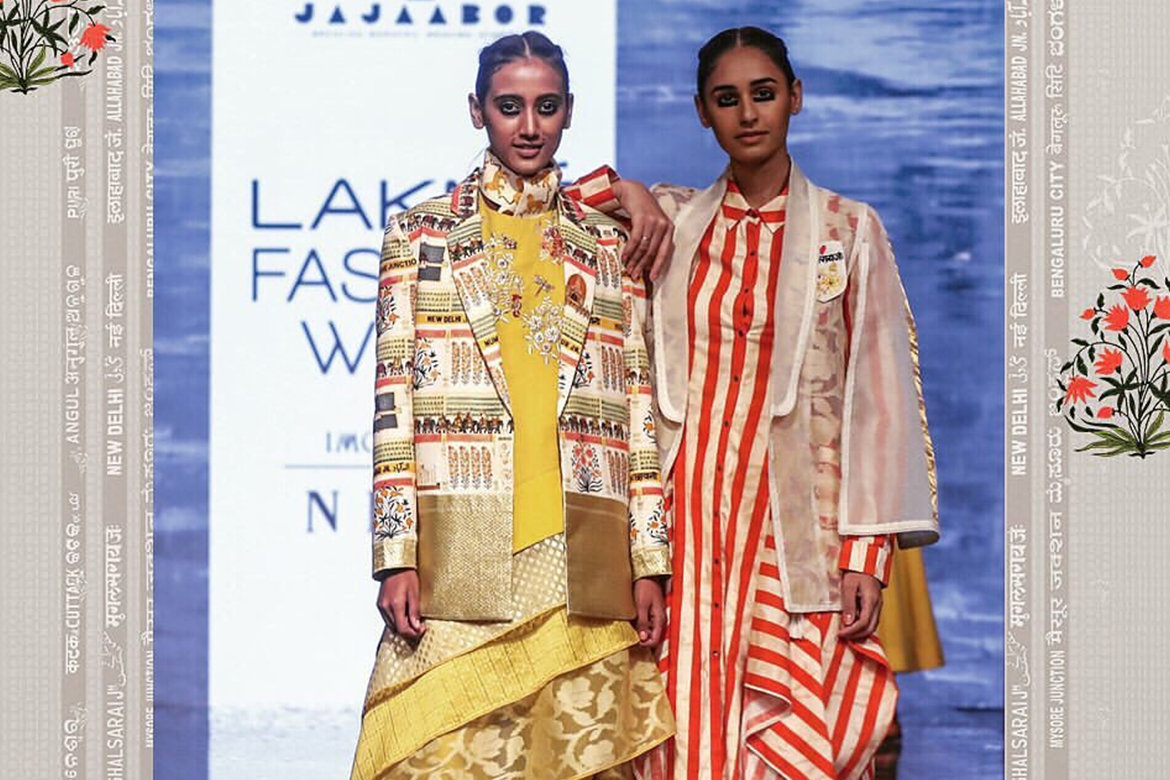 Kanika Sachdev and Neelanjan Ghosh have always offered clothes with a universal appeal. The duo channeled childhood nostalgia as the inspiration. Quaintly titled 'Chai at Mughalsarai Jn', the collection delved deep into their childhood memories when travel by train was one of the happiest holidays and visiting the various tourist destinations a dream come true. The middle-class ethos, Local hues and memories of childhood came alive on their creations in the form of prints, colours and embroidery. Motifs of tigers, trains, horses, elephants, flowers, houses vied for attention with destination names such as Delhi, Sholapur, Pune written in English as well as Devnagari script. Silhouettes were reinvented classics but featured deconstruction as a key element of detail. The designer duo presented the beauty of traditional textiles bringing together a vast milieu of fabrics like khadi, silk chanderi, organza, tussar, georgette, banarasi weaves in chanderi along with gold tisuue. Multi-layering techniques served as the crux of the collection. Diaphanous skirts, asymmetric kurtas and neat waistcoats stood out with a myriad of prints.
Standout pieces include large, lapelled, cropped jackets layered over striped crossover tunics teamed with layered skirts and sleek trousers. The sari was layered under asymmetric flouncy sleeved, floor-length, kimono.