Skincare is nothing less than art. Getting to know your skin and picking the right ingredients to keep in shape is a skill. So, when you talk about skill. Each one of us needs some guidance while building skills. There are a lot of people in the Hollywood industry who are known to have beautiful and spotless skin. They have shared their skincare secrets with everyone so that they can benefit from their experience. In this article, we have collated 10 skincare secrets from Hollywood skin guru's that can help you have a healthy and glowing skin.
1.Gwyneth Paltrow: She takes time out to exfoliate her skin every day using alpha and beta hydroxy acid mask for fresh looking skin. She keeps the mask on until the skin starts to tingle. Moving on she does a self-lymphatic drainage massage using a serum made with grapeseed oil for an antioxidant boost.
2.Jennifer Aniston: She stresses the importance of eating right. She says."You are what you eat." So, eating healthy and right is the first step for good skin.
3.Salma Hayek: Salma Hayek's secret of perfect skin is washing her face before getting to bed. She swears &quote"I have never gone to bed without washing my face. Never in my life. Even if  I'm sick, tired—heck, even if I was drunk! This is the best practice as the skin is in the repair mode in the night. So, makeup-free skin feels fresh.
4.Jessica Alba: She is known for her flawless skin. Her skincare secrets are two important lessons from her mother. She quotes"My mother taught me to always wear sunscreen." The next one," She told me to treat my beauty products as an investment." So now you get it how she gets such gorgeous skin.
5.Shakira: Shakira's believes in protecting her skin from sun rays at all costs. She revealed she used a baby SPF instead of an adult SPF to get ultimate coverage from the sun's harmful rays. Her favorite Baby SPF is BabyGanics Cover-Up Baby Sun Care.
6.Emma Stone's: She is known for her flawless skin. You wouldn't know the fact that she struggles with super sensitive skin and none if the moisturizers suit her. Over the years, she has tested a number of products and finally found the best for her skin. She says" I use grapeseed oil on my skin as a moisturizer that's my only resort."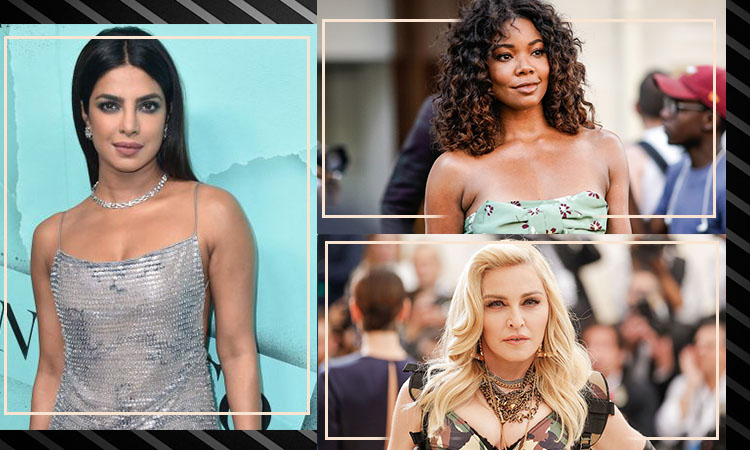 7.Priyanka Chopra: She is the new Bollywood to Hollywood Icon. She sticks to her traditional DIY scrubs, which she learned from her mother. She says &quote "I mix equal parts yogurt and oatmeal, with two teaspoons of turmeric for glowing skin. This is the one, I use the most."
8.Gabrielle Union: She has stunningly radiant skin. All thanks to her super secret of drinking a gallon of water each day. She really makes sure that consumes the entire gallon each day. She quoted."Try to drink half a gallon by noon and then the other half by 6 p.m.," She says that consuming water later than 6:00 pm can disrupt your sleep.
9.Madonna: She is timeless and stunning. She has made her own skincare line named MDNA. She believes in using natural ingredients such as mineral-rich thermal spring water, white willow bark, rose petals, volcanic clay, etc. Her range is limited to only seven products. She believes in using natural ingredients to take care of skin issues.
Read More: Hollywood's Most Fit Celebs