We Indians are so crazy about Bollywood Songs and especially when it has no meaning. It doesn't mean that every song in Bollywood is crazy,,,, it does.  But there are songs which are completely out of sense and even Bollywood movies are incomplete without fancy and easy-going songs. And it was always a thing with Bollywood to add at least one cheesy song which has no meaning.
But undoubtedly we have tapped our feet on these songs without knowing the meaning.  And literally we Indians don't care about the lyrics but these songs have really no meaning.
In this article, we have added 10 Songs which are completely out of sense, without wasting any time.
Tooh- Gori Tere Pyar Me
Oh mehfil tan sajadi te hilte dhulte tooh
Gore gore, naughty naughty, round round tooh
Punjabiyan de tooh, sharabiyan de tooh
O gore gore, nikey nikey, tere mere tooh

If you will notice the meaning of this song, it says, you have a fair, round and naughty butt. Seriously, now we are gonna objectify our bodies.
Gandi baat – R..Rajkumar
Gandi baat..
Gandi gandi, gandi gandi, gandi baat..
Aise kyun kyun kyun
Karta tu tu tu
Munh pe thu thu thu pyar me
Jab se hu hu hu
Laila ki ki ki
Into to to to pyar me
If this is the lyrics then hardly we are left with any talent in the music industry. This simply looks like, someone has a stammering problem.
Also Read: Most Terrifying Shows To Watch On Netflix
Tan tana tan – Judwaa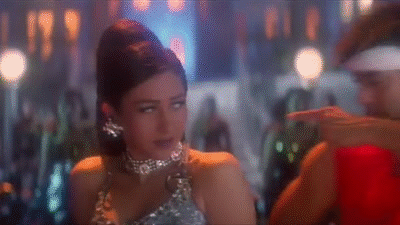 Ek baar se dil nahin bharta
Mud ke dekh mujhe dobara
Hey.. tan tana tan tan tan tara
Tan tana tan tan tan tara
Chalti hai kya nau se barah
Tan tana tan tan tan tara
Tan tana tan tan tan tara

This song is specially made for you to ask a girl out for a movie but I don't think an ay girl would say yes if you ask her "chalti hai kya 9 se 12". If I would be that girl, the immediate reaction I would give is one tight slap.
Jab tak rahega samose mein aloo – Mr & Mrs Khiladi
Jab Tak Rahega Samoshe Mein Aaloo
Chipki Rahegi Tujhse Ye Shaloo
Jab Tak Rahega Samoshe Mein Aaloo
Tera Rahaunga O Meinri Shalo
This is funniest son i have ever heard in my life till now. Seriously there is no meaning in this song.
Jhalak dikhlaja – Aksar
Jhalak Dikhla Jaa
Jhalak Dikhla Jaa
Jhalak Dikhla Jaa
Jhalak Dikhla JaaEk Baar Aaja Aaja Aaja Aaja Aa Ja
Ek Baar Aaja Aaja Aaja Aaja Aa Ja
Ek Baar Aaja Aaja Aaja Aaja Aa Ja
Ek Baar Aaja Aaja Aaja Aaja Aa JaDeedar Ko Tarse AnkhiyanNa Din Guzre Na Kate Ratiyan
I found this scary more than romantic song. If i would be that girl, i will never come back.
Coca Cola Tu- Luka chuppi
Sanwli saloni, adaayein manmohni
Tere jaisi beauty kisi ki vi ni honi
Thande ki botal main tera opener
Tujhe ghatt ghatt main pee lon
Coca Cola tu
Shola shola tu
First of all, you can't drink a girl because she can't be any kind of drink. This is such a meaningless song rather than romantic.
Also Read: Are There Any Upcoming Web Series on Amazon…
Chinta ta ta ta – Rowdy Rathore
Sumdi means corner in Mumbai local language. I don't why the person is saying he will take everyone in the corner just to teach one step.
Main Laila – Anari No. 1
"Main laila laila chillaunga
Kurta phadke
Main tera majnu ban jaunga
Kurta padke
Kurta phad sab chhod chhad
Main ho gaya deewana"
If you want to become a lover, you don't have to tear your shirt in middle of the road and scream laila.
Loveria Hua  – Raju Ban Gaya Gentleman
"Sardi khansi na malaria hua
Main gaya yaaron mujhko
Love love love
Laveriyaa hua"
This is what happens when you bunked your grammer class and run out of words.
Also Read: Upcoming Web Series on Netflix