One thing that shouldn't be missing on the wedding day is an emergency kit stocked with tools to fix everything from a torn dress to stray hairs.
There's no shame in gathering the essentials yourself—especially because you're more likely to know exactly what you might need in a pre-wedding emergency. Pack up your kit in a tote bag or tackle box, keep it easily accessible during the dinner and/or reception, and hope you never need to use it. But if you do need to use it, you'll be a hero. And if you don't? Just save it for your next friend to walk down the aisle.
In any case, here's a list of essentials you shouldn't be caught without on the big day.
1.Mini sewing kitwith scissors, needles, thread, mirror, buttons, and safety pins: For those "make it work" moments.
2. Tweezers-From stray hairs to splinters, you never know when you'll need these nimble helpers.
3. Hand Sanitizer is a necessity when you meeting hundreds of people in a day.
4. Mini Makeup Bag– Lipstick for touch-ups, compact or loose powder, eyeliner and blush.
5. Water bottle & Granola barsor other easy-to-carry snacks.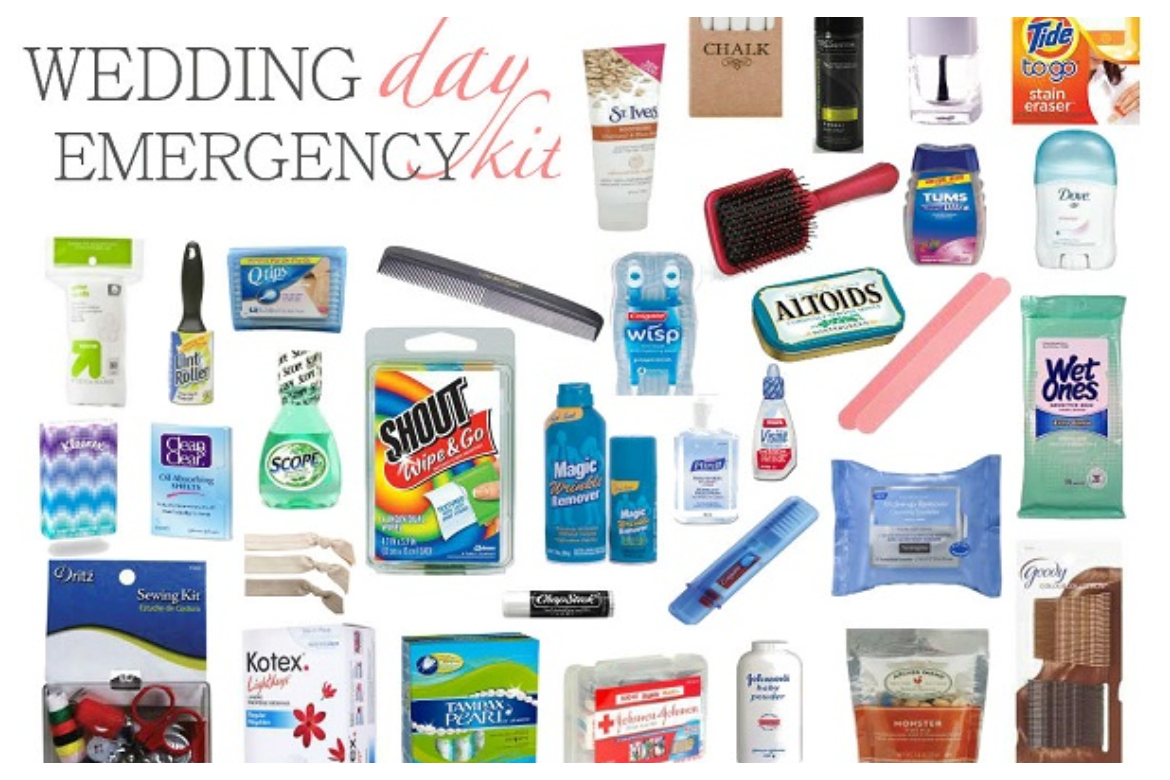 6. Baby powder – It will help the bride feel fresh as a daisy.
7. Q-tips & makeup remover– Eyeliner mistakes happen. But they don't have to stick around.
8. Blotting papers and tissues– For absorbing shine and oil.
9. Nail polish and a nail file.
10. Mini First Aid Kitwith Band-Aids, burn relief, liquid bandages, and antiseptic.
11. Medicine Kit– Include a pain reliever, allergy medicine, antacid, Dental floss/toothpicks.
12. Deodorant and Perfume
13. Straws– The bride can stay hydrated without messing up her lipstick.
14. Super Glue– For fixing shoes, nails, jewelry, headpieces, and more.
15. Breath mints– You are going to greet hundreds of people, you should be minty fresh!
16. Cash-Just in case of an emergency
17. Power Bank, extension cord, and Charger
18. Hair elastics, safety pins and bobby pins,hairspray and a comb/brush.
19. Stain remover pen:For spills and would-be stains on the dresses.
20. White chalk:If something gets on the wedding dress and it just won't come out, you can usually mask the stain with chalk.
21. White duct tape:It can fix anything! Grab a roll of the white variety just in case that "thing" is worn by the bride.
22. Lint roller:Especially helpful for the groom and groomsmen's suits.
23. Doublestep Foot Treatment and Friction Stick: To Prevent blisters so you all can dance the night away.
No matter how much you plan, wedding day hiccups are bound to happen. And that's where this handy little kit comes in!