Everyday haircare routine helps you to maintain healthy hair. It is as important as skin care and diet routine. Hair care routine isn't just about washing and oiling your hair, it goes much deeper. Everything from what you eat, which product you are using to shampoo, condition, massage, special treatments, and products.
Apart from the very few who are born with beautiful hair…. Thanks to their genes, the rest of us have to work hard at getting and maintaining a beautiful mop of hair. Before you start, remember that it takes time to improve and get results. Let's get you started on a haircare everyday routine: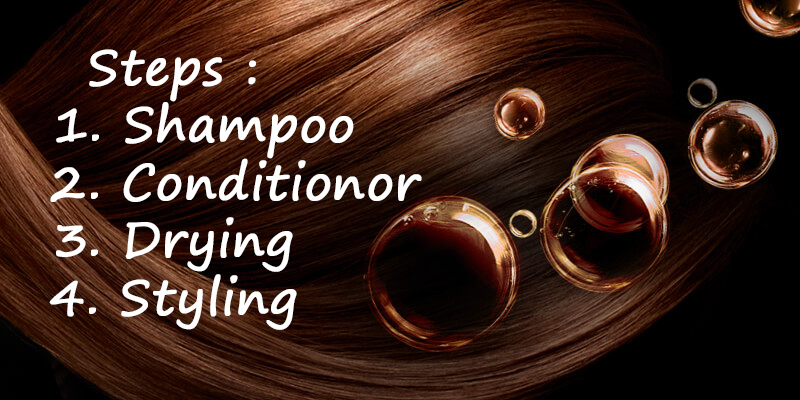 Shampooing – This helps to remove dirt, grime, sweat or any leftover styling product in your hair. It cleanses the hair gently and leaves it clean and fresh. Make sure you buy a mild shampoo that suits your hair type. A harsh shampoo can leave your hair dry, dull and lifeless. Avoid shampooing your hair every day. Once or twice a week is good enough.
Conditioning – The purpose of the conditioner is to help add moisture back into your hair after shampooing. A good conditioner makes hair more manageable, smooths out the cuticle, and reduces the chance of damaging the follicles by coating them in the conditioning ingredients and sealing them. You can choose from
– In-shower conditioners which you use after shampooing and these need to be rinsed off after a few minutes.
– Leave-in conditioners are applied after shampooing and left on till the next wash. This type of conditioner is good for taming frizzy hair, untangling and controlling flyaways.
– Deep conditioners are good for brittle, dry and damaged hair. This can be applied once a week.
Drying – One of the most neglected steps in hair care is drying your hair. Never rub your hair as it makes it dry, brittle and rough. Use a soft towel to pat dry your hair. Avoid using a blow dryer or any styling tool. Let your hair dry naturally.
Styling – This is the final step in a hair care routine. Different products like serums, creams, sprays etc help in styling your hair. Styling is a personal preference and many people avoid it.
This haircare everyday routine is the basis for strong and healthy well-kept hair. You can only add on to this routine by opting for special hair treatments at the salon. For most of it, this routine will ensure beautiful hair.
Read more: How to take care of hair after SMOOTHENING?