The sacred bond of marriage is made of love, trust, respect, and commitment. You can make your husband feel loved and appreciated in many ways. Apart from songs and poems, the use of love quotes is an awesome way of expressing your love for your hubby. You can make your relationship better, you can strengthen your love for each other by just using the right words. Love quotes can help you describe the depth of your love for your husband. Your choice of words can make a huge impact. If you haven't sent any romantic messages to your husband, get set to send some. If you are unable to find the right words to express your feelings, we are here to help. We have compiled this list of 10 beautiful love quotes for your husband to make him feel appreciated.
1) Do you know what happiness means to me? Happiness is to wait for you after a long tiring day, to cook a delicious dinner, to take care of you when you are unwell and to support you in moments of triumph. From now on, we have a common destiny and one heart for two.
2) Some people believe that marriages are dicey. We show that marriage does not end the love, but nurtures it every day. I admit that affection you have for me never ceases to amaze me. I adore you!"
3) Many people say that once you get married, the romance is over. You are unaware of the pride I take in our relationship. There is no day that passes by without us filling each other with words of kindness and love. Thanks
for being you.
4) I have a good, loving husband who is there for me, who makes me feel so special. I would like to let you know how much you are appreciated and loved.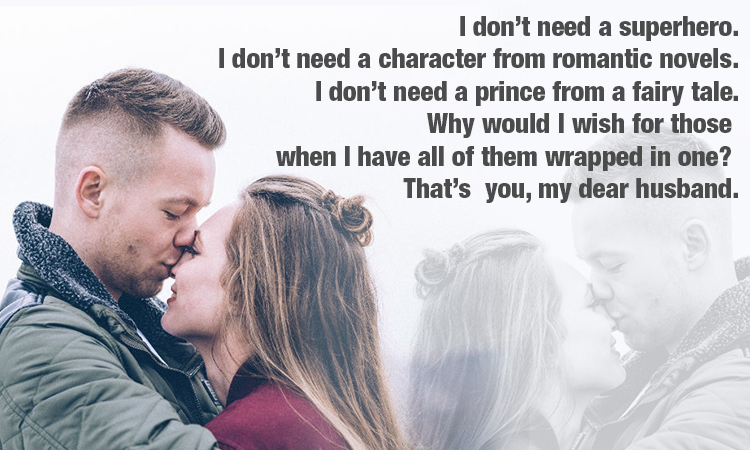 5) I don't need a superhero. I don't need a character from romantic novels. I don't need a prince from a fairy tale.
Why would I wish for those when I have all of them wrapped in one? That's you, my dear husband.
6) You are the reason for my happiness, for my tears of joy. You have never distressed me, and once again, I'm ready to tell you how much I love you, appreciate and respect you. You are the best.
7) The responsibilities of marriage: being a good wife and a caring mother, were never a burden for me because you were always there to support me.
8) When we're not together, my soul feels hollow; my heart feels numb, my emotions become shallow. Like a rainbow without colors, like poetry without rhyme, times I spent away from you are the darkest ones.
9) You are my always & forever. My happily ever after, soul mate, best friend, a dream come true, a shoulder to lean on. You are my everything, forever.
10) Thank you for being you, for sharing your love with me, for inspiring me, for helping me see the unique beauty in imperfection, for showing me that love is something not just to be said, but also to be shown.
Read More: Some Pros and Cons Between Relationship V/s Single