It's important to get the facts about how HIV is passed from one person to another.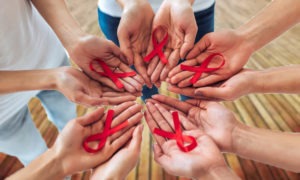 HIV can be transmitted through-
By sharing injecting equipment
By receiving blood transfusions or other blood-related products from an infected person
From an HIV-positive mother to her baby
Through risky sexual activities.
HIV is spread mostly through four body fluids:
semen
vaginal fluid
blood
breast milk
HIV is NOT spread through:
tears
sweat
feces
urine

How HIV spread through sex?
In this article, we will know that how HIV transmits through sex. HIV can be spread through any type of unprotected sex (oral, vaginal, or anal) if one of the partners has the virus. This can happen when body fluids such as semen (cum), vaginal fluids, or blood from an infected person get into the body of someone who is not infected. Someone can become infected even if only tiny amounts of these fluids are spread. Everyone who has unprotected sex with an infected person is at risk of contracting HIV oral sex (stimulation of the penis with the mouth, or stimulation of female genitals with the lips and tongue) may cause a person to become infected with HIV if the lining of the partner's mouth is exposed to infected seminal fluid or vaginal and rectal mucus – especially if the person providing the oral stimulation has sores, bleeding gums or inflammation in his or her mouth. Keep in mind that the virus occurs in high concentrations in semen and in menstrual blood.
Way to protect yourself:
If you do have sex, use latex condoms properly every time. Condoms work by providing a barrier to the body fluids that can be shared during sexual activity (including oral sex). Always follow the directions exactly and never use the same condom twice. If you have had unprotected sex (sex without a condom) or have shared needles with someone else, you should be tested for HIV. If you've had sex with a condom, you also should be tested since condoms are effective when used correctly. As well as ask your partner to be tested as well.
Why women more easily infected by HIV?
Women, as the recipients of semen, are exposed to semen for a longer time (while semen remains in the body of a woman for a few hours, a man is exposed to the body fluids of a woman for only a short time);
The concentration of HIV in semen is much higher than the concentration of HIV in vaginal fluids;
Transmission of HIV is more likely to occur just before, during or immediately after menstruation because of the large, raw area of the inner uterine lining that is exposed.Article By: Dr. Himani