You might be working at home, working in the office, working for your family and yourself but are you working for your hair. The question might take you by surprise… but amidst all the mad rush do you actually take out time for your hair. Like a skincare routine, a hair care regimen is equally important. And one of the main components of a hair care routine is using oil for hair care. An oil massage can do wonder for your scalp and hair.
It is the one-stop solution to many hair problems like lifeless hair, split ends, dandruff, and stress relief. For centuries using hair, oil has been an integral part of hair care. Our mother's, grandmother's, relatives, friends all recommend using hair oil for beautiful lustrous hair. Research has proved that hair oil has a multi-dimensional effect on the hair. It increases the strength of hair, reduces frizziness and prevents breakage.
Hair oil coats the hair with a protective layer. This is especially useful when people use special treatments like coloring, straightening or just blow drying your hair. These can make the hair rough and brittle. Applying hair oil helps to reduce friction between strands of hair. Hair oil conditions the hair fibers making it smooth and soft. Hair oil naturally helps to retain moisture on the scalp and keeps the hair well-nourished. It helps to detangle hair. A good oil massage stimulates the hair follicles and helps in hair growth.
There are many benefits for hair care by applying oil: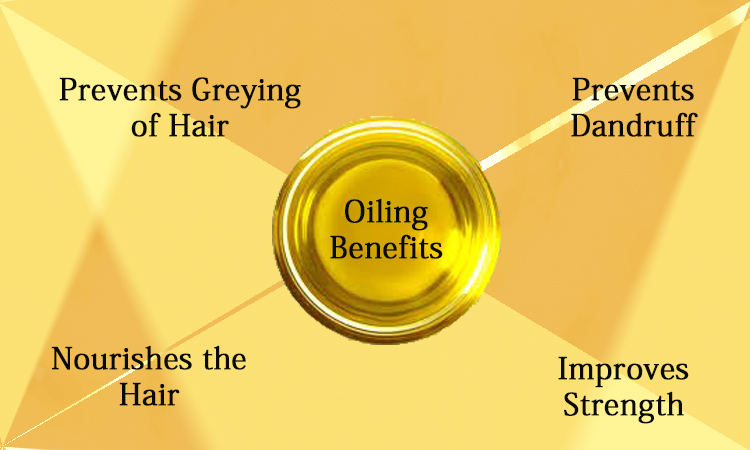 Gives a natural shine and luster to hair – Oil is made up of natural oil extracted from various healthy ingredients which result in adding shine to the hair and also make them look lustrous. Applying oil at least twice a week is advisable for lustrous hair.
Prevents Dandruff – Dandruff is caused because of a dry scalp that stretches and forms little particles. Oiling regularly helps to tackle dry scalp.
Hair oil strengthens your hair – Hair oils help to nourish hair follicles with vitamins and proteins that hair need. Haircare oils help to nourish your hair and scalp and strengthen it too.
Prevents bacterial and fungal infections – Regularly oiling your hair with specific essential oils provides your hair and scalp with necessary elements that keep them nourished.
Prevents premature greying of hair – Regularly oiling and massaging helps to retain the color of your hair, giving you black and shining hair. Also, hair is prevented from harmful rays of sunlight by forming a protective sheath around the hair protein. UV rays are blocked by the oil that nourishes hair.
There are many types of hair oil that are available for use. You can mix essential oils with carrier oils and opt for deep conditioning. A hair oil massage can also work wonders for your hair. Haircare by oil is by far the most effective and natural way to get beautiful and shiny hair.
Read More: Essential Oils For Hair Growth