Nutritional supplements are products intended to make up for a poor diet or to support your health in the same way that nutritious food can. They include a wide range of substances, including vitamins, minerals, amino acids and enzymes, herbs and other botanicals and products like probiotics, glucosamine and fish oils.
You May Also Like: Nutrition Supplements & It's Requirements!!!
What Causes Poor Nutrition?
Poor eating habits include under or over-eating, not having enough of the healthy foods we need each day, or consuming too many types of food and drink, which are low in fiber or high in fat, salt and/or sugar. These unhealthy eating habits can affect our nutrient intake, including energy, protein, carbohydrates, essential fatty acids, vitamins, and minerals as well as fiber and fluid.
You May Also Like: Healthy Diet For Strong And Smooth Hair
How Does Poor Nutrition Affect Us?
Poor nutrition habits can be a behavioral health issue, because nutrition and diet affect how you feel, look, think and act. A bad diet results in lower core strength, slower problem-solving ability and muscle response time, and less alertness. Poor nutrition creates many other negative health effects as well.
In general, poor dietary intake (e.g., excess saturated fat intake, a diet low in fruits and vegetables) has been linked to a number of diseases and chronic conditions, including Cardiovascular disease, Type 2 diabetes, Obesity, Some types of cancer, Osteoporosis, Tooth decay, High blood pressure, High cholesterol, Heart disease, and stroke, Depression, Eating disorders and many more.
You May Also Like: B+ Blood Group People Should Follow This Type Of Diet!
The Price of Poor Nutrition
An inappropriate quantity and quality of food in the diet is a key factor in poor nutrition Initially, the body hints of a nutrient shortfall with any of a hodgepodge of minor symptoms.
You May Also Like: Need Your Man To Lose Weight? Here Is An Effective Diet Plan!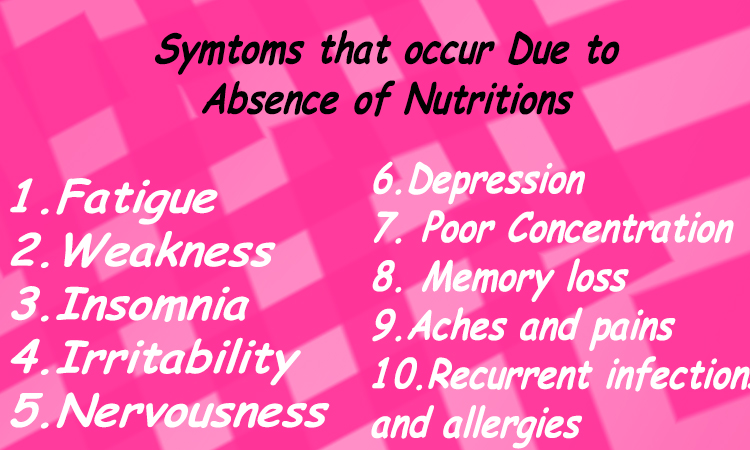 These are the vague symptoms that drive patients to doctors. If doctors do prescribe treatment, they usually bypass nutritional supplements in favor of drugs such as anti-inflammatories, antidepressants, tranquilizers, and the like. Chronic nutrient deficiencies invariably lead to serious health problems. Data collected from large populations show that as the availability of nutrients declines, the frequency of illness increases.
You May Also Like: Tasty and Healthy Snacks – Must Add To Your Diet