Funny marriage quotes are great for all sorts of occasions, from giving advice, to simply making us laugh. They also open our eyes to the essentials of things like communication in marriage and balancing individual desires. A happy marriage brings a lifetime of love, companionship, and fulfillment. But that doesn't mean we can't have a laugh at the playful sarcasm that often surrounds the wedding. As a result, we have been gifted with some of the funniest observations about weddings. So if you cringe every time you have to hear a sappy recitation of "love is patient; love is kind," then these wedding quotes are for you. Send these to your wife or husband on your anniversary and watch them laugh.
1) I love being married. It's so great to find that one special person you want to annoy for the rest of your life.
2) Marriage is give and take. You better give it to her or she'll take it anyway.
3) Marriage is the bond between a person who never remembers anniversaries/ birthdays and another who never forgets them.
4) I think I'm having a problem with my vision. I mean ever since I got married I haven't seen any money through the entire house.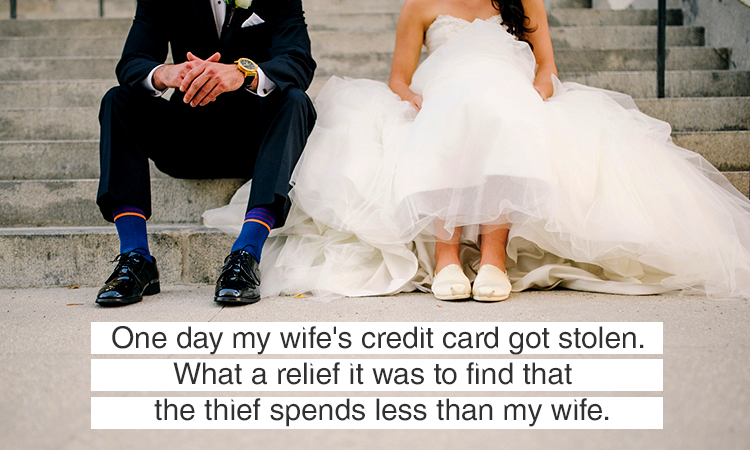 5) One day my wife's credit card got stolen. What a relief it was to find that the thief spends less than my wife.
6) When you see a married couple walking down the street, the one that's a few steps ahead is the one that is mad.
7) The average woman would rather have beauty than brains because the average man can see better than he can think.
8) Keep your eyes wide open before marriage, half shut afterward.
9) I didn't find out what happiness means until I got married and then it was too late.
10) If you want your wife to listen to you, then talk to another woman; she will be all ears.
Read More: Lack Of Communication – The Bigger Relationship Problem!