Prep Your Skin
Try Powdering Your Face
Use Damp Makeup Sponge
Avoid Heavy Moisturizer
Use A Protection Layer Before Foundation
Use Concealer To Lock Makeup
Have Patience While Doing Makeup
Use Proper Makeup Tools
Apply A Finishing Spray
Use Highlighter on Specific Areas
Applying makeup to oily skin type is not easy, and you know it very well if you have an oily skin type. Makeup gets faded quickly, provides a dull greasy look within a short while, lots of shades don't go well with an oily surface, and face looks combination glance despite heavy makeup layer. Women with oily skin always keep complaining about the distressing experience with makeup. Thus arises the need for makeup tips.
Fortunately, we can avoid those bad makeup days and able to carry a poised makeup look even with the oily skin surface, if we follow a few smart tips in this regard. So, let's forget about all the misconceptions of makeup and learn these new-age makeup tips for oily skin to steal the show as a showstopper-
1. Prep Your Skin (a must for any makeup tips)
Oily skin type needs a proper preparation of carrying makeup layer; so, always prep your skin before starting the beautifying session. To do so, apply a primer on your clear and dry skin surface at the beginning. Try a primer that-
Makes your skin stay normal
Helps you to get a nice and smooth surface
Gives you a matte look
And fills your pores well
2. Try Powdering Your Face
Now, go for the powdering part first, when you have an oily skin surface, and forget the myth of 'do not apply the cream on powder'. Cream or foundation may spread finely on a powdered surface if you make the powdering process well.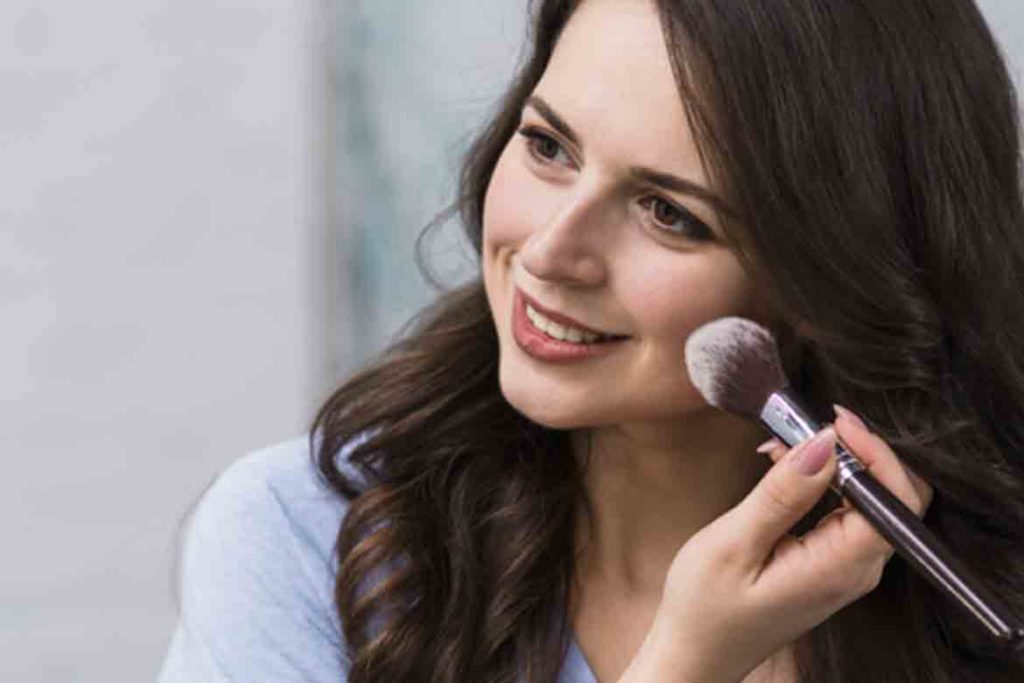 Powdering tips are-
Use pigmented loose powder if you have blemishes or pigmentation on your face
Translucent powder is suitable for a normal oily skin type, which doesn't have any blemish or pigmentation
You can even apply them both to get an amazingly subtle and dry makeup base
Apply the powder with the powder puff at the primary stage and then, blend it smoothly with a makeup sponge
3. Use Damp Makeup Sponge
This is the most important tip to get a smooth makeup blend experience on your skin that always use a damp makeup sponge to get the product in. We usually use a wet or damp sponge for blending foundation or concealer. But powder can also spread well with a damp makeup sponge. To do this step perfectly follow these rules-
Spread the powder evenly on your face first
Then, blend an extra layer of your chosen powder on the areas, which are extremely oily
Usually around the nose area and over the checks are some common places that get oily more often
Press the powder well with the wet sponge to blend it smoothly into the face
And let the powdered layer set well on your face before jumping to the next step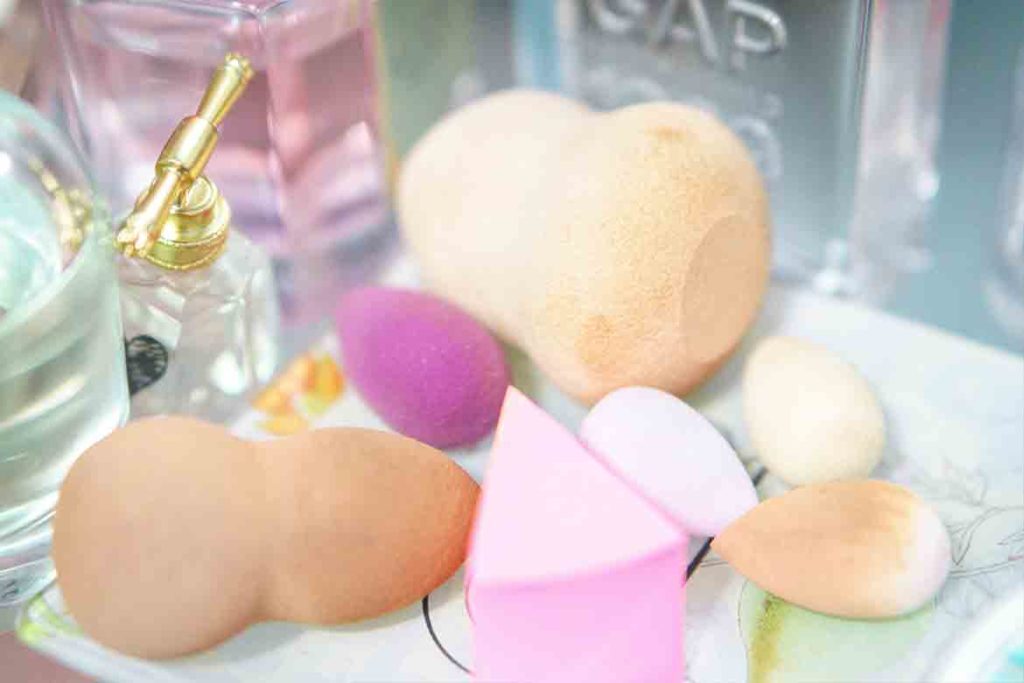 4. Avoid Heavy Moisturizer
Don't use any kind of moisturiser before applying foundation, if you have an oily skin type. We generally see that people use a moisturiser first before using foundation, but this makes oily skin even worst with makeup.
So, if you have a deep oily skin type then, skip the moisturising part entirely and go for the foundation step directly. Moisturisers give a separation layer to your skin from the harshness of the foundation. But, when we use powder for the base of makeup, your skin doesn't need any other protective layer.
5. Use a Protection Layer before Foundation
A protection layer or shield is a must to provide your skin before applying foundation to avoid its harmful effects. If you are not comfortable with powdering your face first then, try a mild moisturiser before applying foundation. Because-
Such layer helps to mattify (to get a matt finishing) your skin
This will hold the makeup look for a long while even with an oily surface
When you add a layer between the foundation and your skin, it doesn't let the oil peep through your foundation
It also protects your skin from chronic damages cause by applying makeup
When you don't give a barrier between makeup and your oily skin type then, the oil will come through the foundation and you have to powder your face repeatedly
And it also saves you from looking greasy even with a hotter condition, no matter how oily your skin is from inside
Once the barrier is applied perfectly try a foundation that suits your skin complexion well
6. Use Concealer to Lock Makeup
After applying the foundation with a damp makeup sponge, let the foundation set well on your skin for a short while before going for the concealer. For the concealing part, always remember these tips-
Once the foundation layer is completely blended, pick a concealer to lock the makeup layer flawlessly
Use roller concealer for a better experience on an oily skin surface
Apply it on the area of discoloration of your face and press it well to blend evenly on your entire face
Under-eyes area, around the nose and chin, are some common area you need to apply concealer first to get a combination-free fine makeup look
7. Have Patience While Doing Makeup (One of those makeup tips rarely given)
One of the most significant tips you should follow with an oily skin type is to have patience. We all know that patience is a great virtue and this myth goes remarkably in this attempt. Never hasten your makeup steps ever to get the flawless parlor-like glance and slowly build up things.
Oily skin needs more time to absorb or blend a makeup layer than regular or dry skin type. So, never rush up to apply makeup layers like primer, foundation, powder, concealer, blush, etc. hurriedly without letting one coating blending properly. If we don't allow the one coating to blend well before applying another, it will be messed up and give you a greasy look that you never desired.
8. Use Proper Makeup Tools
Stop using hands or fingertips to apply makeup, especially when you have an oily skin type. Oily skin needs more care to accept makeup layers as we always say, so we have to offer them more restfulness even with the tools to get the proper outcome.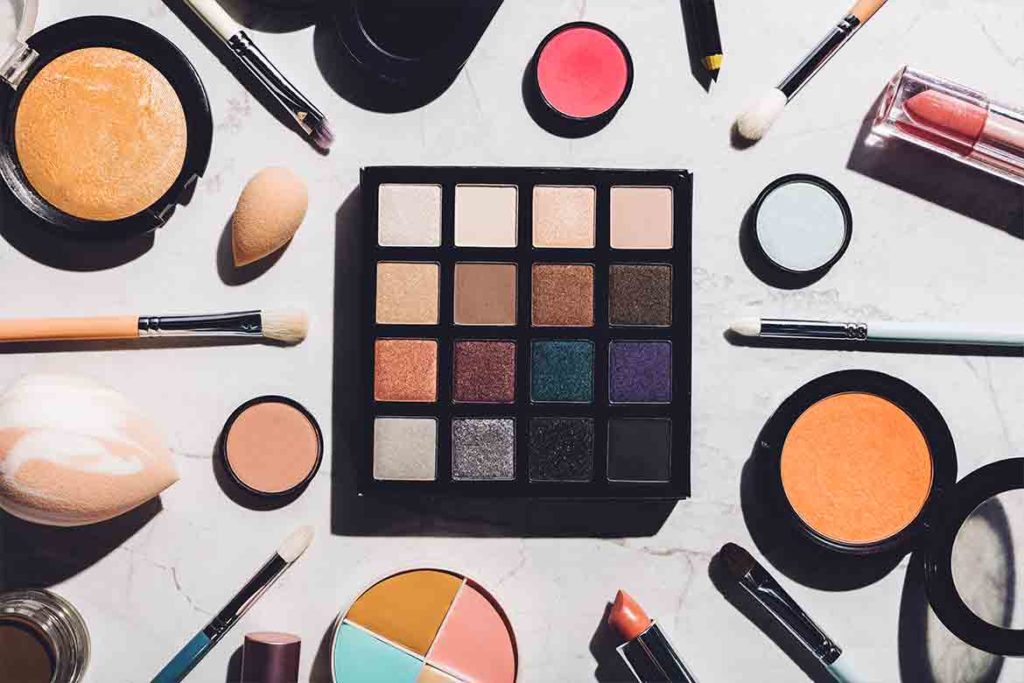 Some initial make tools are-
Powdering brush
Makeup sponge
Tiny concealer brush
Blusher brush
Flathead brush
Eyebrow brush
Eye shadow brush
Highlighter roller
sponge-tipped applicator
And beauty blender sponge
9. Apply A Finishing Spray (Equally must for any makeup tips)
Once you completed the makeup session with bronzer and blush, wait for a short while to set them properly on your skin surface. Now try out a finishing spray on your entire face to lock the look perfectly on your face.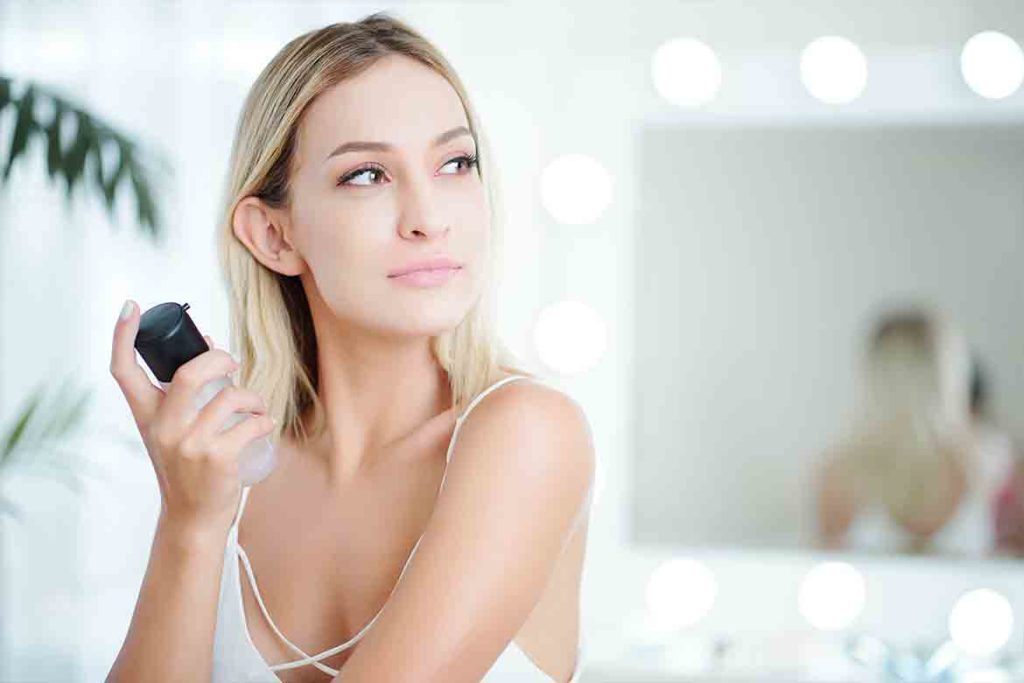 Such finishing spray aka setting mist or mat setting spray is something you have to apply on your entire face including eyes and eyebrow areas to look at your makeup coating for a long while. You can buy any market-based spray here but try to use spray with alcohol that keeps the oil check and make your skin dry till you have the layer of this spray on your face.
10. Use Highlighter on Oily Areas
Finally, use a highlighter that is compatible with oily skin type. Try it on eyebrows-bone and around the nose areas, or anywhere where you get oily surface more often. This will also give a shiny glance at your overall look.
Once the highlighter sets on your skin perfectly, complete the rest of your makeup session like applying lipstick, mascara, eyeliner, eye-shadow, etc. carefully. You can carry this makeup look almost 6-7 hours in normal condition, despite having an oily skin type, if you follow the steps attentively.
Some additional tips for holding makeup on oily skin type are-
Rub a piece of an ice cube before starting your makeup session, ever prior to applying the primer
Carry some bloating papers in your purse and use them when needed
Use non-sticky and low-moisturizer based foundation
Apply an oil-balancing face mask before applying makeup
And avoid oily foods or fries as much as you can to hold a flawless look with or without makeup, when you have excessively oily skin type.