Hima Das is an Indian sprinter from Assam. She has recently created history by winning a gold medal in the women's 400-meter event at the IAAF World U20 Championships. With winning this championship, she has enjoyed a meteoric rise in her career. She is popularly known as 'Dhing Express'. She is the first-ever Indian athlete to win gold in a track event in IAAF World U20 Championships.
The early life of Hima
Hima was born on 9th January 2000 in a poor family in Kandhulimari village in  Nagaon district of Assam. Her parents are Ronjit and Jonali Das and they belong to Kaibarta community. They both are involved in farming to support the family. Hima did her schooling from Dhing Public School. She was more interested in playing football which she usually played with the boys of her school. Although, she wished to play football, Shamshul Sheikh, a teacher at the Jawahar Navodaya Vidyalaya, advised her to become a sprinter after watching her speed during the football matches which she had played.
Remarkable achievements in the early years
Hima's talent was spotted first in 2016 during the inter-district meet. In that meet, she had to satisfy with a bronze medal. The reason why she was not been able to get gold in her first-ever track sports event at the bigger level.
In 2018, she won gold in 400m at World U-20 Championships 2018 held at Tampere, Finland. She finished the race in 51.46 seconds.

In the 4×400 meter mixed relay at Asian Games in 2018, she won the silver medal. However, due to a ban on the gold medalists, her award is upgraded to gold.

In 2018 Jakarta Asian games, she won gold in mixed 4×400 m events.

In 2018, she was conferred with Arjuna Award.

She was also appointed as youth ambassador of UNICEF-India and the government of Assam has appointed as the "Sports Ambassador of Assam" in 2018.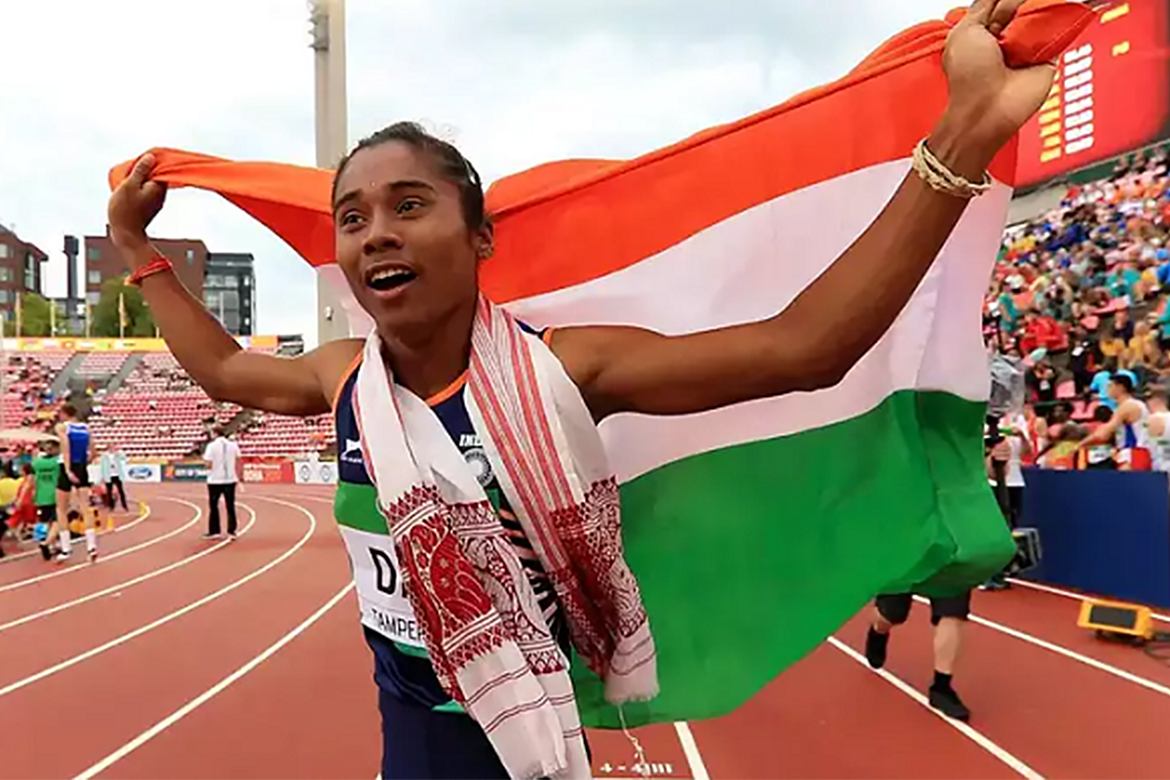 Her latest achievements include:
On 2

nd

July 2019, she won gold in 200m at Poznan Athletics Grand Prix in Poland. She completed the race in 24.65 seconds.

On 7

th

July 2019, she won gold in 200m at the Kutno Athletics Meet in Poland. She took 23.97 seconds.

On 13

th

July 2019, at Kladno Athletics Meet in the Czech Republic, Hima won gold in 200m where her timing was 23.43 seconds.

On 17

th

July 2019, she confirmed another gold in a row by winning 200m at Tabor Athletics Meet Czech Republic

.

In this event, her timing was 23.25 seconds.

On 20

th

July 2019, she made history by winning a gold medal in 400m at Nove Mesto, Czech Republic. Her timing was 52.09 seconds.
Brand Ambassador of Adidas
Sports gear giant Adidas has signed Hima as the brand ambassador of the company in September 2018. During the announcement, the company said that from now onwards Hima will be equipped with the
Read More: The Woman Who Proved " Life Begins At The End Of Your Comfort Zone"