Italian fashion has largely been defined by expert tailoring and effortless elegance. Even when exploring more relaxed themes, designers at Milan Fashion Week have maintained pristine craftsmanship with modern silhouettes and exciting details. From sleek leather jackets to gorgeous jumpsuits, see the highlights from Milan's Spring/Summer 2020 runways.
MFW allows show-goers the opportunity to audition next season's trends before fashion month's big finale. In this case, that means casually embracing hot pink color, taking an elevated approach to head-to-toe leather, and clashing patterns with care. Milan street style is a guide for styling down the OTT trends from New York and London.
You May Also Like: Recap To The Biggest Fashion News Of 2018
Even with its global powerhouses, Milan isn't immune to change either. That's why owning your heritage has become such an important talking point here. Donatella Versace made a bigger splash embracing their past this season. Judging by media impressions and by every other measure, Jennifer Lopez owned the week with her Versace cameo. Twenty years after wearing Donatella's iconic jungle print dress and helping invent Google Images search service in the process she walked the runway in an even more daring update and somehow looked better than ever. Designers everywhere are cycling through their press clippings in search of a similar kind of magic. In their ways, Miuccia Prada, Angela Missoni, and the Dolce & Gabbana duo went in search of their roots, too, and their fans were rewarded.
Inching up to his fifth anniversary as Gucci's creative director Alessandro Michele felt the itch to make a shift of his own. His collection was cleaner and more streamlined, but still recognizably him. That's the mark of a talented designer: moving the story forward without losing your essence, or your brand's. Daniel Lee is still at the beginning of his Bottega Veneta journey. What's remarkable about him is how quickly he's managed to convert fashion's early adopters and influencers to his side with his directional square-toed intrecciato shoes and pouch clutches. A unique point of view is especially crucial at a brand's genesis. Lucky for Marco Zanini and for us he's sure of his taste and his eye for exquisite materials.
You May Also Like: Down The Lane Of ICW
Of course, the scariest of changes are the ones climate inaction will bring. Milan is just beginning to take on this issue. It will be a challenging road weaning hungry consumers off animal products, as the experts think we must.
The Top Collections of Milan Fashion Week Spring 2020
Marco Zanini
Zanini believes in fabrics with a hand. All of the materials here were uniquely developed for him, from the comparatively humble 'crispy' checked cotton of a prodigious smock dress to the super-deluxe washed ivory satin of a tank dress, double-layered for ease of wear and discretion. He also believes in paying attention to the small stuff. A coat sleeve gathers at the elbow a chiffon ribbon circling the hem of a dress, the tie at the back of a mannish jacket creates a womanly hourglass shape. Zanini's point of view has been at least partially formed by his roots.
Prada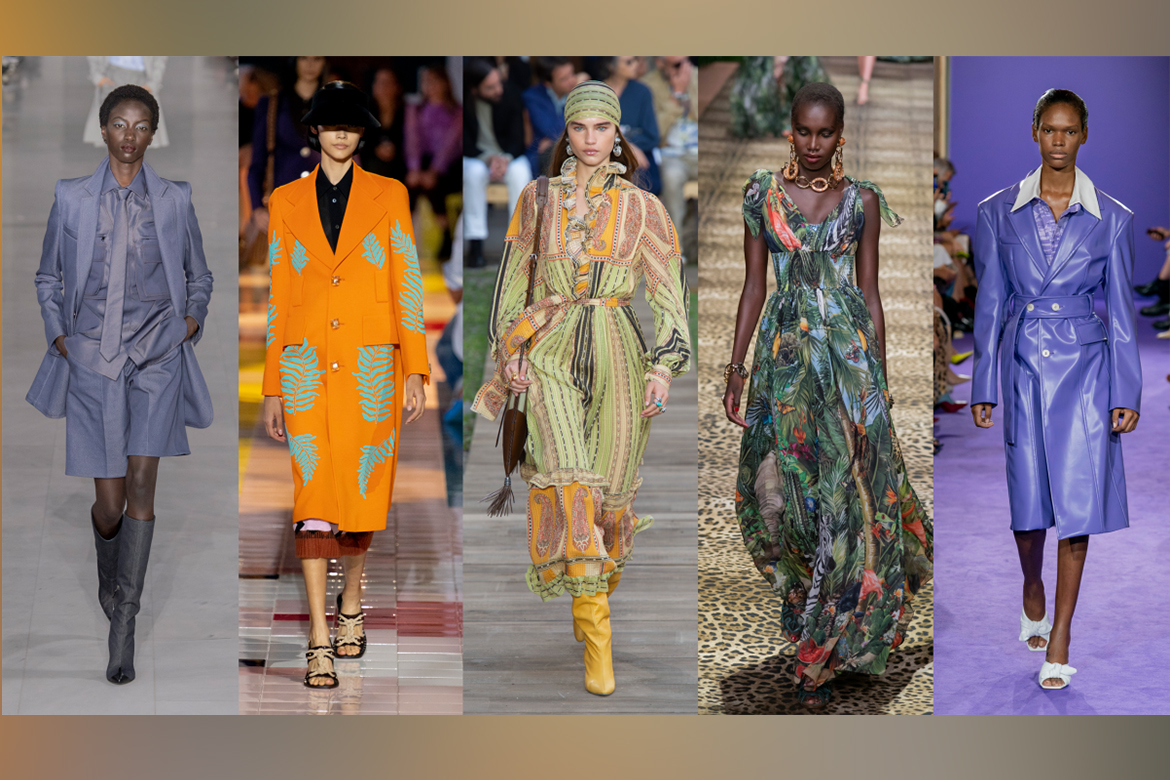 From the get-go, this was the brand in a familiar yet intriguing top form. Then there were the clothes: spare, elegant, a smidgen the '70s, a hint '50s, unabashedly adorned yet beguiling for the esoteric gals among us. For Prada fans, this is the dream wardrobe, irreverent, unapologetically pretty, and devoid of conceptual gimmicks.
You May Also Like: Deepika Padukone Goes All Dior As She Attends Paris Fashion Week
Bottega Veneta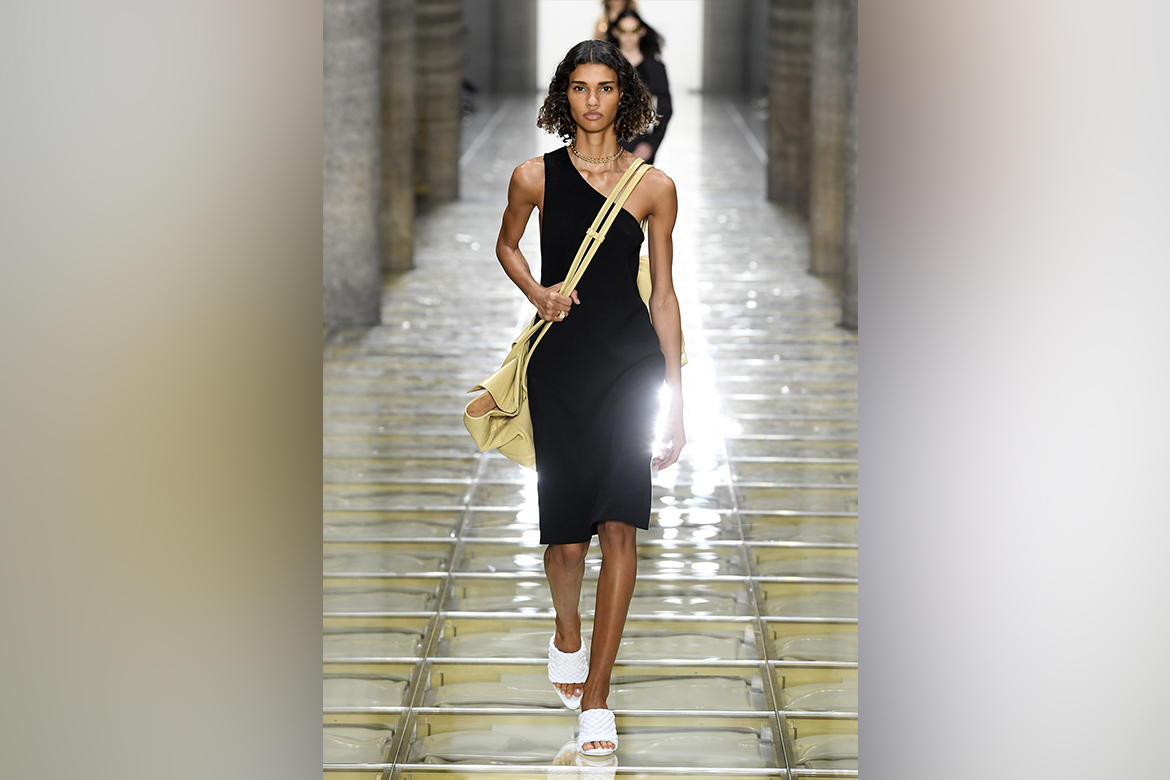 Bottega Veneta's Spring/Summer 2020 collection showcased It-girl fashion, punctuated by sporty-chic undertones. This full leather look experiments with combining harsher textures with more feminine motifs like pastels and dainty jewelry. Spring marks his second runway outing, and what it tells us is that he's a designer with conviction and there's no wavering. He extrapolated on the pieces that worked for Fall, showing many iterations of clingy ribbed-knit dresses with interesting twisting elements and cut-outs. There are sweater versions with similar skin-baring details for men. And without changing course, he reconsidered the less successful items. The leather pieces, which ranged from anoraks to all-in-ones to trenches, had a lighter aspect this time around. The woman's tailoring was extreme a season ago.
Dolce & Gabbana
Throughout various looks, the designers included all the elements of the chosen theme such as safari suiting, cycling through animal and tropical prints, scarf dressing, and resort-wear designed for lounging poolside. The jungle theme is a topic of this season and everyone including Armani and Versace has weighed in. Dolce & Gabbana's collection stands apart in terms of extraordinary craftsmanship. The raffia pieces from the June menswear show were a hit. Hence, they redoubled their efforts. Woven, crocheted, or embellished with crystals, it was surprisingly soft and not at all scratchy as expected.
You May Also Like: Amit Aggarwal & Suneet Varma … Again At ICW
Gucci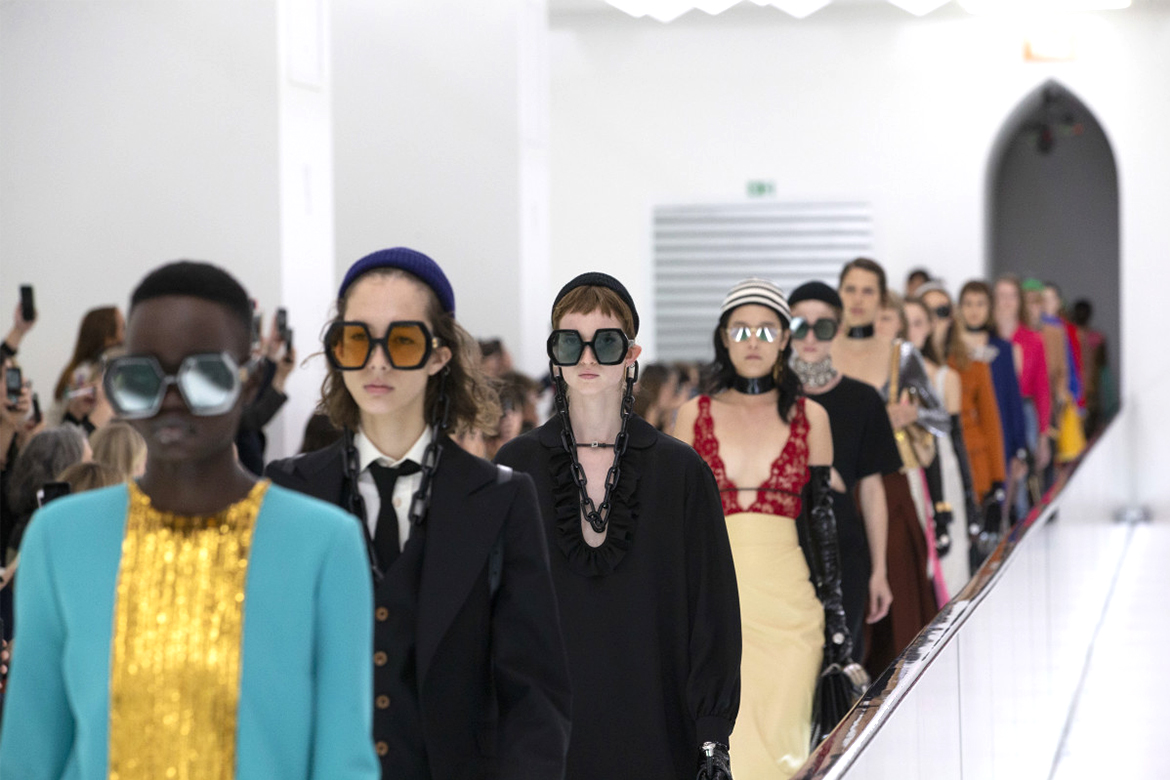 Alessandro Michele's gravitation towards '70s style has defined his time at Gucci. This collection featured a variety of looks within that vein, from upscale socialite garbs to more lax daywear. This pale pink dress boasts a more formal vibe, accentuated by long black gloves, red stockings, and strappy sandals. A staple look of the '70s fashion, wide-leg pants, and an open button-down shirt evoke the gender-fluid vibe for which Michele is known for.
Versace
In what can only be described as a show to remember, designer Donatella Versace kicked things off with this new take on a black blazer dress. The surprise guest factor energized Donatella. It was definitely less merchandised than last season's outing, and in that sense, it felt the quite late '90s. Though the prints were the ostensible story then and now, after all, prints are what register in images on a screen the designer didn't ignore black in either case. And here it was the black looks that registered. The tailored coatdress that opened the show was a killer outfit. Interestingly, a particular kind of '90s sexiness heavy on the black and the stilettos is trending in Milan. With this collection, Donatella confirmed that she has a more vital claim to the era than just about anybody. As for fashion as entertainment, the stakes have been raised.
You May Also Like: These Celebs Opened A New Door To Fashion At Vogue Beauty Awards
Marni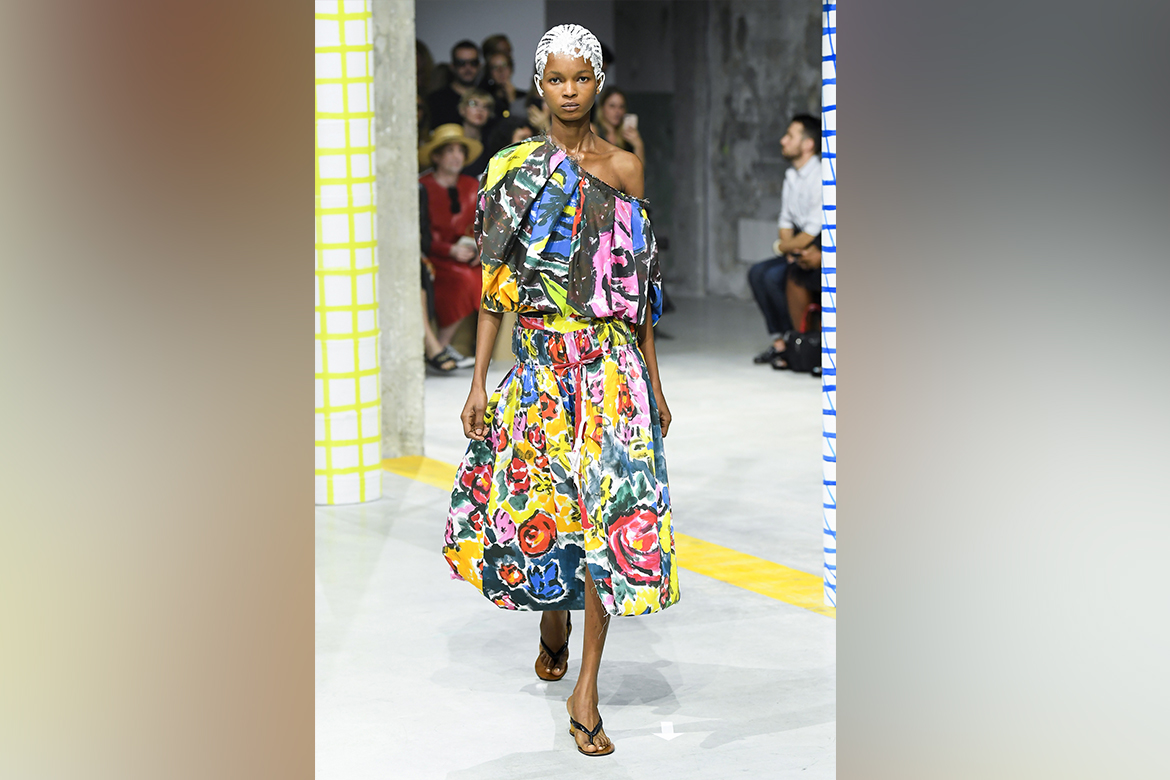 On a day when people took to the streets as climate activists, it was a relief and a pleasure to sit on recompressed-cardboard benches under a recycled plastic jungle to watch Francesco Risso's Spring-Summer 2020 show for Marni. Bravo to an Italian house for putting sustainability front and center! And kudos to Risso for showing a collection that had charm and beauty by the bucketload and upcycled textiles, organic pieces of cotton, and 'recuperated' leathers. He wanted to create a 'joyous protest,' a homage to nature and our sense of humanity' and he succeeded.
Boss
The Boss Spring/Summer 2020 collection drew on primary colors to create a series of summer looks that work from the country club to the office. This red ensemble embodies a late-night feel with a beachy silhouette.
Salvtore Ferragamo
In line with the brand's knack for refined pieces, structured silhouettes and tasteful color schemes dominated this season's Ferragamo runway. This red two-piece outfit is offset by a large blue handbag and strappy sandals. For a new twist on the paper bag waist, Creative Director Massimiliano Giornetti styled a pair of baby blue leather trousers with a cut-out crochet top.
Moschino
Art met fashion in Moschino's new collection. Designer Jeremy Scott's ever-so-campy vision brought to life the vivacious colors and abstract shapes of Pablo Picasso for a series of looks that own the runway. This asymmetrical dress is museum-ready with its variety of colors wrapped in a pencil silhouette.
Fendi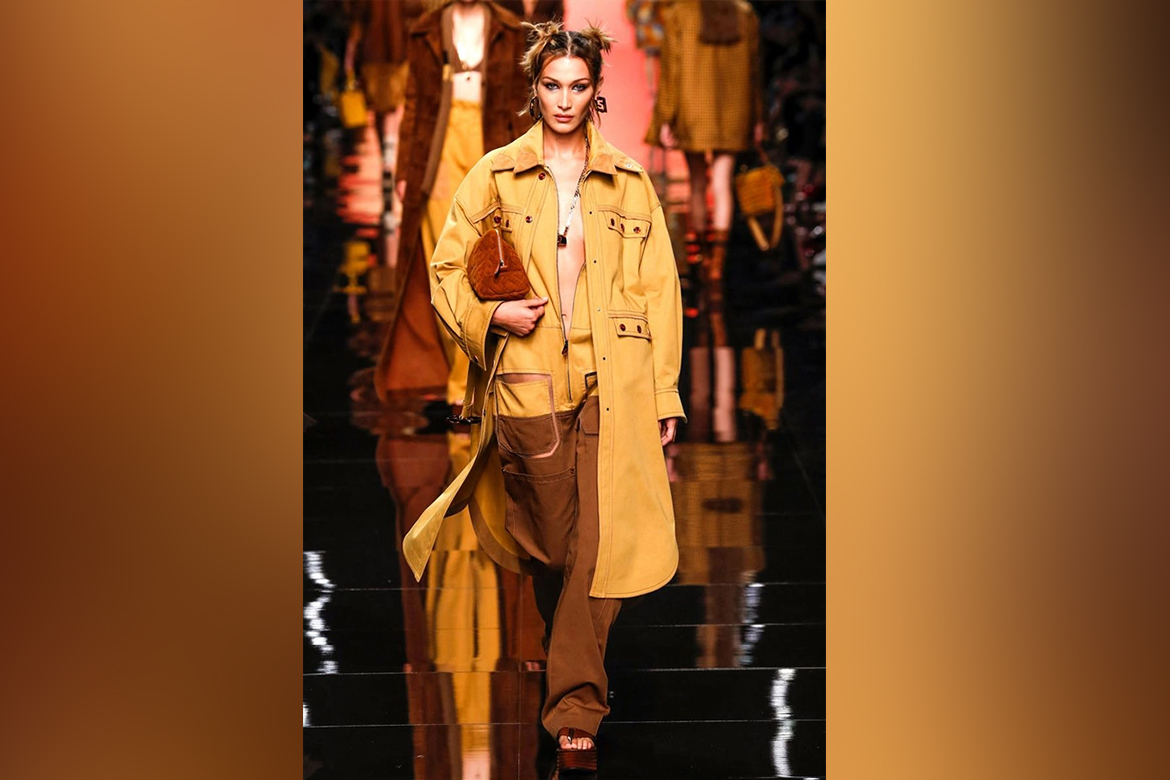 Like many other designers this season, Fendi drew inspiration from the funky vibe of the '70s for its newest collection. This cable knit look utilizes hues associated with the disco decade while adding a level of 2010s risqué innovation. The second half of the collection hones in on a more delicate color palette for a more innocent effect. This look, in particular, uses a very sweet and obvious feminine shape, while also staying cohesive with the rest of the collection by incorporating the matching quilted jacket.
Max Mara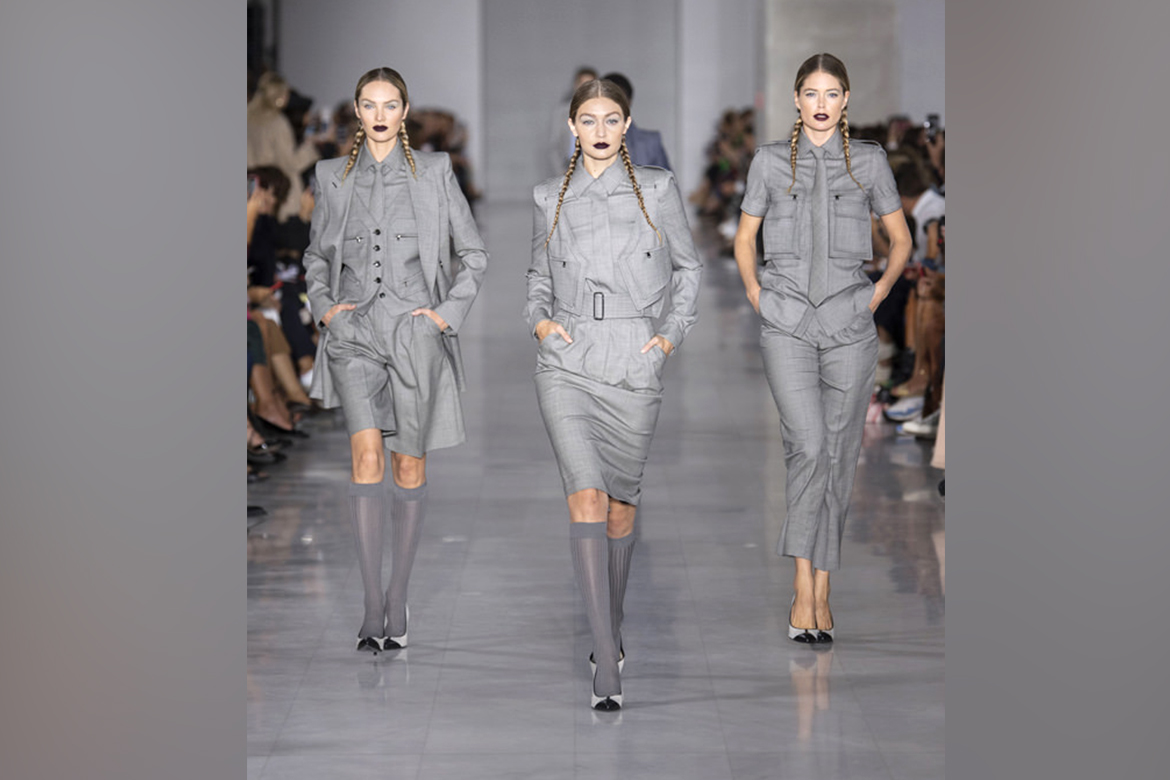 In a series of looks that compliment Max Mara's typical aesthetic, Creative Director Ian Griffiths' inspiration from powerful women is evident. For instance, this elongated white romper uses hard lines to convey a poised and purposeful, composure.
Jil Sander
Luke and Lucie Meier, the husband and wife design duo behind Jil Sander, maintained the brand's signature minimalism this season while also playing with proportions. This crimson jumpsuit with white stitching has an oversized look without being overbearing, making it a true one-piece wonder.
No. 21
Taking inspiration from Yves Saint Laurent's 1971 collection made famous for its eroticism, No. 21 Creative Director Alessandro Dell'Acqua sought to bring provocative details to the Spring/Summer 2020 line-up. Here, a sleeve parts into a cape for an unexpected twist on a leather jacket.