Lakmé Fashion Week is jointly organized by Lakmé, the topnotch cosmetics and beauty services brand in India and IMG Reliance Ltd., the leader in sports, fashion and entertainment marketing, and management. Lakmé Fashion Week has been created with a vision to "Redefine the future of fashion and integrate India into the global fashion world." Lakmé Fashion Week is held twice a year.
Lakmé has been the pioneer of make-up and color cosmetics in India since 1952 by launching numerous trend leading and high-performance products. Combining international cosmetic technology with an in-depth understanding of the Indian woman's needs, Lakmé offers women a comprehensive beauty experience through its extensive product portfolio and contemporary services at Lakmé Salons, India's number one salon chain.
IMG Reliance Limited is an equal joint venture between Reliance Industries Limited (RIL), India's largest and most recognized private sector company, and IMG Worldwide (IMG), global leaders in sports, events, media, and fashion. It creates, markets and manages fashion and entertainment in India. IMG Fashion is a gateway to the fashion world. It offers solutions that connect and associate fashion's key constituents and corporate brands using IMG's global resources, influence, and expertise. IMG involves best models, leading designers, photographers, art directors, and stylists. The division produces the leading fashion events around the globe and represents many of the industry's top organizations and federations and works with various local and national governments, creating regional and international fashion platforms.
You May Also Like: Fashion Designers Who Rocked The Lakme Fashion Show 2019 With Their Designs
Best Looks From Lakme Fashion Week
This August, Lakmé Fashion Week rolled up punctually bringing with it a bag full of trends, designers, street style and fashion to define the upcoming festive season. This year the fashion fraternity stalwarts and new entrants alike came together to celebrate 20 years of one of the country's biggest fashion weeks. We chart out some of the highlights and bring you these collections fresh off-the-runway.
The Street Feat showcase comprised runway shows by four young, homegrown labels—Six5Six Street, Gundi Studio, Biskit, and Jaywalking—that interpreted street style in their own irreverent, individualistic ways. Co-founded by Delhi-based siblings, Avni and Ambar Aneja, Six5Six Street's 'WE 2.0' was a sartorial interpretation of the world we currently live in and where we're possibly headed. The line comprised cropped denim jackets, T-shirts, flared jeans and boxy jackets. Clever use of accents holographic prints, statement pockets, color blocking, slogans and contrast patches—and a talent for storytelling are Six5Six Street's strongest suits.
Jay Ajay Jajal's bold use of neon, neoprene and ornamentation popped on the runway as his brand, Jaywalking, made its fashion week debut. The founder of this gender-neutral label sent graphic T-shirts, tracksuits, slim denim jeans and hoodies down the runway on day one at Lakmé Fashion Week.
Natasha Sumant showcased her debut collection with her label "Gundi Studios", featuring a mix of streetwear, whose underlying motto, was to celebrate the South Asian Women, in motherland and diaspora.
Under her label 'Not so Serious', Pallavi Mohan showcased her collection "Simply Studio 54" which revived the glitz, glamour, and glory of the feisty '70s. Fluid dresses, off-shoulder creations, and halters glowed with shimmer and shine. Oversized silhouettes for blouses, ballooning sleeves, and voluminous shapes were seen along with satin and rich velvets and lamé that was splashed with crystals, a sprinkling of sequins and seductive feathers.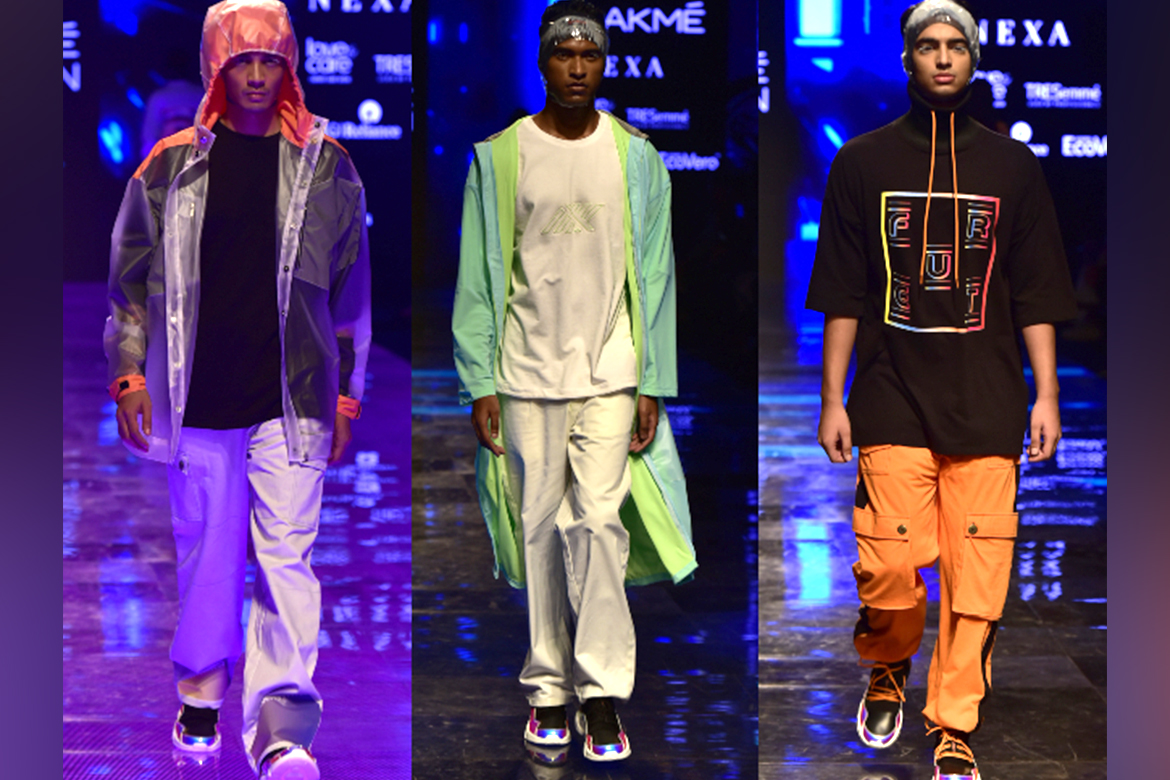 Biskit's line of unisex clothing, 'Spaced Out', conceptualized by Shruti and Harsha Biswajit, is characterized by clean lines, neutral colors and statement accessories. The collection featured jumpsuits, oversized T-shirts, overalls and streetwear sets. One of the coolest pieces in Biskit's collection was the signature black, detachable duffel bag that also triples up as a tote and a sling bag.
This season, Hyderabad-designer Anushree Reddy showcased a bridal collection that was an ode to flowers and their exquisite natural fragrance. 'Gulaal' housed ethereal lehengas, blouses, dupattas, and gowns in Chanderi, tulle and silk organza that epitomized romance. Delicate embroidery juxtaposed with ornate embellishments created a look that was sensuous and youthful without being overbearing.
Disha Patil showcasing her collection 'The Interpretation Of Love' which captured the new-age bride. Structured blouses with just a hint of tradition held a vintage yet nouveau appeal. The motifs and prints in the collection were heavily inspired by the splendid architectural delights of Turkey.
You May Also Like: Masoom Minawala- Miss Style Fiesta Represented India In Milan Fashion Week 2019
Bohemian and Kashmiri prints mixed with ikat and finished off with a contemporary feel—that's what Ridhi Mehra's collection 'An Ode to Heirlooms' was all about. Kashmiri embroidery graced the surface of jackets and peplum blouses and saris, jumpsuits, shararas and anarkalis in Chanderi, organza and satin silk; perfect for the modern-day bridesmaids.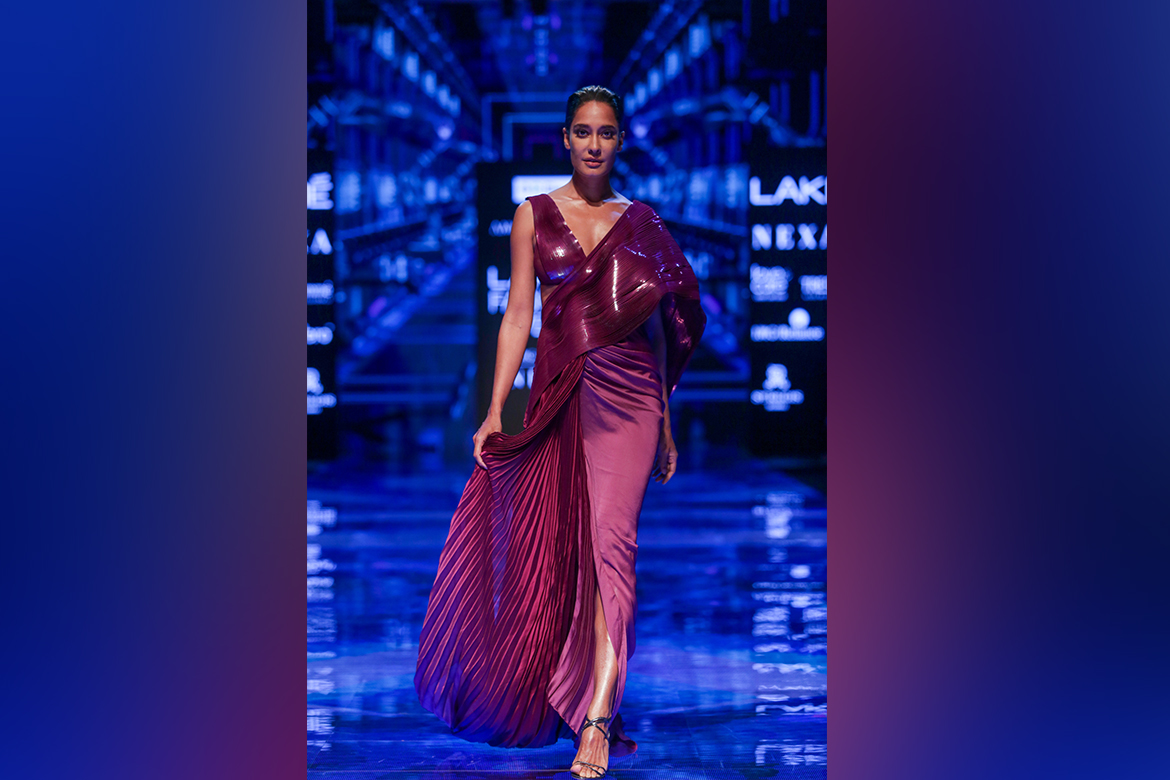 The colors, fabrics, prints, and crafts of Gujarat and Rajasthan inspired the label's 'Arcus' collection. The designs were playful, bold and travel-friendly. Purples, greens, and pinks came together in the duo's signature micro-pleating, free-flowing silhouettes, and pantsuits for pool-friendly looks.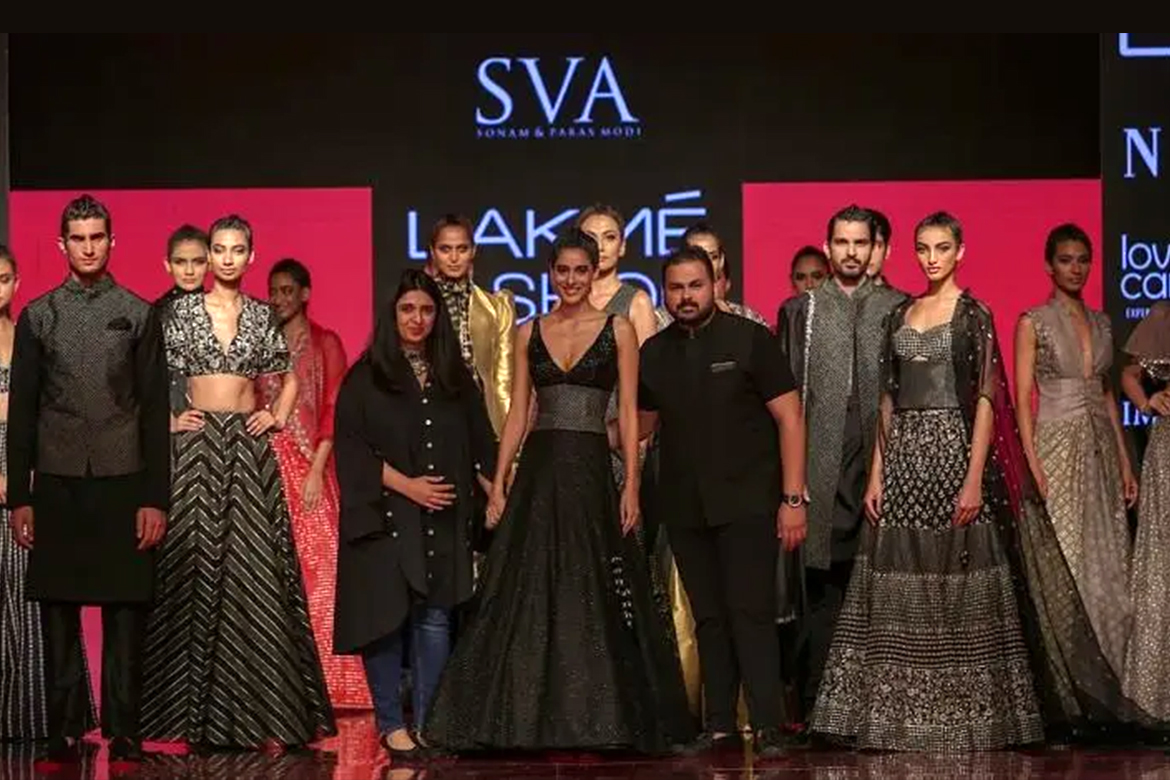 'Rani SVA' was designed keeping the millennial woman in mind who is a maharani in her own right. The collection featured silhouettes with hand embroidery, luxe textures, metallic surfaces interwoven into geometric textiles; all making a bold statement.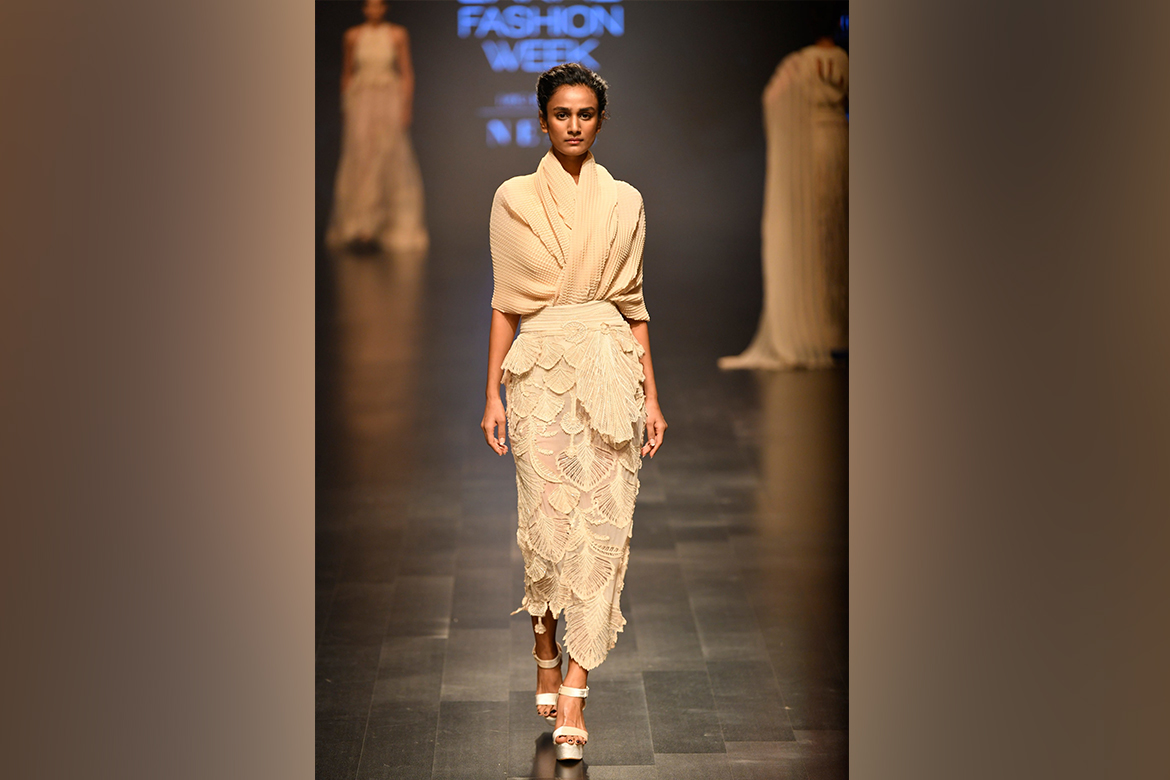 Abhishek Sharma's collection had a touch of traditional Mithila paintings and the union of male and female forms in ancient Indian philosophy. The designer tried to draw a contrast between silhouettes, colors, textures, and embroidery. Fabrics such as chiffon, satin, organza, and handloom silks were used for crop tops, skirts, dresses, gowns, and blazers in colors including off white, ivory, pastel shade of lavender. Use of glass pipes and cutwork added surface texturing to the garments that gave intricate detailing to the collection.
Designer Sunaina Khera's collection 'Dear Mom' was an ode to her mother who she says is the "strongest female figure in her life". The line-up was dominated by red and green colors and included shades of pink, burgundy, beige and black, including motifs of lilies, roses, and cherry blossoms. There were intricately embellished sarees worn with straight kurtas, the brand's signature lehengas with hand-embroidered dupatta and dresses made of fabrics like organza, tulles, and crepes.
You May Also Like: Komal Pandey- A Fashion Icon Ruling Over The World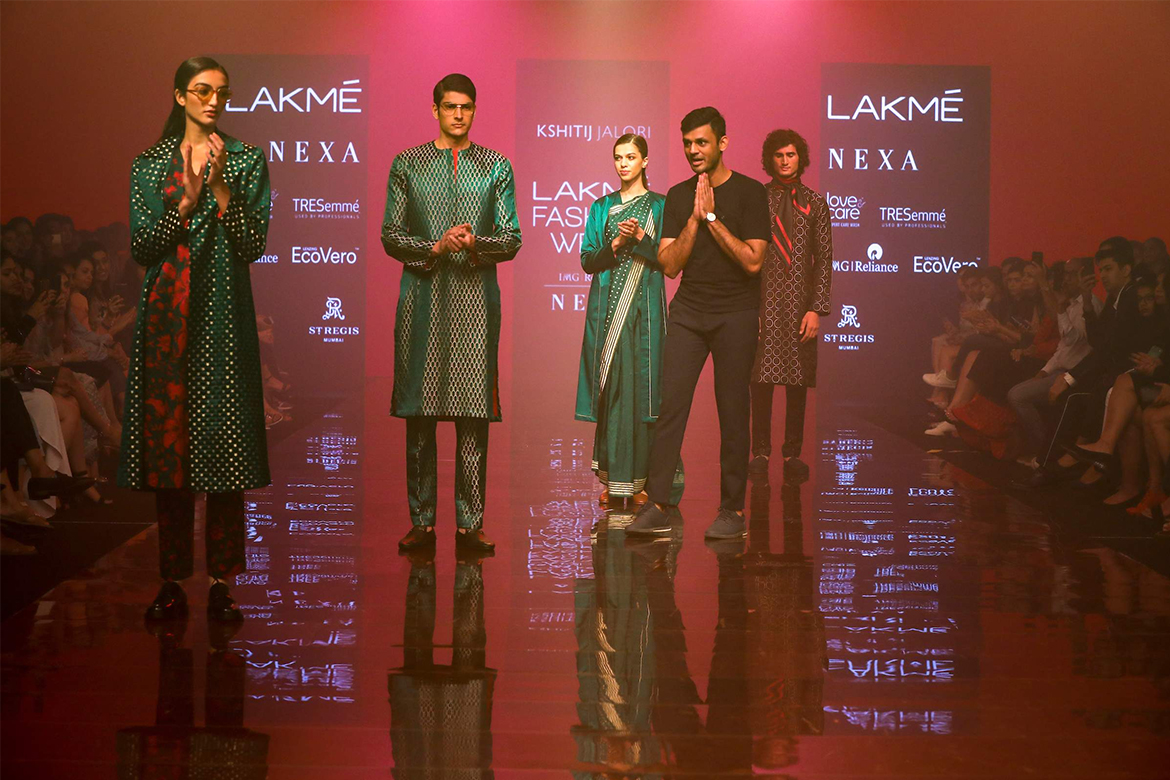 Jalori's collection had contemporary, free-flowing silhouettes. Pencil skirt, skater dresses, black sequin saree, crop top, midi dresses with flower motifs – surface texturing and plain silk lehenga, choli with heavy embroidered dupattas in off white – ivory colors made the collection ideal for today's modern women who look for comfortable yet glamorous outfits.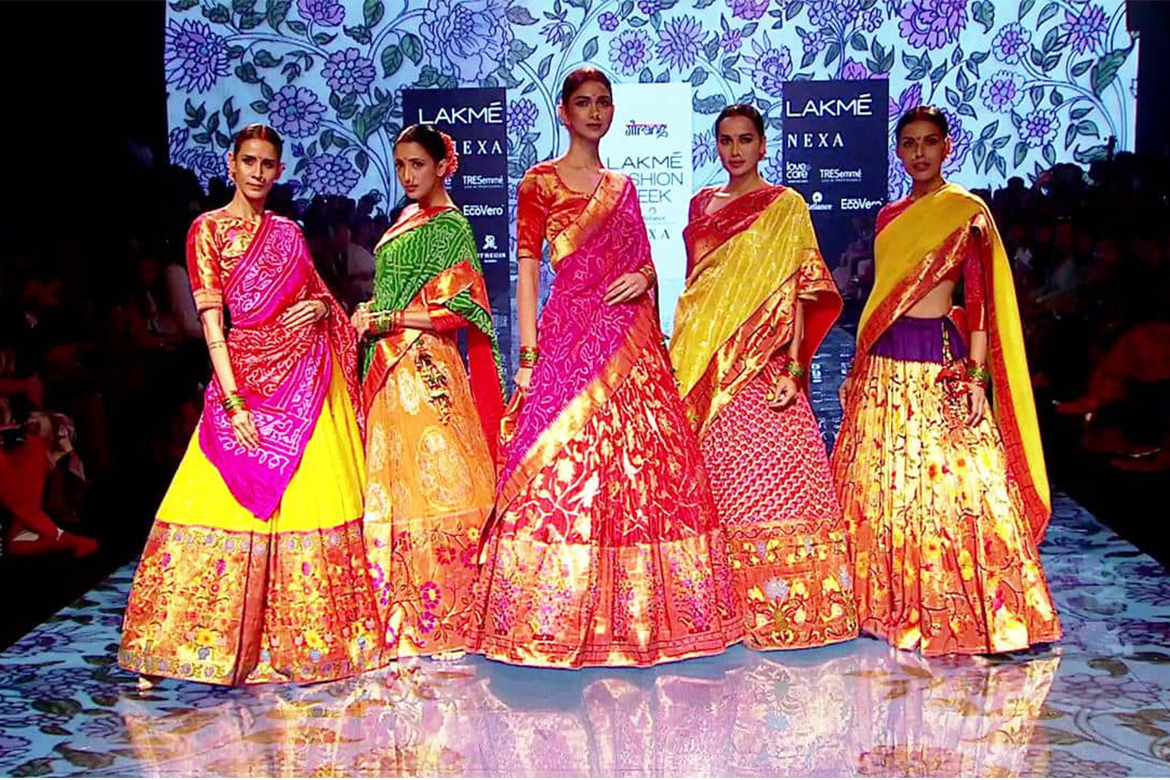 Trust textiles and fashion designer Gaurang Shah to give you a stylish lesson in history. His collection took inspiration from 18th– century clothing from the rule of Peshwa Bajirao. Whites, yellows, oranges, and reds stood out in silhouettes that encapsulated traditions of a royal era. We witnessed saris, gold borders, lehengas and sherwanis in heritage weaves like Bandhani, Paithani and more.
Sonal Verma showcased "The Still Life" for her label Rara Avis, which was inspired by the 17th -century painter Jacques Linard. A blazer with leather shawl collar was teamed with bottom-pleated pants, trench coats had rear leather fringes and long blazers with embroidery.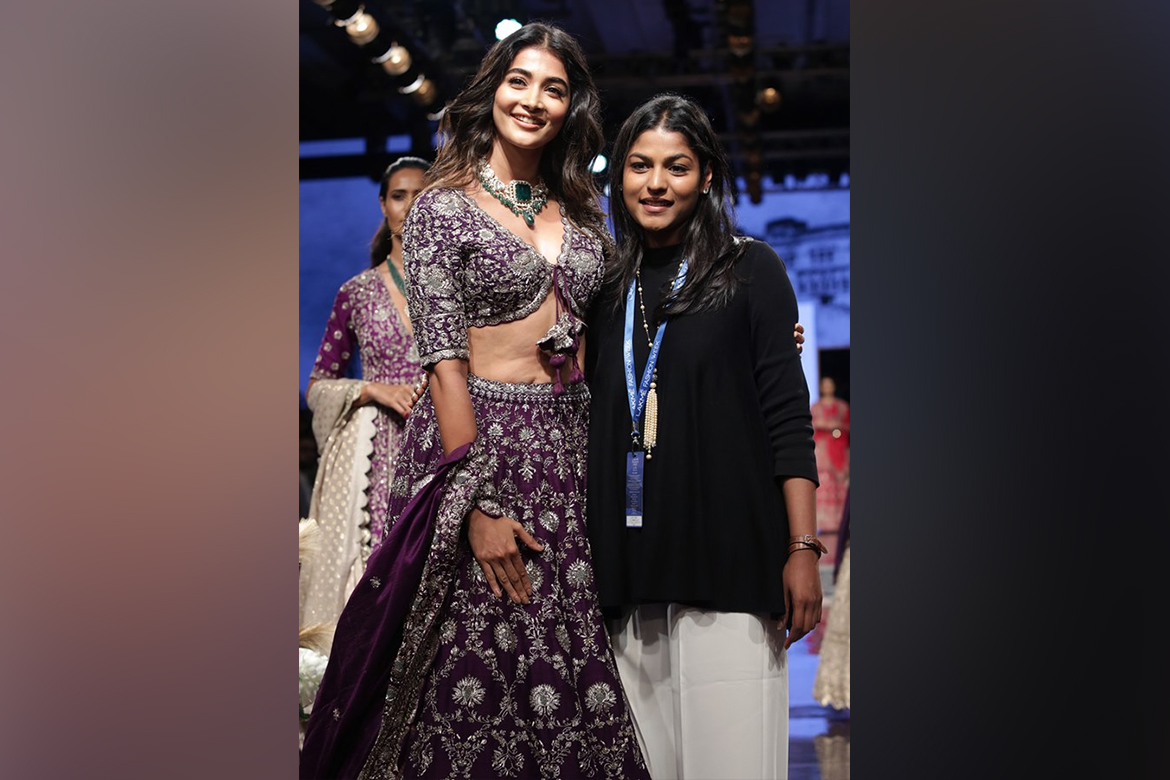 'Benares and Beyond' saw traditional Benarasi fabrics interspersed with sheer organza and net to give it a fluid feel. Motifs from nature like mangoes and flowers graced the ensembles that were doused in colors like ivory, beige, pista green, hot pink and wine.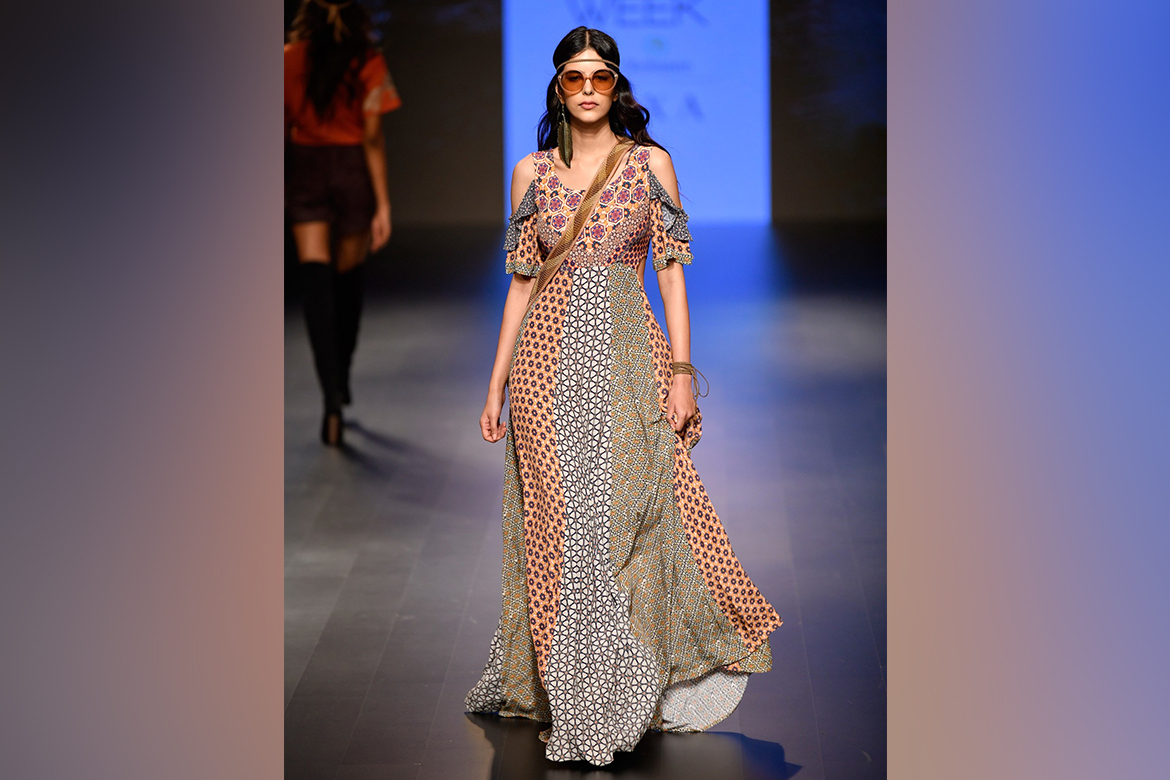 Power design house Label Ritu Kumar presented its 'Structured Pastoral' collection this year. The brand's signature prints were seen parading on everything from body-hugging dresses to flouncy skirts and draped blouses to slouchy trousers. Colors like red and black ruled the roost with other pop hues added in for extra effect.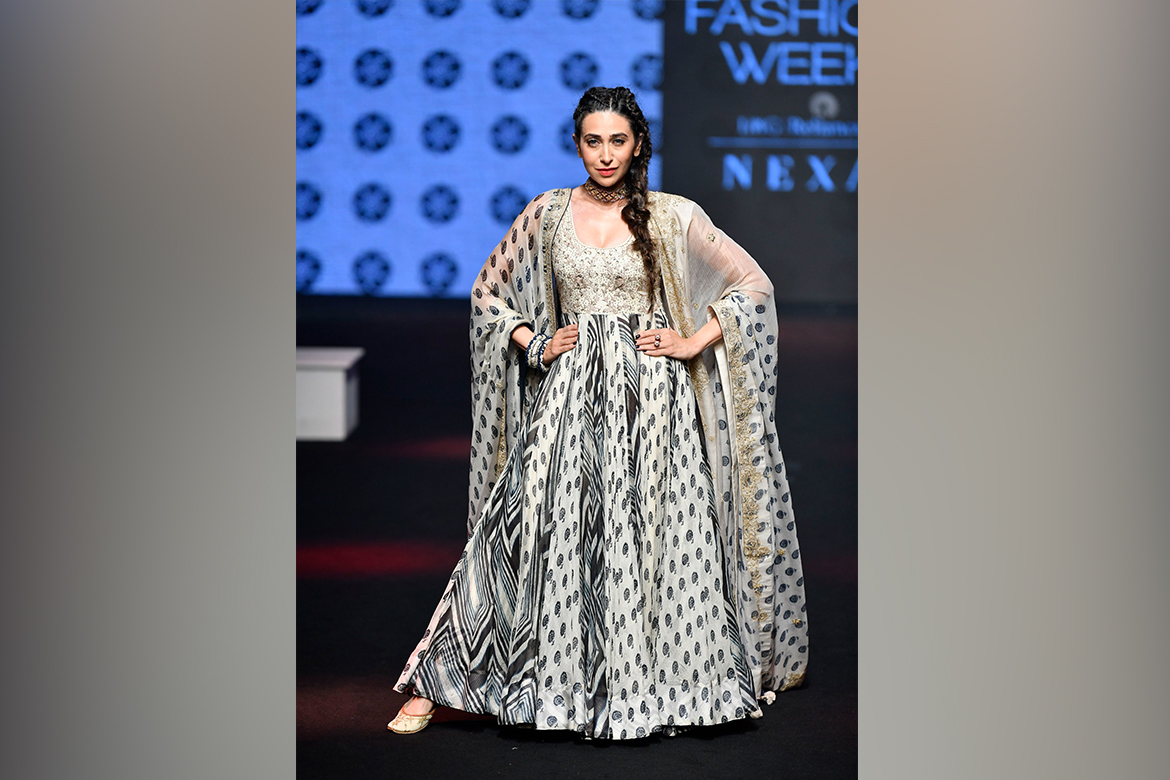 Brands Poochki and The Pot Plant presented an interesting show with a mix of contemporary art and fashion. Founded by Ishanee Mukherjee and Anirudh Chawla, Poochki presented 'Moana', meaning 'the ocean' in the language Maori. The life-sized hand block prints, motifs of underwater life like starfish, horizontal rouching with vertical stripes grabbed our attention. The Pot Plant by Resham Karmchandani and Sanya Suri showcased an innovative collection, '100% Wild'. With motifs inspired by the wilderness, the androgynous look along with a twist to the crafts of Bandhani and Shibori were the highlights of the collection.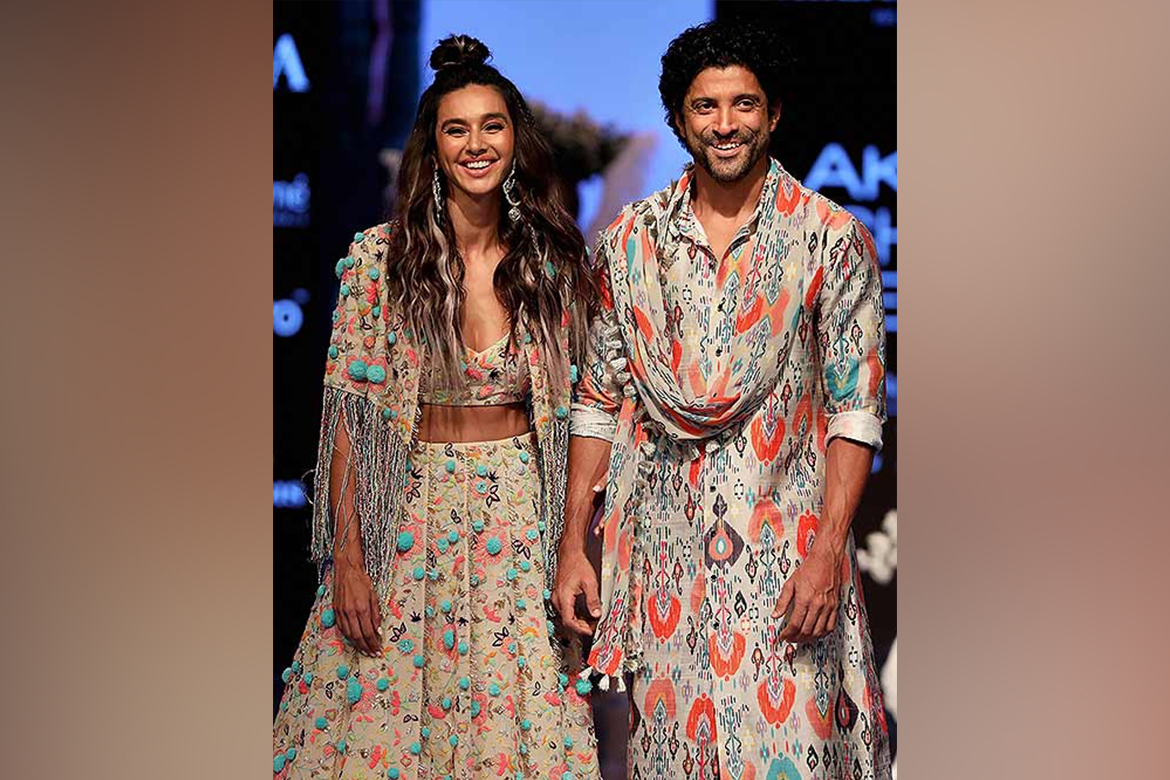 Celebrating 20 years in the industry, veteran designer Payal Singhal's celebratory collection was called 'PS20'. Drawing inspiration from bohemia and gypsies of yore, the clothes were boho-cool with detailing like tassels, sequins, leather embroidery, thread and patchwork in free-flowing fabrics like organza, tulle, crepe and georgette.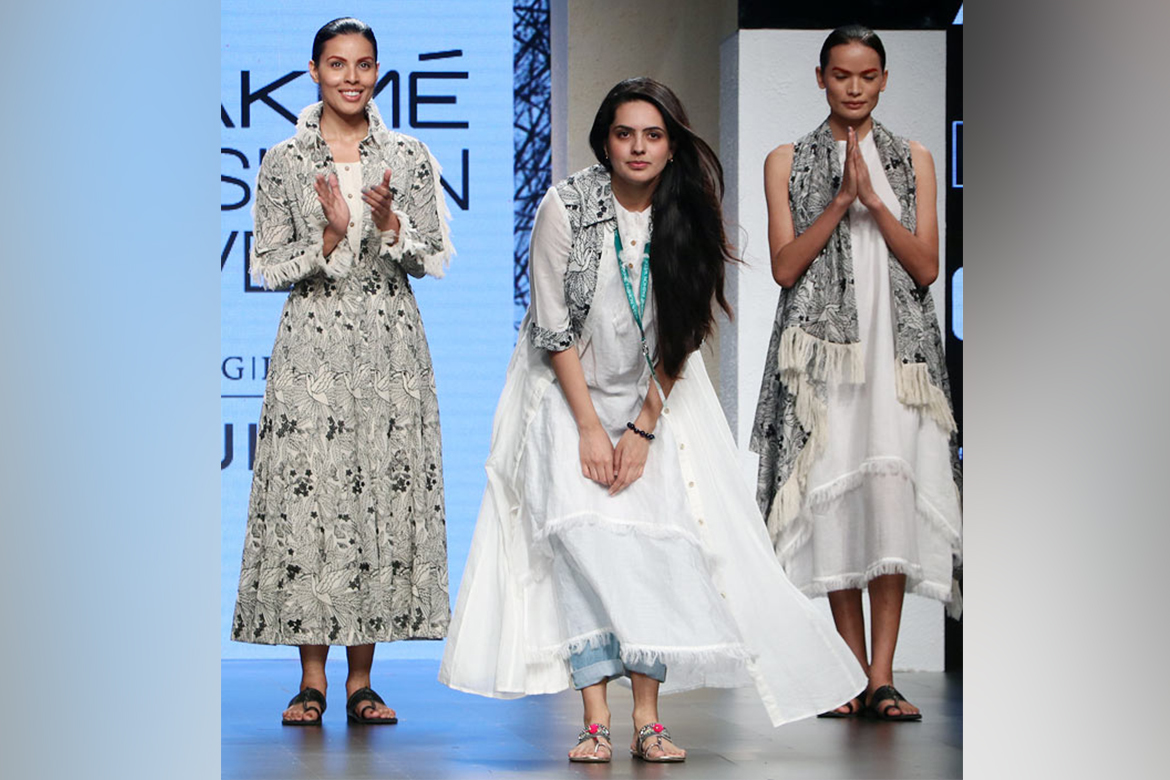 Designer Punit Balana's collection was an ode to the Rabari women and the brilliant textiles and embroidery they create. Titled 'Rabaari', the collection housed intricate amla, mirror and Dori work on saris, lehengas, maxi dresses, skirts, tops and separates that married bandhani with stripes.
 

View this post on Instagram

 
Kareena Kapoor maintained her tradition of closing Lakmé Fashion Week, walking the runway for Gauri and Nainika's finale show this season in a strapless black gown with net details. With Gauri and Nainika, their entire collection is about flow; we're talking about freedom. On the other hand, Tara Sutaria, who walked the runway for Ritu Kumar, wore a mini black embroidered dress, styled with over-the-knee boots. Disha Patani wore a glittery dress with a slit and plunging neckline, while Malaika Arora had all eyes on her as she donned a red bralette and skirt set for DiyaRajvvir.