AIDS (acquired immune deficiency syndrome) is not a virus but a set of symptoms (or syndrome) caused by the HIV virus (human immunodeficiency virus). A person is said to have AIDS when their immune system is too weak to fight off infection, and they develop certain defining symptoms and illnesses. This is the last stage of HIV when the infection is very advanced, and if left untreated will lead to death.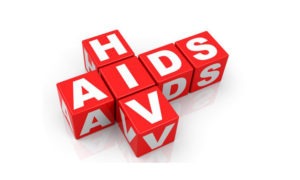 Acquired Immune Deficiency Syndrome:
Acquired– People are not born with the disease. They get it after being infected with the HIV virus.
Immune– The immune system is the part of the body that fights off disease.
Deficiency-An immune deficiency is a problem where the immune system is damaged and cannot fight off diseases to keep the body healthy.
Syndrome– A collection of symptoms, in the body. Because the immune system is damaged, and cannot fight off disease, people with AIDS get a collection of symptoms which is referred to as the "Acquired Immunodeficiency Syndrome."

Human immunodeficiency virus (HIV) is a type of virus called a retrovirus, which infects the human immune system (the system in the body which is in charge of fighting off illness). HIV may cause AIDS by eventually killing the white blood cells, which a healthy body uses to fight off disease. HIV is a virus that lives in human blood, sexual fluids, and breast milk. Not everyone who has HIV or have AIDS. When people first get HIV, they can be healthy for years. A person is diagnosed as having AIDS when he or she gets specific types of illnesses or gets sick in certain ways due to their HIV. Once a person's HIV progresses to AIDS, the person will continue to have AIDS for the rest of their life.
Approximately 36.7 million people worldwide were living with HIV/AIDS at the end of 2016. Of these, 2.1 million were children (<15 years old). Currently, only 60% of people with HIV know their status. The remaining 40% (over 14 million people) still need to access HIV testing services. Due to its large population size, India has the third largest HIV epidemic in the world. Compared to neighboring countries, India has made good progress in reducing new HIV infections by a half since 2001.
Report: Dr. Himani