A head with healthy hair looks great. There are products in the market that can promise you to fulfill the dream of healthy hair. However, the major concern after using the product is damaged hair. So, it is always a safe alternative to use home ingredients. One such great ingredient is yogurt. Now, you would be thinking "How to use yogurt for hair growth?". Well, it is pretty simple. Before that, we will give you reasons why one should choose yogurt.
What are the benefits of using yogurt?
Yogurt contains a protein that strengthens the hair shaft.
Yogurt contains lactic acid that hydrates the hair and clears away dead skin cells.
Yogurt contains riboflavin that protects brittle hair.
Yogurt contains niacin that prevents graying of hair.
Yogurt contains vitamin B12 that encourages hair growth and prevents hair dandruff.
Yogurt contains biotin repairs damaged hair.
Yogurt contains choline that improves blood flow to the follicles.
Yogurt has calcium that offers volume to the hair.
Yogurt contains iodine that strengthens hair follicles from the roots.
Yogurt contains phosphorus that offers shiny hair.
In this article, we will discuss how to use yogurt for hair growth.
Using yogurt for hair growth
Now let's move back to the big question in everyone's mind"How to use yogurt for hair growth?". There are a lot of ways of using yogurt for hair growth. Here are some simple ways that answer the big question "How to use yogurt for hair growth?"
The simplest answer to "How to use yogurt for hair growth?" can be by making a yogurt hair mask. Yogurt is mixed with a number of ingredients to make a great pack for hair growth. Here are a few top ones that are easy to make and show great results.
Olive Oil and Yogurt Hair Mask for Hair Growth:
We have already spoken enough about yogurt. When yogurt is mixed with Olive oil, it shows wonderful results. The Yoghurt wakes up sleeping hair shaft cells and the olive oil has fatty acids that aid strengthening of hair follicles. For this pack, all you need is 2 tablespoons yogurt and 1 teaspoon olive oil. Mix all the ingredients and blend into a paste. Apply this paste onto the hair and massage gently. Let it rest for at least 15 minutes and then wash with cold water.
Avocado And Yogurt Mask for Hair Growth: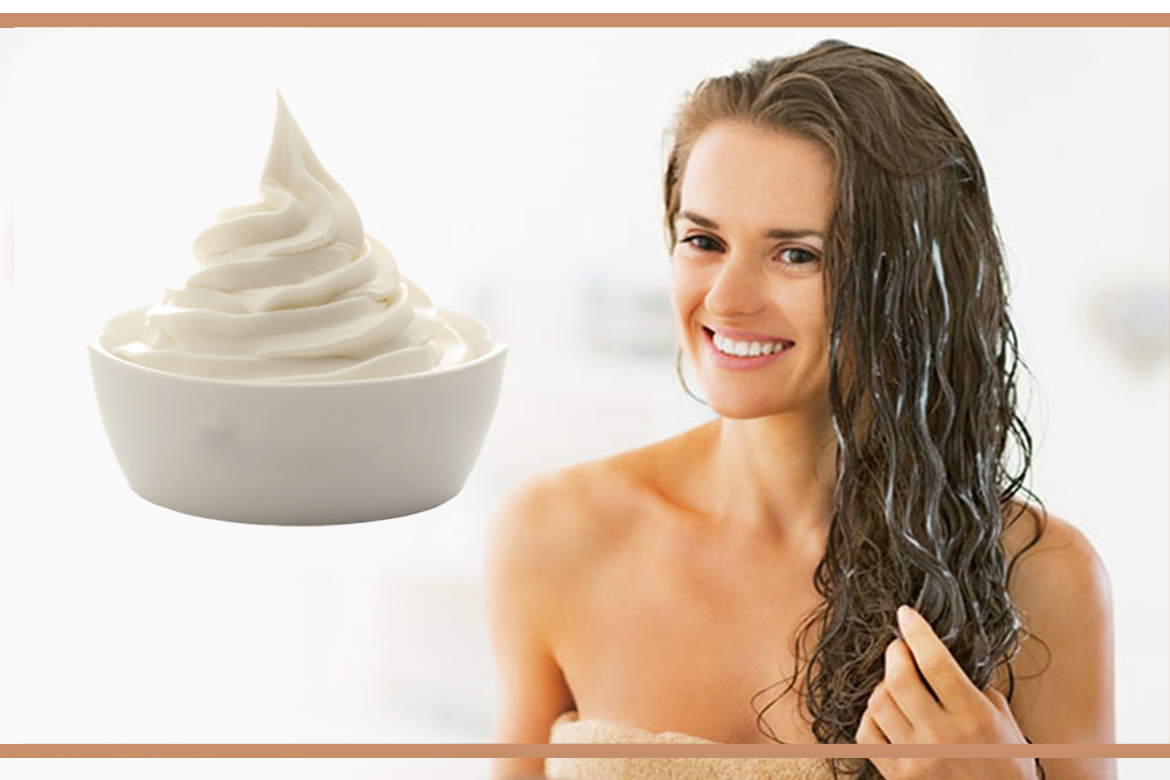 Avocado is a storehouse of Vitamin E and antioxidants. Both of these nutrients work towards repairing the scalp and boosting slow hair growth. Yogurt and Avocado work great on dry hair. All you need is 1 cup Yogurt, 2 tbsp Olive Oil, ½ Ripe Avocado and 1 tbsp Honey. Start by mashing the avocado finely without any lumps. Once turned into a fine mash, add the other ingredients and blend into a smooth paste. Apply on your hair starting from the roots to the tips. Leave it on your hair for at least 30 minutes and wash with a shampoo. 
Lemon and Yoghurt Hair Mask for Hair Growth:
This one is our favorite to answer the big question "How to use yogurt for hair growth?". Lemons are rich in Vitamin C that helps to boost immunity and collagen production that improves hair growth. The antifungal properties of lemon prevent the scalp of dandruff. The acidic nature of the fruit helps to tighten of hair follicles. All you need for this mask is 4 tablespoons yogurt, 2 teaspoons of lemon juice and 1 teaspoon of honey. Mix all the ingredients into a bowl. Apply this mixture on the hair and scalp. Leave it for about 20 minutes and then rinse with lukewarm water.
So, these are a few quick ways in, which you can use yogurt to increase hair growth.
Follow More: What Is Biotin And How It Beneficial For Health?