In every Indian couple, there is a Bollywood buff within. And the best way to pay tribute to this love is by hosting a Bollywood themed wedding. The extraordinary grandeur, the beautiful wedding outfits and dazzling dance performances are the highlights that any couple would love to have in their wedding. Everybody loves a Bollywood themed affair. You can never go wrong with this theme.  We will help you realize your dream of the ultimate Bollywood style wedding. Go ahead with these wonderfully 'filmy' ideas!
1. Colors and glitter with a theme are a must at an Indian wedding. So, choose a theme for the function coupled with the 'filmy tadka'. Your theme can be based on a movie or, a genre. From engagement to mehendi, sangeet, reception and cocktail, blend in your theme for an outstanding 'Bollywood' wedding.
You May Also Like: Most Expensive Mangalsutra's Of Bollywood
2. The invite for your wedding has to have lots of drama. You can have a retro, whacky, dazzling invite or a new-age Bollywood drama invite. Bollywood is all about Colour and it'll amaze your guests at your wedding. Have your caricatures made in your favorite actors and actresses' dresses. Adapt your favorite song or movie into the invite. Add some drama with stylish aviators to each invite. Your invite can even look like a cinema ticket.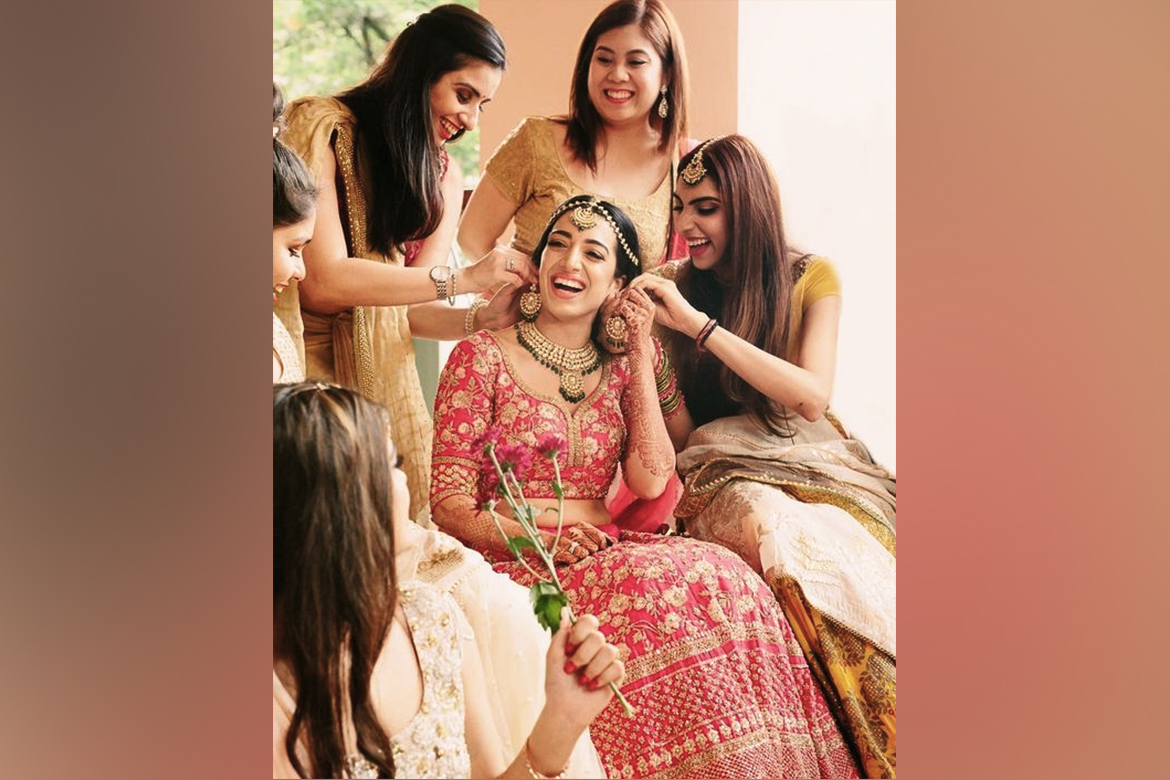 3. Indian weddings are pompous and colorful. But Bollywood is flashier and glossier. Be prepared to go overboard with the idea right from the start because such weddings are extravagant! It is a once in a lifetime affair. Incorporate golden drapes and ribbons, pastel-hued canopies, lots of seasonal and exotic flowers to make the venue lavish.
You May Also Like: When Bollywood Made Us Realize The Depth Of LOVE!!
4. Include the food and fit it into the Bollywood theme. Give cute name cards to the delicacies with a Bollywood twist! Serve filmy food gleaned from the movies – biryani, chaat, samosa, bread pakora.
5. Any filmy wedding can't be imagined without those designer outfits. Indian wear has an important place while planning a grand wedding. Brides should consider having everything from lehengas to a simple salwar Kurti and the finest of designer sarees in fabrics like chiffons, georgettes and silk with delicate and timeless work. The bride and the groom need to accentuate their look and spend to achieve an exotic and filmy look. The entire family needs to be dressed to match the filmy Bollywood theme.
You May Also Like: Best Wedding Ring Designs In Low Budget
6. No Indian wedding celebration is complete without music. So all your performance songs have to be Bollywood inspired. Incorporate your theme to the fullest. You can make your family and friends dance to your favorite Bollywood tunes or enact a scene from your favorite movie. You can personalize this to suit your taste and style.
7. For a dramatic wedding, you need a photo booth equally dramatic to create memories. You can have cut-outs of famous movie characters and take pictures or, you can put props inspired from different movies.
You May Also Like: Best Chooda Designs For A Punjabi Wedding