We all struggle with dry and dull hair. Thanks to all the pollution, lifestyle changes and products we are using. Finding the right shampoo to bring back the luster is really a struggle. Whenever you pick any product from the market, they are supposed to be filled up with chemicals that can harm your hair in the long run. So, if you are looking for great hair in the long run, then choosing a homemade shampoo for shiny hair.
Homemade shampoo for shiny hair for vegetarians:
Well, you would be thinking. I wouldn't have to eat this. Yes, however, some people don't feel great after using the egg. So, this one for people who hate putting eggs on the hair.
Baking soda shampoo:
This one is the easiest and the most inexpensive shampoo with great results. All you need for this shampoo is baking soda and water.
Ingredients and Ratio:
Baking soda/Sodium bicarbonate: 1 tablespoon
Water: 1 cup (ensure its not hard water.)
Shampoo bottle: 1 empty bottle for storage
Steps to Make the Shampoo:
Start by pouring 1 cup of water in the empty bottle.
Double the proportion as per your need of a  shampoo.
Add baking soda to the bottle.
Shake the bottle vigorously.
The shampoo is ready.
How to use:
Shake the bottle well before use.
Squirt a little shampoo on wet hair.
Massage it in thoroughly.
Wash it off after five minutes.
Wash the shampoo off with a good amount of water making sure no residue is left as leftover soda can cause hair to become dry and coarse.
This is a basic shampoo that you can use when moving from a commercial product to a homemade one.
Homemade shampoo for shiny hair for non-vegetarians: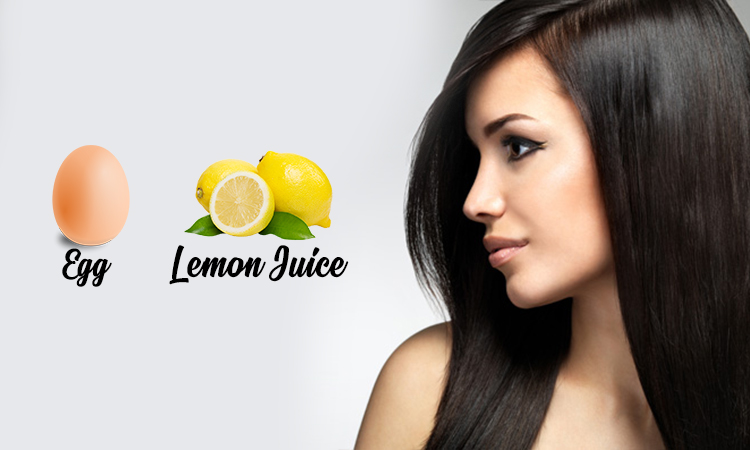 Lemon and Egg shampoo:
Well, this one is for the people who can bear the smell of eggs. Then this shampoo is great for you. If you have greasy hair, then this is an easy way out to have bouncy and shiny hair. This one is very easy to prepare.
Ingredients and Ratio:
Eggs: 2 Yolks do away with the white part.
Lemon Juice: 2 teaspoons (alternatively use vinegar)
Steps to Make the Shampoo:
Blend two egg yolks in a bowl.
Add 2 teaspoons of lemon juice or vinegar, whichever is available.
How to use:
Rub this shampoo on the wet hair.
Massage gently with the shampoo for at least five minutes.
Wash it off with cold water.
Avoid washing with warm or hot water as it will intensify the smell of egg.
If you are still struggling with the smell, add a few drops of your favorite essential oil to your shampoo.
Try this simple and quick homemade shampoos for shiny hair to see wonderful results within a short period of time.
Read more: Beneficial Banana Hair Mask For Dull And Dry Hair