The big day is finally round the corner and you are still wondering how to get your home wedding ready? Well, we are here to help. And the best part is, you don't need to have deep pockets to execute these home decor ideas. All you will need is a few inexpensive items, some creativity, and a bunch of friends or family who are willing to help. Let's take a look at these ideas on home decoration for Indian wedding festivities.
DIY Home Decoration Ideas
1. Highlight the space with accents and accessories to create a visual appeal. You could hang brightly colored accents like pinwheels, pom poms, or buntings. These will help to add a real pop of color to your home. If you want a softer look, opt for pastel shades or light shades like lavender, aqua, powder blue and beige. These are easily available in the market or online. For a traditional look, use bridal kalire and temple bells. They would make for stunning ceiling decor.
2. Traditionally, the entrance door of the house should be decorated with a toran – a decorative door hanging made up of mango or Ashoka leaves or marigold flowers. It is a symbol of an auspicious event at the house.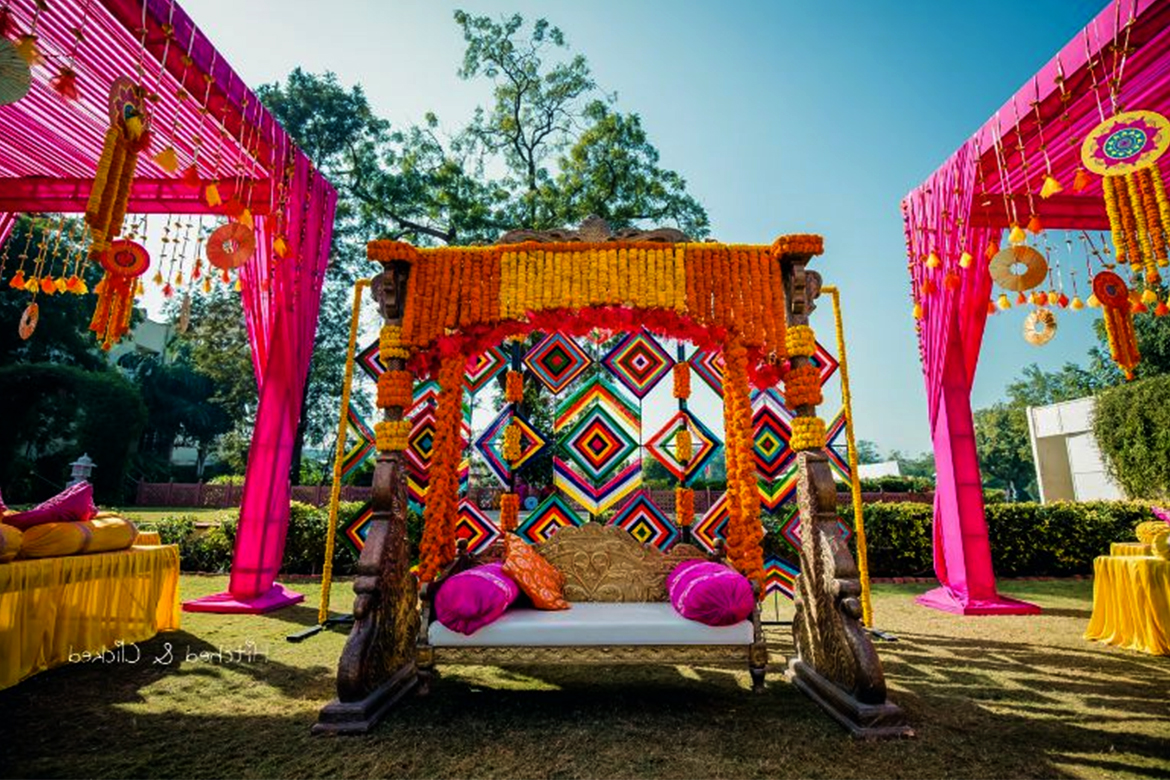 3. When it comes to home decoration for wedding, you cannot underestimate a well-made rangoli. For a dramatic look at the entrance, make a colorful rangoli using sand and colored rice. You can also create appealing images on the floor using chalk and fill them with petals of various flowers. Place an earthen Diyain the center of the rangoli and surround it with tea light candles.
4. Opt for a candle or a floral centerpiece. An aroma pillar candle in various sizes is the simplest way to create a stunning centrepiece. A bowl filled with water and some floating candles or a ceramic or a large mason jar filled with fresh flowers are other options.
5. Home decoration for a wedding is incomplete without light. From string lights to a series of bulbs, the ambiance is created with the lightings. Use different lightings such as fairy lights, hanging votives, lanterns, and strings. You can also fill up bottles or mason jar with lights as home decoration for the weddings and hang them around for a whimsical effect.
6. Fabric drapes are a conventional idea for home decoration in Indian wedding festivities. They can span over the roof to the gate. You may adorn the railings of the stairs with rich drapes in elegant colours.
We hope that these ideas help you in creating a gorgeous and memorable setting. Do take the time consumed to create these DIY home decorations for wedding into consideration and you will need to keep them ready way before the event occurs.