If you have been struggling to enjoy soft and shiny hair, then nothing can help you better than using eggs. Hair care using eggs is an old and underrated remedy, which most of us don't follow. If it is followed religiously can shows miraculous results.
Is Hair Care using eggs a good idea?
Eggs are loaded with minerals, proteins, biotin, and B-complex. All these nutrients help in strengthening the roots, stimulating new hair growth, adding volume and thickening your hair. The proteins in eggs strengthen the hair while the fats condition it.
Hair Care using Egg Masks:
Egg Mask for Combination Hair:
This mask works wonders in improving the hair condition and maintaining the scalps oil balance. This mask helps to nourish the roots and the shafts thanks to the egg yolk. Hair care using eggs is also beneficial as the protein is going to help in improving the hair texture and promoting healthy hair growth. The mask is made with olive oil as an ingredient that helps to soften the hair and provide extra conditioning.
Ingredients:
Eggs: 1 whole egg
Olive Oil: 1 tablespoon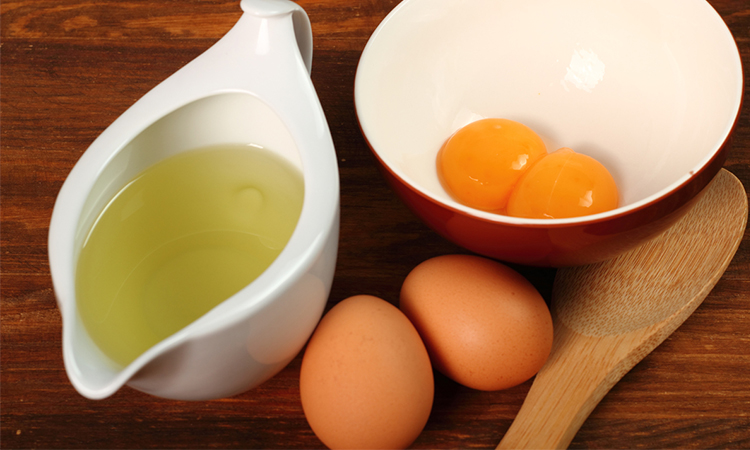 Hair Care using Egg Masks: How to make?
Start by mixing the egg and olive oil in a bowl.
Whisk the egg and olive oil properly.
Apply the mixture to your hair.
Leave it to rest for about 20 minutes.
Wash your hair with cold water. Never use hot water to wash your head.
Use 1-2 times a week.
Egg and Henna for Hair Growth:
We have already boasted about the use of eggs. Henna, on the other hand, has cooling properties that can soothe an aggravated scalp. Apart from this, it has an antimicrobial property that promises a healthy scalp. So no more dandruff and hair fall plus you get nourished hair.
Ingredients:
fenugreek seeds: 2 tbsp
henna powder: 1 cup
Egg yolk: 1
Hair Care using Egg Masks: How to make?
Soak the fenugreek seeds overnight in water.
Add this water to the henna powder in the morning after sieving to get a smooth paste. Grind the fenugreek seeds and add it to the paste.
Now add an egg yolk to the paste and mix well.
Leave this mixture on the hair for at least an hour.
Use a mild shampoo to wash using cool water.
So, these are just two amazing hair care using eggs masks. You have ample of DIY using eggs. Just an important note never wash your hair using hot water after applying egg. As it will cook the egg and make you smell awful.
Follow More: Want Soft And Shiny Hair? Try These 3 DIY Mask