In your quest for the perfect skin, a daily skin care routine goes a long way in giving you peaches and cream complexion. In your busy lives taking out a little time for personal care is a must. It is essential to formulate a skin care regimen for yourself, giving you glowing and dazzling complexion. The markets are flooded with beauty products like facial cleansers, moisturizers, eye creams, masks and many others that give you beautiful skin.
These are the mainstays of a good skincare routine: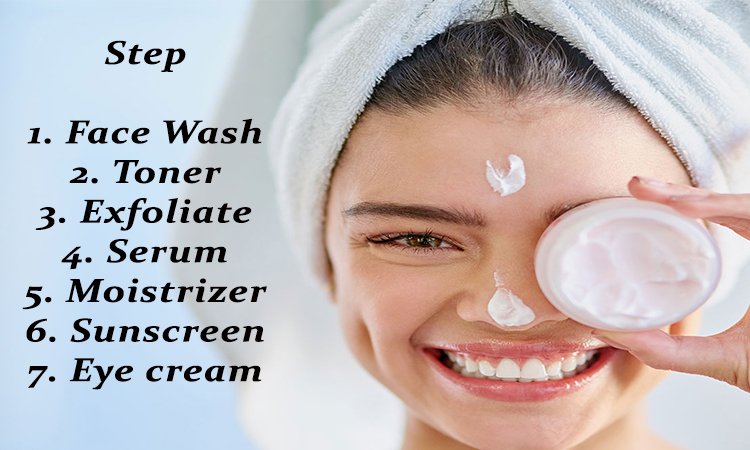 Wash your face with a facial cleanser to wash away dirt and oil that builds up on your face. Apply them using an upward, circular motion so as to prevent wrinkles from forming. Make sure your hands are clean in order to prevent excess dirt from entering your pores.
Use a toner – A gentle and non-drying toner gently sweeps away dull skin and protect against moisture loss. All you have to do is put some toner on a cotton pad and swipe it across your face. A toner removes any residue left behind by the cleanser. Prepare your skin to absorb moisturizer and minimize the appearance of pores. Some toners may have PH balancing and antiseptic effects as well.
Exfoliate – This removes dead skin cells that have accumulated in our pores. Exfoliate one to three times a week, but this depends on your skin type and how it reacts to exfoliation.
Apply serum – These are super-concentrated, nutrient-dense treatments that address specific concerns, so it's better to keep them as close to the skin as possible. These help in blunting your skin's inflammatory response to neutralizing damage from UV rays and environmental pollutants.
Moisturize – This helps to keep your skin hydrated as it locks in the moisture giving you a smooth and luminous skin. Based on your skin type choose a moisturizer that is a cream or lotion, gel, oil. Gently rub it into your skin in an upward motion, being careful not to tug on the delicate skin around your eyes.
Use sunscreen – The sun can damage your skin brutally. Apply sunscreen after moisturizer to protect yours from UV rays. Apply SPF of at least 15 to your face for the daytime, using a higher SPF if you anticipate heavy sun exposure throughout the day. Re-apply every few hours as it wears off.
Eye cream – Improving the skin quality in this area early on ensures that the eyelid skin does not easily lose laxity and its smooth appearance. Regular use of eye cream over time will keep the eyelid skin elastic and can improve or prevent against some fine lines or collagen loss.
If you want a glorious skin then this skin care regimen will give you amazing results.
Read more: Dark Circles and its Causes