We women, struggle with frizzing almost every day. On some days, we trying changing our hairstyles and on some days we try dabbing loads of serum to manage our hair. It's usually the most common struggle we face. But, instead of looking for solutions at home. We always run to the store counters to look for products that can possibly manage our problem to some extent. However, none of us know that we have some ingredients in our home that can act as natural hair gel for reducing frizz. Well, yes we will possibly not be aware of them. In this article, we will be discussing how to make a natural hair gel for reducing fizz at home.
What do I need to make a natural hair gel for reducing fizz?
Here is what all you need for making your own natural hair gel for reducing frizz.
Two tablespoons aloe vera gel
Two teaspoons fractionated coconut oil/ jojoba/ argan oil.
Half cup of rose water
All these ingredients are generally available at our home.
What are the steps followed to prepare a natural hair gel for reducing fizz?
Start by measuring all the ingredients.
Add two tablespoons of aloe vera gel in a bowl.
Add half a cup of rose water to the aloe vera gel in the bowl.
Now, add two teaspoons coconut oil. If you don't have coconut oil in the store. You can use jojoba or argan oil. If you really have very dry hair then argan oil is the best.
Stir the ingredients or you can alternatively blend these ingredients in a blender for a gel-like consistency. This will help aloe vera to get dissolved
Empty in a small empty bottle and let it rest for five minutes. So, it settles down.
Give the gel a good shake before every use.
Note: If you don't have rose water available, you can also use distilled water.
How to apply this natural hair gel for reducing fizz?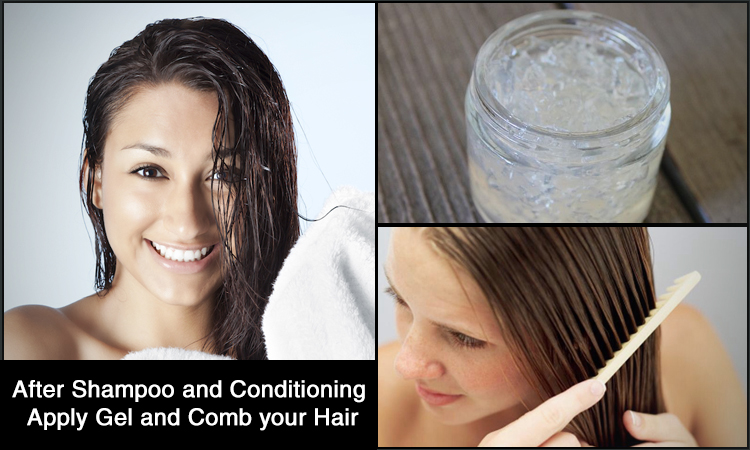 All you need to do is to apply this gel after shampooing and conditioning your hair. Apply it generously on the strands and leave it for at least 10  minutes. Then, comb your hair to reduce the frizz and tangles. Over time, you will see an improvement in the frizziness and the texture as well.
So, next time when you are planning to buy an over the counter product, just spend a few minutes to try out our natural hair gel for reducing fizz to see miraculous results.
Read More: Want Hair Everyone Loves? Follow The Hair Care Routine