Falling hair is a problem that each one of us suffers at some point in time. We become really skeptical of the fact of whether new hair will grow or not. With this thought, we try a lot of products from the market making our hair even more damaged. Essential oils are a great way of growing back your hair without any side effects. Along with new hair growth, they help in treating issues like dandruff, itchy scalp, greasiness, etc. So next time if you are worried about new hair growth, give a try to the essential oils listed in this article. We have compiled a list of the best hair care essential oils for hair growth.
Peppermint Oil:
Who doesn't love peppermint? Peppermint oil is filled with benefits. It is a great way of growing hair effectively.  Peppermint oil is rich in menthol that causes the blood vessels of the scalp to dilate. The dilation causes the increased blood supply to the scalp promoting new hair growth. Peppermint oil is used by mixing saline, minoxidil and jojoba oil. Apart from this, the oil is used to increase the scalp thickness and hair follicle count.
Lavender Oil:
We all know Lavender oil has a great fragrance and sedative effects. Did you ever think? Lavender oil can be great for new hair growth. Yes, it is. Lavender oil works on all hair types. It is a great oil for balancing sebum production. Hence, promising you a cleaner and healthier scalp. A good scalp means new hair growth. Lavender oil goes well with coconut oil. All you need to do is mix a few drops of lavender oil with coconut oil and massage well in the hair. Shampoo after letting it stay for 30 minutes. Along with new hair growth, the lavender oil keeps you at bay from problems like dandruff, eczema, and psoriasis.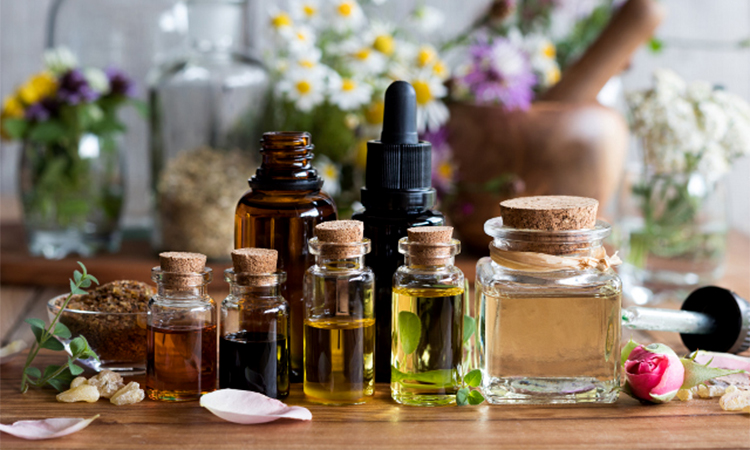 Cedarwood Oil:
Cedarwood has a soothing woody aroma.  The cedar oil is a great way of waking up your scalp and increasing the blood circulation the scalp. So, basically, it works on keeping your scalp healthy. It ensures, no dry or flaky scalp and brittle hair. Cedarwood oil has been used for hair thinning for centuries. All you need is to mix a few drops of Cedarwood essential oil with coconut oil and massage it to the scalp. Let it rest for 30 minutes and wash it out.
 Clary sage oil:
The Clary sage oil is made from Salvia sclarea. The oil has a great aroma. The Clary sage is rich in phytoestrogen levels that improve hair growth. This prevents premature balding as well. It is great for both dry and oily scalps. For oily scalp, it controls the oil production and works on dandruff. For dry scalp, it makes curly and frizzy hair manageable. All you need is to mix a few drops of clary sage oil with jojoba oil. Massage into the scalp and hair and let it rest for at least 60 minutes before shampooing.
We promise you that using these for hair care essential oils will ensure new hair growth. Along with that, it will let you away from other hair issues as well.
Read More: Essential Oils For Hair Growth