There is no medicine to cure a common cold. Just keeping it in control will be a wiser idea. The common cold is caused by different viruses. These viruses infect the upper respiratory tract. The symptoms are a sore throat, watery eyes, runny nose, sneezing, and mild fever. Mostly, the symptoms show up within 2-3 days after a person is exposed to a common cold virus. Lasts for a week in any case and further depends on how the person takes the step to control it.
Now it is clear that it surely lasts for a week, so controlling is the only choice you have regarding this common cold. Here are few home remedies to keep the common cold in control.
Stay Hydrated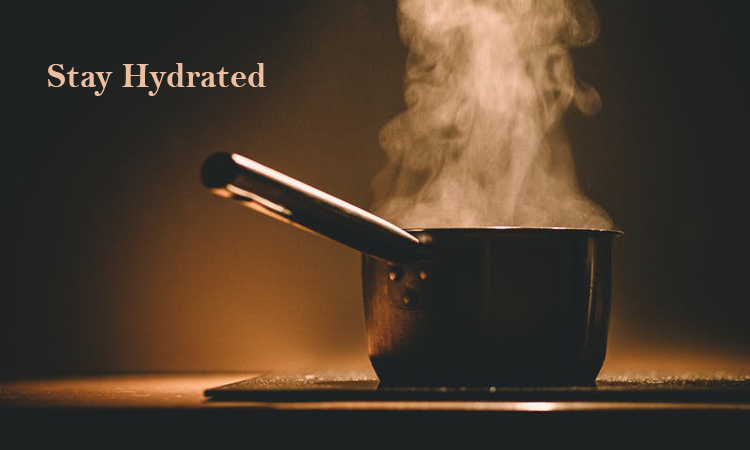 Mild fever and runny nose will bring down your body fluid level to low-grade. Keep on hydrating your body by often having some fluid intake; having them warm will aid you in bringing down the throat soreness optimally low.
Stay in Rest

Take rest as possible as you can. Sleep well to control your watery eyes and sneezing. Putting your head in the lying position slightly higher than your body will keep a runny nose in control, where the loss of liquid content in the form of mucus is limited. As the gravity works in this position, the sinus pressure comes into possession.
Steaming
Steaming is the best way to get your nasal block clear. Take a bowl of boiling water and add a few drops of eucalyptus oil or turmeric into it. Now, inhale the steam by covering your head over it using a cloth. This will be a great relief and do this twice daily at the time of cold.
Hot Spicy Food


The secret behind this is your taste buds go blend. So you cannot taste any food except hot and spicy. This time you need spicy food and this will also clear your congestion and helps in soothing the sore throat. Simply a cup of soup with black pepper gives you a good result. Ayurvedic studies also say that the spicy intake helps to prevent common cold virus entering into the body.
Stay in a Clean Place
Stay in a clean place as much as you can. If your room is air-conditioned, just clean them often and every time you catch a cold; same in your vehicle too. Sometimes fresh warm air will feel good for your runny nose and sneezing. If you are allergic to dust, stay in a moist place but make sure of maintaining warmness in your body.
All these will help you than running towards the chemist or pharmacist. Even though you take medicine, sure it will last for a week. Follow these and get a controlled cold period. Hey kindly stay away for the goodness of others, if you have a cold… Take care…