"Friends"the evergreen tv show had characters with the unique identity like Ross  –  getting married and then divorced, Monica – perfectionist, Joey – hungry, Rachel- trying to adjust in the world, Phoebe – weird and Chandler- sarcastic human.
Chandler Bing is like a package sarcastic yet good looking.
So here are some of the comebacks from Mr. Bing
Pheobe: You guys, you know what I realized? Joker is poker with j…. coincidence?Chandler: Hey. That's 'joincidence' with a C.

Rachel: Guess what, guess what, guess what!!
Chandler: Um OK… The fifth dentist caved and now they are all recommending Trident.
I am not good with advice can I interest you with sarcasm.
Monica: oh dear God
Chandler:  hold on there is something different
Ross: I went to the tanning place your wife suggested
Chandler: Was that place was The Sun?
Monica: what happened?
Chandler:  um okay joey was born and 28 years later I was robbed

Janice: what a small world
Chandler: yet I never ran into Beyonce.
7. Doctor: the next baby should be along in a minute
Chandler: we only ordered one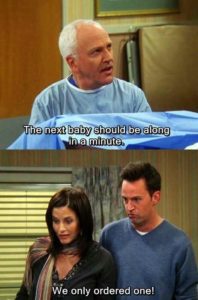 Article By: Arpita