For a woman, being a mother is perhaps the most beautiful feeling in the world. During pregnancy,the body of a woman undergoes many changes. These changes include hormonal changes and physical changes.
One of these physical changes is stretch marks on the belly of a woman. These marks are more or less permanent. Due to these marks, women after delivery avoid wearing low waist dresses. However, stretch marks that form on the lower abdomen, hips, thighs and breast during pregnancy can be avoided if you keep following things in mind.
During pregnancy, along with the growth of the baby, the mother's belly begins to grow.  Due to the enlargement of the abdomen, there is a stretch in the upper and lower layers of the skin. This breaks down the collagen and they appear as stretch marks after delivery. During pregnancy, women get stretch marks on their lower abdomen, hips, thighs and breasts. In simple language, stretch marks are a kind of wound, which develops due to the rapid expansion and shrinkage of our skin.
The intensity of these marks varies from person to person. The reason for this can also be hereditary. It is not possible to avoid stretch marks completely, but by taking some precautions and taking some care, it can be reduced to a great extent. Every woman's skin texture and skin flexibility is different. Because of this, many times women do not gain much weight, yet they get more stretch marks in pregnancy. Moreover, stretch marks are more visible in fair-skinned women. At the same time, stretch marks appear more in women who gain excessive weight during pregnancy.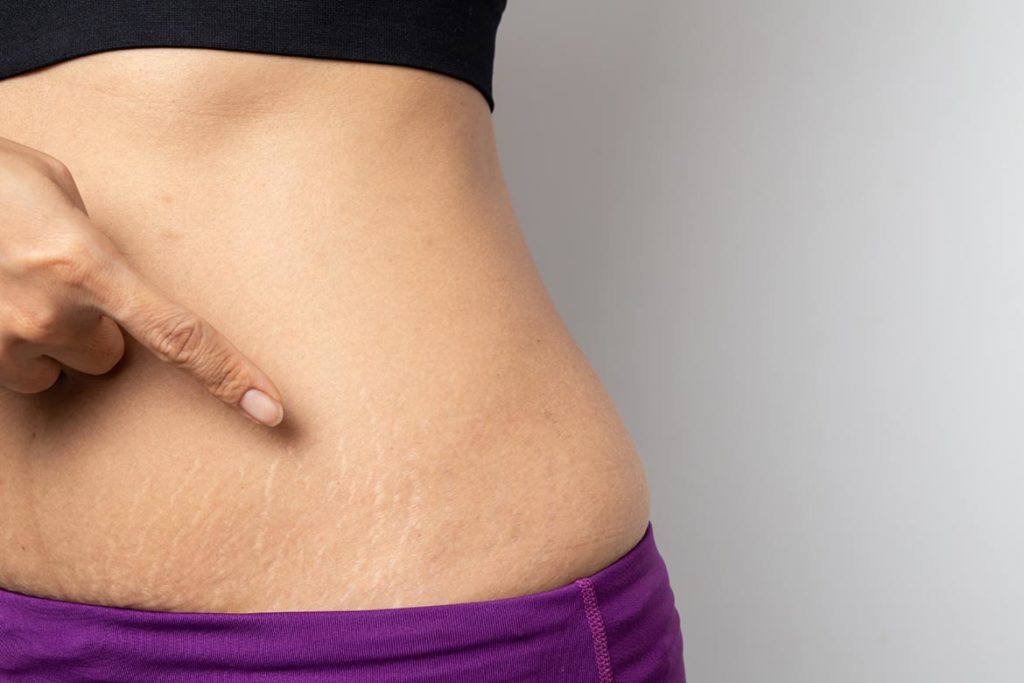 Also read: Be Abstemious! Do Not Eat These Foods During Pregnancy
How to reduce stretch marks?
Keep the weight under control.
Do not itch your marks with your nails.
Keep the body hydrated, drink as much water as possible and keep taking liquids.
Consume water-rich fruits and vegetables like watermelon, cucumber, gourd.
Eat things that are high in zinc.
Keep the marks moisturized with coconut oil, olive oil or a good body lotion.
Massage the affected area with coconut oil daily.
Eat a nutrient-rich diet, especially which includes vitamins C and D.Vitamin C is responsible for collagen production in the body.
Apply aloe vera gel on the stretch marks for at least half an hour and then washed with cold water.
Take sesame oil and add few drops of lavender oil and neroli oil along with wheatgerm oil. Fill this mixture in a bottle and use this oil on the affected areas.
Sugar is the best natural home remedy to treat stretch marks. Mix a tablespoon of raw sugar with some almond oil and few drops of lemon juice. Mix them well and apply the mixture on stretch marks and other skin areas.
Honey has an antiseptic property that helps to treat stretch marks. Take a piece of cloth and apply honey to it. Place the cloth on the stretch marks. Let it sit until it dries off. Wash it off with warm water.
Also read: Becoming A Mother At A Later Age? Keep These Things In Mind Before Planning Late Pregnancy