Flooring is an important part of the home decor. When it comes to kitchen decor, utility and safety are two very important aspects. However, trends change and come and go people look for safety and utility in the kitchen. Well, you have multiple options like cork, wood, vinyl, tiles, etc, but nothing can beat the good old stone floors in the kitchen. But, when it comes to choosing a stone floor for your kitchen decor. Then you have to keep several things in mind to get the apt one. In this article, we describe the best kitchen decor stone floors that you can use in your kitchen.
Granite
The most favorite of all is the granite. Granite is commonly used in the kitchen counters. But, it is equally great to be used on the floors if you wish to create a matching scheme. The material usually has a natural, mottled and patterned. The surface is really hard and sturdy so there is no problem with breakage. It is the best choice for a kitchen that has high traffic. Granite lasts for a very long time if it is properly maintained.  And, they are easy to clean all you need is to use a stone-safe granite cleaner and sealer. A downside of using this floor is that it tends to get slippery when polished.
Limestone
Limestone works great with kitchens that have a rustic or traditional theme. Limestone comes from the quarries in Northern Africa and the Middle east. They have a very attractive look and are porous. When you are opting for the limestone floor for the kitchen it is important to choose one with higher density. The protective seal of the limestone needs to be reapplied very often. The only downside of this floor is that it is pretty costly.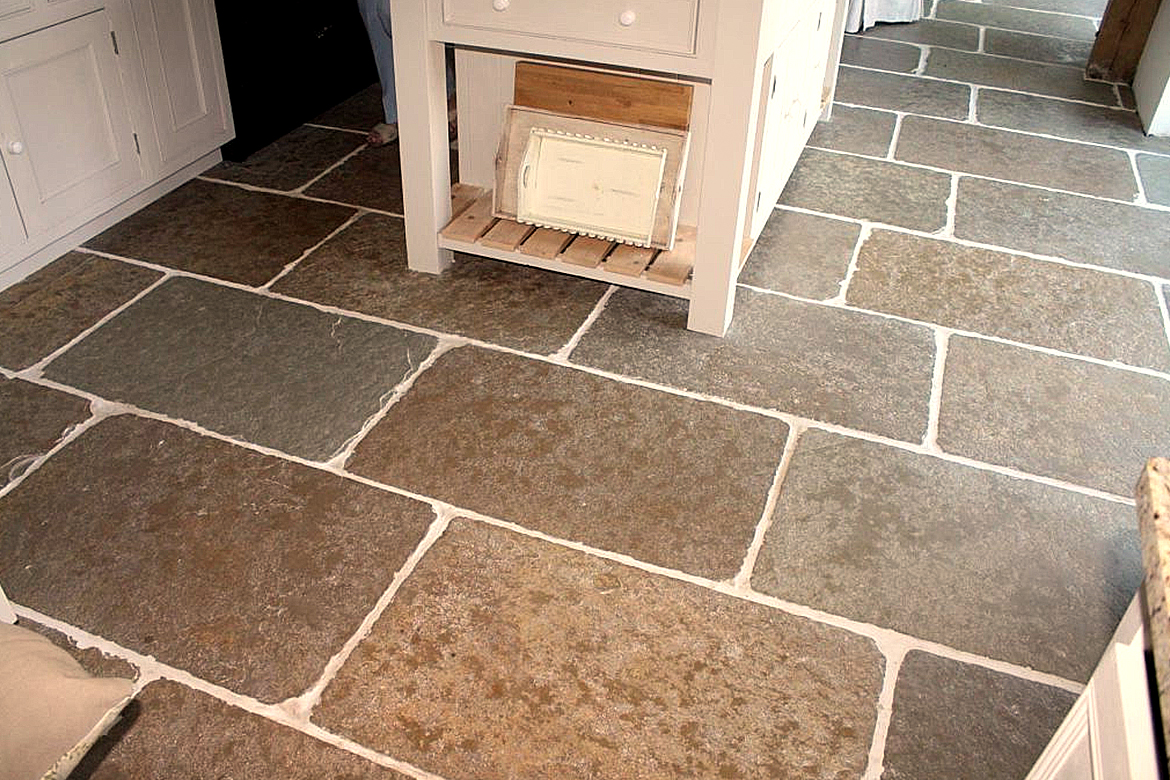 Marble
Marble is a pretty common choice for flooring in the kitchen. It is is the metamorphic result of limestone being exposed to higher igneous temperatures that lead to crystallization. Marble is very durable and sturdy, it works well with any style of kitchen decor or theme. However, when you are choosing it in the kitchen then you need a professional finish to make it less slippery. Also, Marble tile is highly prone to scratching and staining.
Slate:
When you are looking for a sturdy look or specifically making a kitchen with rustic decor then slate is the ideal choice. Slate is available majorly in darker tones, which are prone to staining. Slate has a typical finish that looks pretty natural. Even the better part is it is pretty non slip. It deals well with cracks, scratches, chips, and more. Though slate tiles are resistant to staining and water damage, it must be sealed regularly to give it the longest lifespan possible. They bring out the best in the kitchen decor when paired with natural and light wood finished kitchen cabinets.
Travertine
Travertine has become a popular choice for kitchens over time. It looks great and can be easily maintained. It just needs to be honed, filled and sealed after a few years. It is a high-end material, which is mostly available in the earthen tones like rust, brown and tan. When choosing a travertine kitchen floor to choose one with natural look one instead of a glossy appearance. The best part about this flooring is that it is eco-friendly as it is 100% biodegradable.
Read More: Best Cocktail Dresses You Should Wear!