None of the other seasons can bring tremendous happiness and enthusiasm as a wedding season brings. Putting the new step in a new life is a crucial moment for both sides. Here are the 17 Best Wedding Mandap Decoration Ideas that are easy and attractive. Who doesn't want to gain attention to their wedding either in itself or in the marriage?
You also wish a dreamy wedding then, surely go for a unique and elegant decoration mandap which enhances your wedding decoration more. But, are you confused about which type of mandap you want? And this is possible, also After all the main ceremony is accomplished in the mandap like 'saat-pheras, mangal sutra, sindoor and what not. In marriage, bridal or groom, both sides of the family also look fabulous, right? Then, say no to the mandap stress.
We have a list of unique and incredible wedding mandap decoration ideas for making wedding eye-conic.
Scroll down for getting the perfect wedding mandap decor ideas!
Also, read: "Love at first sight"! Myth or a fact? 15 signs to identify…
Decor wedding mandap like a Taj mahal
Who doesn't know the story of the Taj Mahal and why it was made? Every couple has a desire, that their wedding mandap in which they are vowing each other to stay together even afterlife can be the best  If you are looking for an elegant and boring floral design switch for "beginning new life from taj mahal" theme. Isn't it interesting? You can add a red carpet from the pathway and if you want a perfect glance you can also choose a destination that is adequate for taj mahal decor.
You can make your dream true either with diamond pillars or you can also go for marbles or any other fabric which gives an actual Taj mahal shade to the mandap.
Evening vibes+Fairy lights = perfect mandap for 17 Best Wedding Mandap Decoration Ideas
Fairy lights are a new trend today and if you are wedding time is at midnight late evening then this mandap decoration is an ideal choice for you. Decor the acrylic with golden fairy lights and on the roof put the same fairy lights in straight forward. And if you choose the open spot then open the roof for finishing the look. Around the mandap on the reel or real plants, a green glow can improve the wedding decor more. 
Pink and peaches shade floral decor 17 Best Wedding Mandap Decoration Ideas
Either a flower is real or not but it is an essential part of the wedding. Mandap looks fresh and unique because of dusty shades of blossoms and golden lights on it. A thick layer of pink and peaches flowers on the pillar gives the royal touch up. As first impressions are the crucial one then, on the entry of the mandap put the golden crystal candlestick which finishes the decor. This is one of the simple and elegant decors you would ever see. Bonus tip: put the rounded carpet floor which moves 360° it looks stunning in your wedding.
Wedding curtains & tassels with rose pillars create a dazzling look 17 Best Wedding Mandap Decoration Ideas
White is the color of peace and calmness and, for wedding life, harmony is the priority. If you are confused about your mandap decoration then you should think about this idea. The Mandap roof is filled with tiny flowers and lightning heartstrings and the mandap in the center of the hall can surely give the eye-catching look. In the glass mirror golden lightings and a thick layer of white roses around it beautifying the mandap. Light shaded curtains were put on all around the roof except the wedding mandap can create an eye-pleasing look for sure.
Crystal pillar theme.
None of the guests can go without taking a picture at your wedding. Crystal or fiber decorative white shades pillar for the mandap. On the roof switch for exceptionally beautiful yet simple lust white curtains on it. Put the light purple lights on all over the mandap for making your wedding mandap as inspiration. Feel happy and more harmonious in the wedding while adding the nitrogen which gives the perfect fairy tale theme look. Also in this type of decoration, any outfit can be matched up. Turn the whole decor heavenly with light color roses and stick it with the pillar.
Mandap decoration design with a floral phenomenon
If the bride loves roses, then she will love this mandap decoration design. This mandap decoration is full of red roses with various colors danglers all around the mandap. The danglers hanging on the mandap are also made with white roses in contrast with a big red rose. This mandap decoration is very trendy and not like other floral mandap decorations. This floral phenomenon mandap decoration is just perfect to add a unique floral touch to your wedding venue. This mandap decoration will attract many people and stands out from other normal decorations.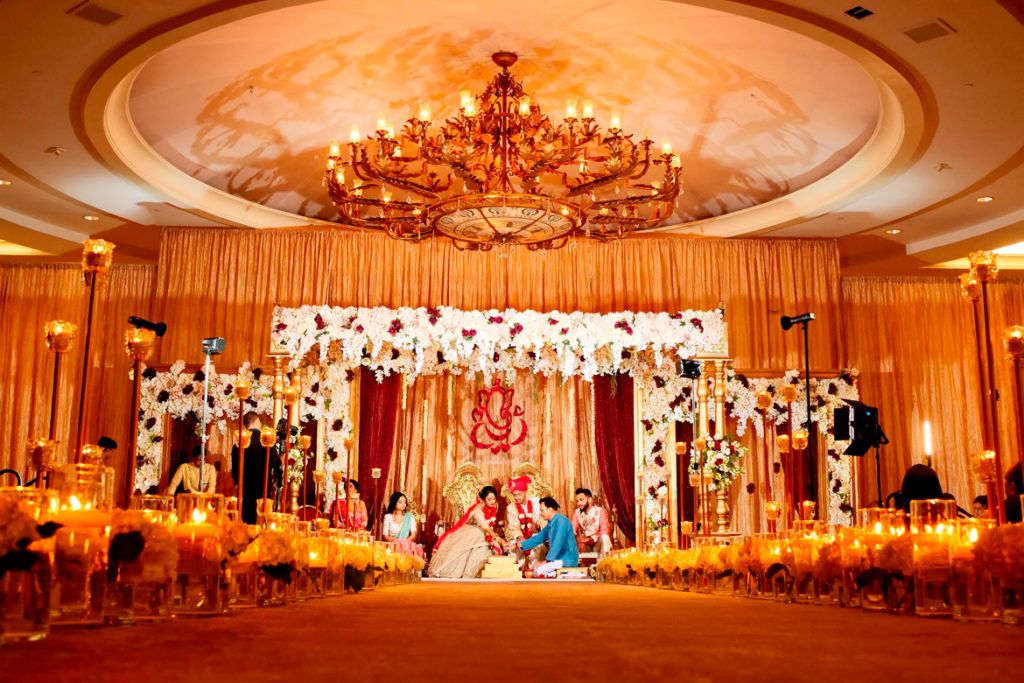 Lily mandap decoration for a destination beach wedding
If you are planning a destination wedding, then this mandap decoration will be best for you. This mandap decoration will not be less than a fairy tale wedding mandap. Light pink colored lily decorated mandap will be just perfect for your beach destination wedding.
It will add a unique floral touch to your wedding mandap. You can more beautify it by adding light golden colors danglers with small lilies attached to them. If you have dreamt of taking wedding rituals in fairytale types then this mandap decoration is made for you!
Grand arena-style mandap decoration 
If your wedding venue is big enough to have an amphitheater then you can go to this wedding mandap decoration. Grand arena-style wedding mandap gives a traditional touch to your modern wedding and makes you remind all the traditional values of ancient India.
This mandap decoration can be customized with beds and pillows or just chairs and tables. This mandap decoration has lanterns and various flowers bouquet on the sides of the mandap. It is the most traditional yet unique and beautiful mandap decoration.
Graceful pastel theme marriage mandap
If you are looking for the best mandap decoration, then you must choose a graceful pastel theme decoration. It's a unique yet beautifully decorated mandap. The golden pastel color curtains are beautifully designed in such a way that it can hold a chandelier with them. The metal pillars around the mandap with multicolored flowers on the roof as well as on sides will make it glamorous.
This can be well decorated with light golden color sofas for the bride and groom to sit and perform wedding rituals. The top roof of the mandap can also be well decorated with amazing red colors and roses attached to the curtains.
Orange and pink wedding mandap in full desi style
To make your wedding day the best day of your life, you should decorate it well so that it will be remembered by you and your guests for ages. And nothing beats a "phoolon ki chaadar" type mandap. This mandap is perfect for weddings inside some hotels or resorts halls.
The roof of the mandap is beautifully decorated with orange flowers and a golden colored chandelier hangs on it. All the sides of the mandap are beautifully covered with orange and white floral looks. This will give a desi and traditional look to the mandap and make it like serials and movies types mandap decorations.
White and blue flower decor Mandap in 17 Best Wedding Mandap Decoration Ideas
Flowers add life to anything they surround. The fragrance, essence, and enchanting beauty of the flowers all around your Mandap with a huge hanging at the central roof of the Mandap is the most eye-catching scene. The serene beauty of the Mandap is enhanced with the perfect blend of white and blue florals all around the tombs with regular silhouettes in Mandap of Circular shape.
This kind of Mandap in an open space under the clear blue sky complements like a heavenly palace on the earth with the bride and groom as the God and Goddess that have stepped down from heaven. To give a peaceful and soothing touch, white and blue drapes will melt in the ecstasy of the floral decorations.
Tent house mandap made of hanging drapes and rose flowers
Mandap marks the starting point of your new journey with your eternal life partner, and an ecstatic view of this Mandap will remark the glory of your newly bound relationship filled with love. The feel of a small room surrounded by colorful drapes and distinctive colored rose blossoms will give you a celestial feeling. Numerous colored drapes forming a canvas to elope you with an alluring atmosphere all around.
Your wedding destination will have your Mandap as the epitome of your love made of drapes complementing the shades of roses, along with hanging rose garlands all across the Mandap in a schematic pattern.
Also, read: 17 Wedding Car Decoration Ideas That You Can Use For Your Marriage…
Sunflower chandelier around a dome with yellow and orange drapes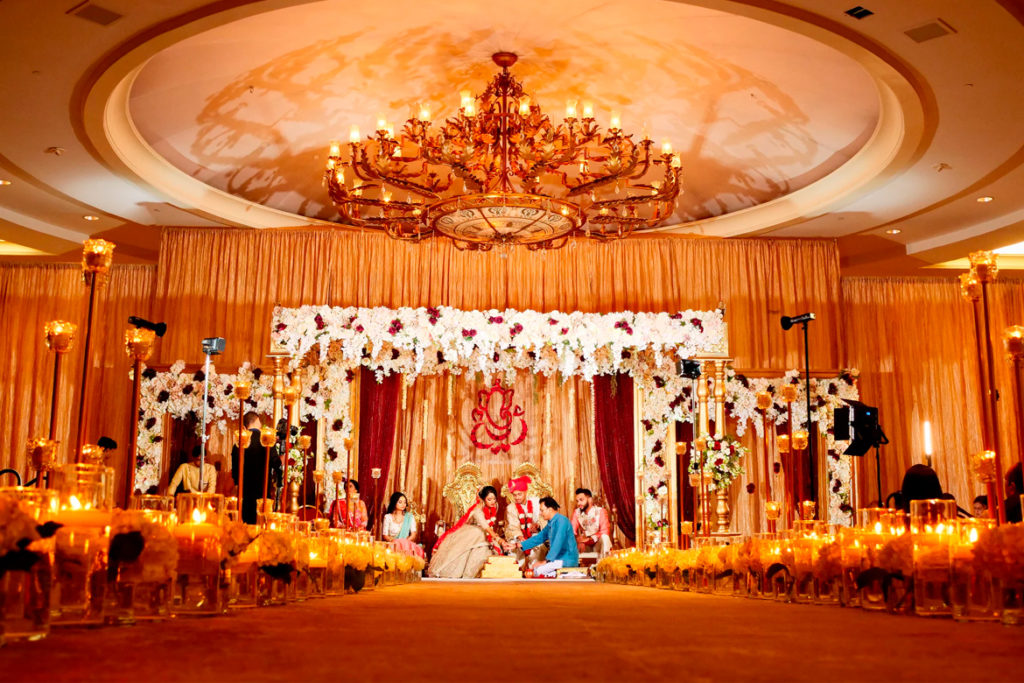 The magnificence of the rising sun is only characterized by Sunflowers on the entire Earth. The rising sun is an incredible example of a new start with a positive impact, and what other than marriage needs a perfect beginning? To give an incredible onslaught to your lifetime journey what can be better than elegant Sunflowers showering their brightness upon you like a bright sun.
A huge chandelier on top of the Mandap coming down to flowering rails hanging all around the round Mandap arrangement. To accompaniment, the bright yellow-colored flowers. Yellow and orange drapes are the base of Mandap. Spread hanging drapes flowing with the wind with luminous yellow and orange shades mark a victorious location.
Ancient feel Mandap with the ethnic allure
The sets of historical TV shows are always intriguing. What if we bring you a similar sense of venue with an ancient feel similar to a fort or a castle for your wedding? Feeling mesmerized? This ancient touch Mandap is designed to furnish the viewer with visuals of the 1500s and 1600s.
The entire Mandap is constructed with metallic colored drapes in the form of a Royal Castle. This is the perfect element for a destination wedding at the venue near the ancient Fort. The metallic colored drapes will act like the sidewalls of the castle. A glass chandelier will enhance the royal aura of the Mandap.
Elegant mandap with a blend of white pink and red drapes
Do you ever have a feeling that Mandaps filled with blooms don't go with your choice of dream wedding Mandap? We have an excellent solution! A stratified, and alluring blend of white, with Pink and Red color, makes up an ideal choice of color combination. The colored drapes making a circular Mandap, with a dome shape in the midst give you a perfectly flourished visual effect. The light and dark contrasts of these complexions will be a glamorous choice to go for the most important day of your life.
Also, read: "Love at first sight"! Myth or a fact? 15 signs to identify…
An all-white command on mandap:
One idea to decorate your wedding mandap is to use neat white color. White color conveys a sense of purity, cleanliness, and peacefulness. Using white flowers like roses, lilies, or marigolds hanging on all four sides from the roof, white hanging lights and lamps with white-colored drapes wrapped around the pillars. This allows the light to enter the mandap, making it look larger and beautiful. Another way of using white flowers is by stuffing them into the pillars. Adding a pinch of color like magenta, red, or orange, etc. enhances the overall look.
Mandap flooding with roses:
The mandap looks gorgeous with the fresh roses flooding all over the roofs and pillars. Adding different wedding colors like red, pink, white, and violet roses stuffed in the borders of the roof with a greenery effect wrapped around it. The vibrant color and smell of the roses enhance the look of the mandap. Roses symbolize beauty, elegance, and of course, love. Another prominent feature is showing a dropping effect by hanging the layers of roses from the roof. This is the perfect setting for a marriage.
Also, read: Jennifer Winget – Wiki/Biography, Age, Boyfriend, Career, Lifestyle & More
 A fort look in the sight is very popular among the 17 Best Wedding Mandap Decoration Ideas
Wedding ceremonies in the forts is one of the most popular destination wedding venues. Designing a mandap with a complete front look of the fort enhances its look. Decorating the mandap with hanging lamps, flowers, drapes which contrasts with the fort color makes it look elegant. You may add some fairy lights or some features that reflect the palace's relevance. You should decorate Mandap in such a way that it doesn't overshadow the fort behind. Adding a sitting arrangement all around the mandap placing cushions of similar color as mandap decoration is a wonderful idea.
Nature-loving mandap
It is rightly said that simplicity reflects elegance. A perfect destination mandap for nature lovers is using a tree as the main pillar of the mandap and setting all the arrangements surrounding the tree. We consider it ideal for day weddings. So, you can choose colors like yellow, orange, light pink, etc.
Which embrace the day wedding look. Adding décor like handing metallic elephants, making the use of earthen pots stuffing with marigold and sunflowers. It combines greenery with fresh flowers, which gives a pleasant fragrance to the mandap.
 A dome-shaped wedding mandap is very creative among the 17 Best Wedding Mandap Decoration Ideas
Dome holds its place in the worshipping areas. When such similar structures are added in the wedding mandap, it gives a touch of piousness in the wedding ceremonies. With no edges and angles, it keeps the mandap under one column. Keeping the dome in a monochrome color like stuffing it with red roses beautifies the whole look. Adding a chandelier, hanging lamps, falling flowery layers, drapes, contrasting sitting arrangements, décor pieces, etc. will bring life to the mandap.
In a wedding, two souls are integrated into a thread of trust and unconditional love. And for both everything is new and unique, so why don't their wedding mandap go too simple? Switch to unique and best wedding mandap decor ideas.
We strive that you love our wedding mandap ideas and surely suggest your wedding planner.
Also, read: Nyra Banerjee – Wiki/Biography, Age, Boyfriend, Career, Lifestyle & More