Any festival is incomplete without delicious foods, and Holi is one of those carnivals where food plays a significant role during the celebration. A perfect Holi party couldn't be commemorated without a fine food table, set with some amazingly scrumptious dishes. Here we refer to some must-have dishes this year during this festival of color, let's note them down and make your Holi yummy than ever- Foods You Should Try During Holi
1. Fried Fitters:
What Type of Food is This?
This is a savory dish, known as 'Pakoda' or 'Pakora', and considered one of the most common items in a perfect Holi menu.
Ingredients:
5-6 large potatoes
7-8 green chilies
2 cups gram flour
½ rice flour
1 teaspoon paprika
½ tbsp salt
½ teaspoon baking soda
1-2 cups water
2 cups of frying oil
A large spoon
A grater
A large bowl
A frying pan
A frying fitter
And a serving plate
How to Prepare:
Peel and grate the potatoes in a large bowl and sprinkle some water on them
Now, squeeze the extracted water from grated potatoes and drain the water properly
Finely chop green chilies and add them to the grated potatoes
Add gram flour, rice flour, baking soda, paprika, salt, along with the water into that bowl and combine them well
Use a large spoon or ladle to mix them up and set the bowl aside
Now, heat the oil in a frying pan and make small balls of the potato-flour mixture to fry them in that oil
Fry both sides until they form a golden crisp, then, take them out on a serving plate and serve with any spice sauce.
2. Gujiya:
What Type of Food is This?
This is one type of traditional Indian sweet, considered as an authentic Holi dish with a detectable sugary taste.
Ingredients:
4 cups of all-purpose flour
200 gm khoya
3 cups sugar
1 tbsp green-cardamom powder
2 teaspoons finely chopped almonds
1 tbsp roasted groundnuts
1 tbsp soaked raisin, roughly chopped
¼ cup semolina
1½-2 cups ghee
2¼ cups water
A kneading bowl
A frying pan
A saucepan
A bowl for sugar syrup
Also, read: SEX EDUCATION: Why is it Necessary
How to Prepare:
First of all, knead the all-purpose flour with some water and a small amount of ghee
After getting a fine dough, set the bowl aside, and prepare the filling in a frying pan
To make the filling, place khoya, add 1 cup of sugar, green cardamom powder, soaked almond, roasted nuts, and raisin into it
Once everything is mixed up, take the mixture out on a plate and let it cool down a bit before going to the next step
In the next step, heat 2 cups of filtered water in a saucepan, add 2 cups of sugar, and let them boil until they form into a perfect syrup
Now, get a few drops of ghee on your palm and make small round balls out of the flour dough
After making small puri out of those balls, fill with the stuffing, and seal the open part by doing a twisted design
Once you have made lots of dry Gujiya, fry them in a frying pan in pure ghee and place them in hot syrup instantly
Let them soak in sugar syrup for several hours and then, serve with thandai during the Holi celebration
3. Puran Poli:
What Type of Food is This?
This is another sweet dish you must-have during a Holi celebration. Puran Poli is a Maharashtrian dish, also famous in Gujarat, and looks like a flattering pancake with a detectable sweet taste.
Ingredients:
For the Dough-
2 cups what flour
½ cup all-purpose flour
½ tsp turmeric powder
¼ tsp salt
1-2 cups of water
For the Filling-
1 cup overnight soaked chana dal
¼ tsp turmeric powder
1 tsp oil
3 cups of water
1 cup jaggery
¼ tsp nutmeg powder
¼ tsp cardamom powder
Other Ingredients-
1 cup ghee
A frying pan
A Tawa
A kneading bowl
¼ cup wheat flour
And a frying stick
How to Prepare:
Take the dough ingredients in a bowl and knead them finely to make a smooth dough
To make the Puran or filling, drain the soaked chana dal and boil in a pressure cooker with 4-5 whistles
After the dal cooked well, place them in a frying pan, add jaggery, and cook until they melt together finely
Now, blend it in a mixture and knead after adding the rest filling ingredients
Then, make small balls of this filling and set them inside a bit larger balls of four balls
After stuffing all wheat balls like this, flatten the balls with your hand then roll in thin like chapatti by adding some dry  wheat flour
Finally, fry them in a hot Tawa by adding some ghee and serve in hot condition with some chutney.
4. Papdi Chaat:
What Type of Food is This?
This is famous street food in India that provides a spicy taste with a mixture of savory and sourness with a pinch of peppery flavor.  
Also, read: 10 Best Ideas for Holi-Party Decoration at Office
Ingredients:
2-3 packets of Papdi
6-7 cups boiled chickpeas
7-8 cups boiled and chopped potatoes
2 cups boiled moong beans (yellow lentils)
3 cups chopped onion
3-4 cups unsweetened curd, finely beaten
1 large bowl of tamarind chutney
3-4 cups of green coriander chutney
4-5 tbsp finely chopped green chili
5-6 tbsp of chaat Masala
4-5 cups roasted peanuts
2-3 mixing bowl
And a packet of sev
How to Prepare:
To prepare a plate of Papdi Chaat, take boiled chickpea and green coriander chutney along with the pinches of spices to make a spicy chickpea mixture
Take another bowl and add boiled potatoes, onion, green chili, along with all spices to make a tangy potato mix
Now, take a paper plate, put 7-8 Papdi as the first layer of your Papdi Chaat platter
Put 2 tbsp of boiled potato mixture, and 1 tbsp of chickpea mixture one by one as the topping
Spread 2 tbsp of beaten curd over them and drop 1 tbsp of tamarind chutney on the top
Finally, sprinkle some sev along with a handful of roasted peanuts and your spicy plate of Papdi Chaat is all ready to serve.
5. Barfi: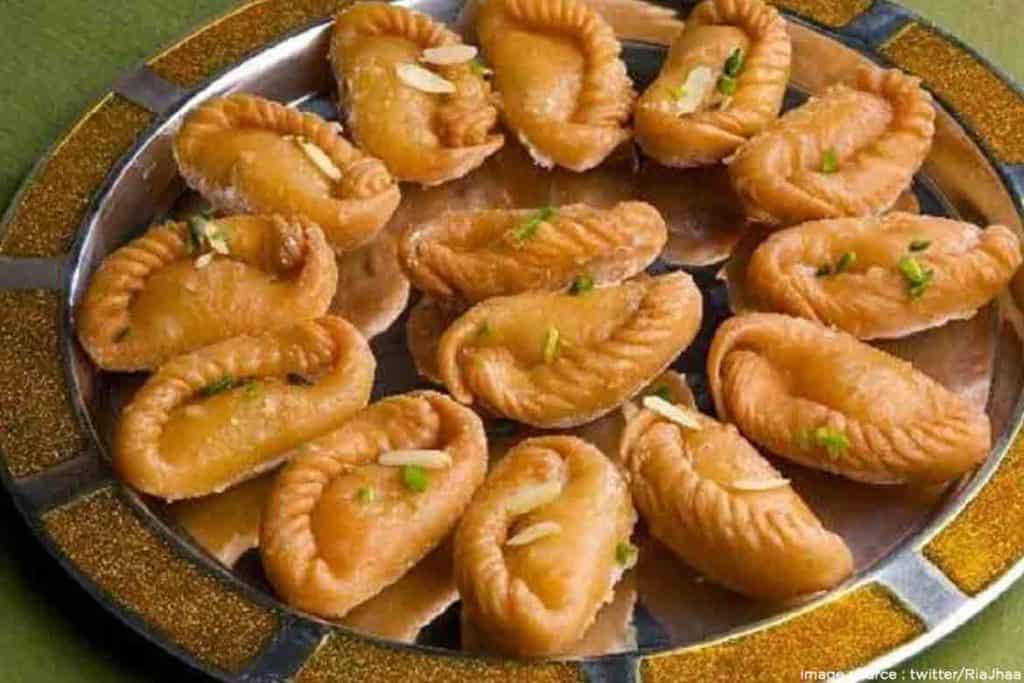 What Type of Food is This?
This is one type of typical Indian sweet made of milk with different sorts of other ingredients for different flavors.
Ingredients:
5-6 cups milk powder
2-3 cups almond chopped
2 cups chopped cashew nuts
1 cup pistachio, chopped
1 cup chopped walnut
2 cups unsalted butter
2 cups sugar
4-5 tbsp pure ghee
1½ cups thandai powder
A large platter
Silver leaf
A saucepan
A knife
And a baking tray
How to Prepare:
Heat a saucepan on your gas oven and warm up half of the butter until it melts properly
Then, add milk powder and sauté them until they start thickening
Now, take cooked milk powder in a bowl, set it aside, and now, heat some ghee in the same saucepan
Once the ghee is heated perfectly and starts leaving a smell, add the prepared milk powder or khoya to sauté it again in ghee
Keep sautéing until the khoya changes its color and then, add sugar granules into the pan to combine them up
Once they seem combined smoothly, add chopped nuts and thandai powder into the pan
Mix them until they blend into the khoya properly and take the dough out in a prepared baking tray
Place the silver leaf over the top and let it cool down properly for 4-5 hours
Once the Sweet nutty mixture hardens enough, cut them into small square Barfi size and serve in your Holi party with some tangy Thandai.
Also, read: IMMUNITY BOOSTING FOODS.
6. Saffron Rice:
What Type of Food is This?
This is a type of pulao and mostly serves in the main course with some compatible side dishes.
Ingredients:
2 cups refine rice or Dehradun rice
4 cups of filtered water
¼ cup of milk
2 tbsp saffron
4 tbsp ghee
2 cardamom
2 cloves
2 pieces of cinnamon 
3 tbsp sugar, ground
1 tbsp of salt
½ cup raisin (optional)
A saucepan with a lid
A ladle
How to Prepare:
Wash the rice with plain water several times and place it in a saucepan
Add 3 cups of filtered water to the rice and place it on your gas oven
Steam the heat, cover the pan with a lid and let it cook for 10 minutes this way
During this time, steep 2 tbsp of saffron in ½ cup of milk and set aside
Once the rice is boiled half away, drain the water and let the half-boiled rice dry after pouring the rice on a large plate
In this gap, heat the ghee in that saucepan and add whole garam Masala, as in cardamom, clove, cinnamon into it
Then, drop half-boiled rice, add sugar-salt and let them sauté a bit in ghee for a couple of minutes
Once a good aroma start releasing, add 1 cup of water and saffron-milk over the top
Combine the whole thing with a ladle, sprinkle raisins and then, cover the saucepan with a lid again
Place something heavy weighty over the lid, steam the gas for 5-6 minutes and let it cook slowly
After certain duration, off the heat, remove the lid and your saffron rice is all ready to serve with some wonderful tasty side dish.
7. Chana Masala:
What Type of Food is This?
This is a famous Punjabi recipe that goes with chapatti or nun roti and can make a brilliant dish for a perfect Holi party.
Ingredients:
5-6 cups of overnight soaked chickpea
10-12 large garlic cloves
2 tbsp ginger pieces
1 onion cut into large pieces
1 onion, finely chopped
3-4 green chilies, finely chopped
2 tbsp coriander powder
2 tbsp cumin powder
1 teaspoon red chili powder
1 teaspoon Garam Masala powder
1 teaspoon whole cumin
4 tbsp mustard oil
1 teaspoon of ghee
1 large non-sticky Kadai or pan
A cooking stick
Pressure cooker
And your mixture grinder
Also, read: Shivangi Joshi Biography Age, Career, Net Worth.
How to Prepare:
Place overnight soaked chickpea in a pressure cooker and cook for 4-5 whistles
In this gap, place garlic cloves, large onion pieces, ginger, green chilies, etc. in your blender and blend them until smoothen
Once the chickpea is boiled finely, drain the water and set it aside
Now, heat oil in a cooking pan and add whole cumin for a nice aroma
Add ginger-garlic-onion-chili paste into the oil and fry them for 1 minute
Now, include coriander powder, cumin powder, red chili powder, etc. spices into the pan and let them sauté for a couple of minutes until a fried-aroma come out from the Masala
Add boiled chickpea, combine them very well for 7-8 minutes and add 1-2 cups of boiled water into it
Mix the Masala-chickpea with boiled water finely and let them cook for 8-10 minutes over a high flame
After the certain duration, off the heat add ghee along with Garam Masala and cover the pan with a lid
Wait for 3-4 minutes, remove the lid, combine the whole thing with a ladle and serve with onion rings instantly.
8. Dahi-Vada:
What Type of Food is This?
This is a famous North Indian Chaat food and goes great in the celebration of colors during the Holi festival.
Ingredients:
For making Vada-
2 cups urad dal (one type of yellow lentils)
2-3 green chili chopped
1 teaspoon chopped ginger
1 teaspoon cumin seeds
1 pinch of asafetida
4-5 tbsp filtered water
1 tbsp raisin
10 cashew nuts, chopped
½ tbsp salt
ALso, read: Top 10 Companies To Lookout For in The Next Decade For Hair…
Other Ingredients-
1 cup green coriander chutney
1 cup tamarind chutney
3-4 cups of finely beaten and unsweetened curd
2-3 teaspoon Chaat Masala
1 teaspoon red chili powder
2-3 teaspoons roasted cumin powder
1 cup sev
1 cup roasted peanuts
1 cup chopped coriander leaves
A serving plate
A frying pan
3 cups frying oil
One large mixing bowl
One large bowl with filtered water
And a spoon
How to Prepare:
Place overnight-soaked lentils, green chilies, ginger, whole cumin, and asafetida with 2 tbsp of water in a blend
After blending them into a smooth paste, take the batter out in a large bowl, add cashew-raisins and stir them  consistently to get porous and fluffy Vada
Heat the oil in a frying pan and add spoonfuls of batter into the oil to fry small balls or Vada out of the batter
Wait until the balls turn pale golden from both sides and take them out in a plate lining with a paper towel
Now, place the hot Vada immediately in a bowl of water and let them soak there for half an hour
After that certain duration, take the all Vadas out and squeeze the excess water with the press of your palm
Now, let's set the plate of Dahi –Vada and to do so, place 3-4 Vadas on a plate
Break them a little or cut them into 7-8 pieces and whisk 2 tbsp of beaten curd over the top
Then, spread green as well as tamarind chutney one after another as the toppings
Sprinkle chili powder, roasted cumin powder, Chaat Masala, black salt, etc. spices
Spread a layer of sev along with roasted peanuts and sprinkle coriander leaves for the final garnishing
Now your plate of a perfect Dahi-Vada is all ready to serve to your Holi guests.
9. Kachori:
What Type of Food is This?
Kachori is one type of Indian snack that is one of the typical Holi foods and goes great with some tangy Indian chutney. 
Ingredients:
For Dough-
4-5 cups all-purpose flour
1 cup hot water
1 tbsp salt
1 tbsp sugar
1 tbsp refined oil
And a bowl for kneading
For the Stuffing-
1½ cups Chana dal, overnight soaked
1 teaspoon ginger paste
1 teaspoon chili paste
½ tbsp salt
½ teaspoon ground black paper
1 teaspoon asafetida
2 tbsp ghee
A frying pan
And a frying stick
Other Ingredients-
2-3 cups of refined oil
A large frying pan
½ cup of what flour
And a serving plate lining with a paper towel
How to Prepare:
Take all-purpose flour along with the other dough-making ingredients in a large bowl and combine them well in dry condition
Add hot water and start kneading until you get a smooth dough out of them
Set the dough aside, and blend soaked yellow lentils in your blender to make the stuffing of Kachori
Heat ghee in a frying pan, add ginger paste, chili paste, some spices to taste, and let them fry for 2-3 minutes
Add the blend lentil along with asafetida and let them fry until the Dal turn crispy with a deep yellowish shade
Take the filling out, let it cool down a little and make small balls out of the dough in this gap
Now, take one ball of flour dough, flatten it with your palm, place a spoonful of lentil-stuffing and secure the stuffing by closing the ball with the outer part
Make several stuffed-balls like this and flatten them a little with the press of your palms after sprinkling some whole wheat flour on them
Once you made several flattened balls like this, heat the frying oil in a frying pan and fry them from both sides until they turn golden crisp
Now, serve this super tasty Kachori with some tangy tamarind or green chutney at your Holi party.
Also, read: Top 10 Companies To Lookout For in The Next Decade For Hair…
10. Thandai:
What Type of Food is This?
This is a cool sherbet made of milk along with other tasty ingredients and considered as an inseparable item for a Holi party.
Ingredients:
4 cups of milk
12-15 almonds
12-15 cashew nuts
12-15 raisins
12-15 cardamoms
1 tsp poppy seeds
1 tsp fennel seeds
1 tsp melon seeds
½ cup of sugar
1 teaspoon saffron
½ tsp rose water
Some rose petals
Strainer
Your blender
One large pot
And 1 large glass
How to Prepare:
Soak almond, cashew, raisins, cardamoms, and all seeds, in half cup of water for 5-6 hours
Grind them in your blender until they form into a smooth paste and add milk into it
Blend once to combine them well finely and take the mixture out in a large strainer
After straining the milkshake, take it in a large pot, add sugar, combine it well, and wait until sugar granules dissolve properly
Add saffron along with rose water and mix them up with a large spoon
Now, place the pot in your fridge and wait for 2-3 hours or the Thandai cool down perfectly
Once it seems chilled properly, pour in a glass, garnish with some rose petals and serve immediately.
ALso, read: Know the Force behind Pink Belt Mission